Data Analytics & BI
(55 Blogs)
Top Seven Reasons To Use Power BI
4.9 out of 5 based on 11532 votes
Last updated on 7th Nov 2022
13.48K Views

With proper guidance from Microsoft Power BI Training in Gurgaon, you can learn data analysis for sharing helpful insights.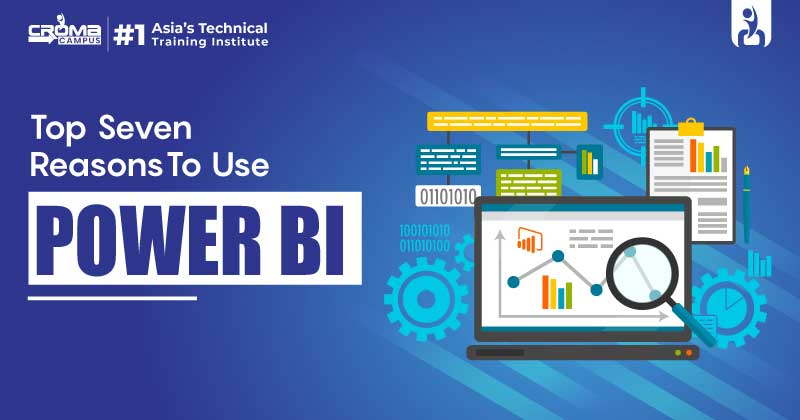 Introduction:
The outspread business world is constantly developing, however with development comes complications and challenges. With changes, the market needs businesses to develop a plan, budget, and future goals. Thus, businesses work towards diverse selling & marketing methods to offer various services and products. Indeed, with the help of the right tools and techniques, you can predict market behavior and make profitable decisions. Power BI is one of those tools to help you with predictions of the future of your business. Basically, Power BI is a Business Intelligence service operating on the cloud by Microsoft. It is a business intelligence platform that permits businesses to organize and transform data into meaningful data. With proper guidance from Power BI Training in Gurgaon, you can learn data analysis for sharing helpful insights.
How Power BI is helpful?
Easy to Learn: An easy setup for quick insights with no essential training. Also, it includes dashboards for services like Salesforce, Microsoft Dynamics, and Google Analytics.
Accessibility: It saves your repetitive efforts, instead of emailing large files or uploading them on a shared drive, analysts share reports and visualizations to the Power BI service. Further, their data is updated whenever the supporting dataset is updated.
Quick in Service: In this software, dashboards update with time. So, the moment data enters viewers can solve problems and identify opportunities quickly. In no time, a report or dashboard can display and update real-time data with visuals.
Customization: The "app navigation experiences" feature allows report developers the power to customize navigation to help viewers find content quickly. This is done to understand the relationships between various reports and dashboards.
Security: Report developers can set up row-level security (RLS) access filters to ensure that viewers see only data relevant to them. Further, eliminates the risk of people coming across data they shouldn't.
Cortana Integration: Also, Power BI works with Microsoft's digital assistant, Cortana. It helps users to ask questions verbally in their natural language whenever they require to access charts and graphs.
Artificial Intelligence: Power BI users have an access to image recognition and text analytics. However, they can create machine learning models, and integrate with Azure Machine Learning.
Conclusion:
Businesses from every domain use Microsoft Power BI. Its inbuilt tools help in database operations to help make significant business decisions. However, we can say that the future of a Power BI developer is safe and sound. Though there are continuous changes in the software structure, you just need to have hands-on experience in the domain. To stay in touch with the changes, Power BI Training in Delhi can help you with the updates coming ahead. Further, if you think of a career in this sector, a proper training approach can help you. Also, with added skills on your resume, your visibility increases. Hence, as companies are moving towards digitization, database management will always remain a necessary aspect for everyone who would need expert BI developers.
Free Demo for Corporate & Online Trainings.
LEAVE A REPLY
Your email address will not be published. Required fields are marked *
Course Features

Reals Life Practical & Case Studies

Assignments

Lifetime Access

Expert Support

Global Certification

Job Portal Access