Data Analytics & BI
(55 Blogs)
Power BI Certification Cost In India
4.9 out of 5 based on 12365 votes
Last updated on 1st Jun 2023
14.21K Views

Learn to use one of the most interactive dashboards solutions to simplify your work and data representation qualities.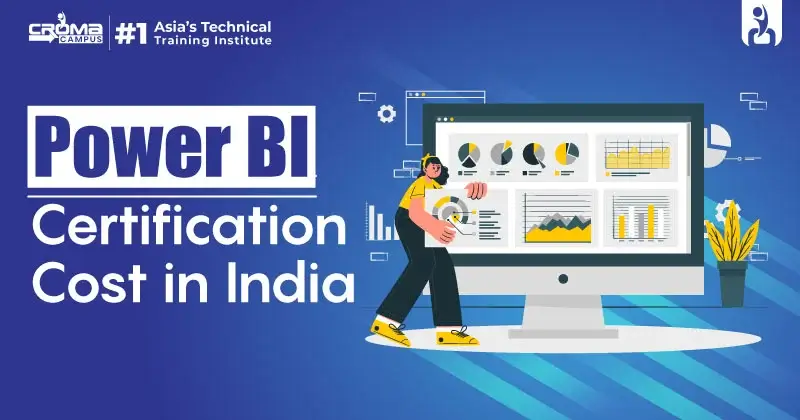 Introduction:
Microsoft Power BI is a data visualization that is in use by business professionals on a daily basis. While only business professionals use this platform, it is however easier to use for those without any specific data knowledge. However, you do need to worry about learning how to work on this platform. With Power BI Online Training in India, you can learn to work on this platform. Also, you do not need any kind of technical knowledge to work on this platform. Also, Microsoft Power BI Certification Cost is so minimal that any individual can prefer to learn this expertise at any point in their career. Moreover, becoming proficient in this platform will solve major data complexities for you. With some effort and time at its basic learning, you can truly enhance your data visualization and reporting capabilities in your work.
Understanding Power BI:
Microsoft Power BI is a platform for data visualization basically in use for business intelligence purposes. It is specially made for business professionals with different levels of data knowledge. Power BI intelligent dashboard feature is well capable of reporting and visualizing data in various styles. It can be charts, graphs, maps, scatter plots, and many other formats as well.
Power BI is made up of different interrelated applications. Comprising of Power BI Desktop, Premium, Pro, Mobile, Embedded, and other Report Server. However, some of these applications are usually free to use, but there are even some paid subscriptions to the pro and premium versions for providing greater analytics capabilities.
Power BI is built as low-code tools, these applications support in businesses analyzing and visualizing data, building business solutions, automating processes, and developing no-code chatbots.
Significant Uses of Power BI:
Whether you're a professional data pro or are just trying to enter the business world, Power BI is an excellent solution to enhance your data-driven insights. You can just take a Microsoft Power BI Training to empower your data visualization capabilities. Some common application for the platform includes.
Developing reports and dashboards to present data sets in various ways using visuals.
Integrating multiple data sources, like Excel sheets, onsite data warehouses, and cloud storage facilities for data, and further transforming them into useful business insights.
Turning data into an exclusive range of varying visuals, such as pie charts, gauge charts, decomposition trees, KPIs, combo charts, ribbon charts, bar and column charts, and many other options as well.
Giving company-wide access to data, some data visualization tools, and insights for developing a data-driven work culture.
Who are the Users of Power BI?
Power BI users are not only limited to data professionals but include professionals from different domains as well. Basically, from the actual fact it is intentionally designed so that even non-technical users can easily build reports, manipulate data, and make some in-depth data analysis operations. With a minimal amount of Power BI Certification Cost in India, you can easily learn to work on this platform. Some common analyst positions that make use of this platform on a daily basis include.
Business analysts
Business intelligence analysts
Supply chain analysts
Data analyst
Data further empowers modern businesses, allowing them some actionable insights to make strategic decision-making. Build a career in this platform by taking Microsoft Power BI Training. You will get to learn some intelligent data visualization capabilities to help you make strategic data decisions.
Advantages of Working with Power BI:
Affordability -
A major benefit of using Power BI is that it is particularly inexpensive in comparison to other cloud service providers. The Power BI Desktop version is indeed free of cost, you can easily download and start creating the reports on your computer. However, if you look to share your reports on the cloud you may have to pay an extra amount.
Excel Integration -
In Power BI, you can even save data to Excel. Irrespective of how great the data presentation is using Graphs, maps, and charts using some data visualization tools, people still prefer to have the data in their Excel sheets. For instance, you can get the data of a manufacturing unit for the last six months with a few clicks from Power BI. Power BI Certification Cost in India is easily affordable for all users. Thus, make use of this opportunity and learn intelligent Excel integration.
Custom Visualization -
Power BI offers an exclusive range of custom visualizations. Using it developers can understand your requirements and then transform it into KPIs, graphs, charts, maps, and more.
Data Accessibility with Interactive Visualization -
Power BI offers great access to all the data sources and the data sets that you develop while designing the reports, in any centralized location. You can easily access the data anytime, anywhere from any kind of device. Users can easily interact with the dashboards using some filters, extra highlighting features, and more with just simple clicks.
Newly Added Features -
One of the other benefits that Microsoft offers users is monthly updates. Certainly, Power BI is an excellent tool for data analysis and also visualization.
Different Versions of Power BI:
Starting from free to premium, light in weight to comprehensive, Power BI offers different versions you can choose from on the basis of your budget. Let's read a few of them.
Power BI Desktop -
Made for small businesses, Power BI Desktop is indeed available for free. With Power BI Desktop, you can make reports and export them in various formats. Power BI Certification Cost in India is minimal for all users to learn and become professionals in this domain.
Power BI Service -
It is basically an online Software as a Service (SaaS). Enabling you to share reports with other users and further connect the data from the cloud. However, it is only available to use in the paid version.
Power BI Pro: With a pay-per-user license you can access advanced features and further share Power BI reports.
Power BI Premium: Made for large enterprises and businesses, you can easily scale in and out the license as per your needs.
Power BI Mobile Apps -
These specific applications are for mobile phones and tablets. For sharing and also viewing Power BI dashboards and Power BI reports.
Power BI Report Server -
It is just like an on-premises version of Power BI. Well suitable for businesses that require to keep their data on in-house servers.
Power BI Embedded -
In place of building analytical features from the start. You can easily acquire Microsoft Power BI Certification Cost and know how to use this white-label version with Power BI apps to get better results.
Conclusion:
Power BI offers many tools and other services to make Business Analytics an easy task. This is easier to work for even a non-technical user. Performing complex analysis and making interactive dashboards and live reports to visualize any further information. You can take help with Power BI Online Training in India to develop interactive reports. Power BI Certification Cost in India is easily affordable for all users. Thus, you can make use of the opportunity to build this expertise.
Free Demo for Corporate & Online Trainings.
LEAVE A REPLY
Your email address will not be published. Required fields are marked *
Course Features

Reals Life Practical & Case Studies

Assignments

Lifetime Access

Expert Support

Global Certification

Job Portal Access