Data Analytics & BI
(55 Blogs)
How To Pass The PL 300 Certification Exam?
4.9 out of 5 based on 18365 votes
Last updated on 10th Aug 2023
22.69K Views

The Power BI Data Analyst certification is a must-have expertise in today's evolving technological era.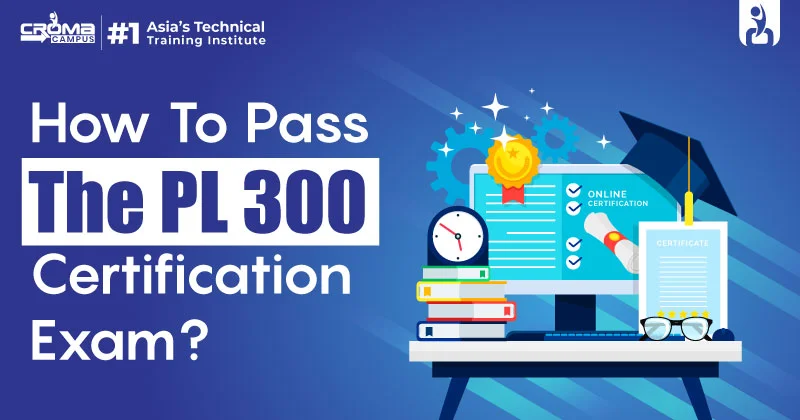 Introduction:
Microsoft Power BI has grown significantly in popularity as a platform for business intelligence and data analytics in recent years. Placing yourself in a crowded market is crucial if you're willing to be an ambitious business analyst. You can get a PL 300 Certification to add some professional expertise to your knowledge. Moreover, today organizations prefer to hire candidates with some extra knowledge and experience. Because there is a constantly changing technological environment. And to pace up with-it particular expertise is a must. This article you guide you on How to Pass the PL 300 Certification Exam? However, go through the following paragraphs to get your all answers.
What is PL 300 Certification?
Microsoft Power BI makes a popular platform in use for business intelligence and in the field of data analytics. This platform for data visualization efficiently converts unstructured data from multiple sources into thorough, interactive insights, empowering businesses to make informative decisions. Your expertise in this field is recognized by the Microsoft Power BI certification. Commonly known as Exam PL-300: Microsoft Power BI Data Analyst. This exam typically lasts 90 minutes and is available in different languages, such as English, German, Japanese, and Arabic.
What are the Testing Parameters for this Exam?
25% to 30% around Preparing data
25% to 30% about Modeling data
25% to 30% in terms of visualizing and analyzing data
15% to 20% in areas of deploying and maintaining assets
Necessary Skills to Add Before Sitting for this Exam:


Data Preparation
Preparing data mainly revolves around importing, deep cleaning, and further manipulating data to arrange it for analysis.
1. Bring together data from multiple data sources
Power BI allows connecting to up to 100 data sources from different spreadsheets to other databases to web pages. You must know how to bring data from different sources into Power BI. Further, you need to know these necessary skills for your PL 300 Certification.
Identify and correct connecting to a specific data source
Make changes to data source settings, consisting of credentials, different privacy levels, and particular data source locations
Select a collaborating dataset, or even build a local dataset
Select between DirectQuery, Import, and also Dual mode
Make necessary changes to the value present in the parameter
2. Clean the Data
Datasets are usually clean when you receive them. However, you need to be aware of how to analyze and further rectify issues happening with data.
Evaluate data, consisting of data statistics and other column properties
Look for inconsistencies, resolve unexpected or null values, and rectify data quality issues
Resolve errors for data import
3. Transform and Further Load the Data
No matter how clean is your data, it usually needs manipulating into a suitable form for undergoing analysis. You may additionally require to build new columns from prior existing ones or even create a subset of your data or combine together tables. PL 300 Certification is an important credential today and requires the following skill.
Choose the correct column data kinds
Build and further transform columns
Querry Transformation
Create a star schema containing different facts and dimensions
Understand when to make use of reference or even duplicate queries and analyze the resulting impact
Bring together as well as append queries
Identify and build the correct keys for building relationships
Prepare data loading for further queries
Data Modelling
Data modeling defines every necessary element going inside each table and how these tables relate together.
1. Design and Implement a Data Model
The primary step in data modeling is defining the structure of every table and giving necessary access to them.
Create a table and different column properties
Addition of role-playing dimensions
Understand the relationship between cardinality and direction in cross-filter
Build a common table of date
Additions of roles in row-level security
All these skills make up a crucial part of How to Pass the PL 300 Certification Exam?

2. Model Calculations Using DAX

The capacity to derive relevant measurements from the data is crucial for performing useful analytics. You can additionally use the DAX programming language, which is part of Power BI.
Making measures into a single aggregation
Using CALCULATE to filter manipulation
Implement measures for time intelligence
Look for implicit measures and then replace them with explicit measures
Learn to make use of fundamental statistical functions
Build semi-additive measures
Build a measure by implementing quick measures
Building calculated tables
3. Optimize Model Performance

If your dashboard or reports are running slow, then you may require to update data or calculations for improving the speed. PL 300 Certification needs the following skills.
Performance improvement by identification and removal of irrelevant rows and columns
Analyze poorly performing measures, build relationships, and rectify visuals by Performance Analyzer
Performance improvement for correct selection of optimal data types
Performance improvement by data summarization
Data Visualization and Analyzation
Data visualization and analyzing numbers become the basic of data analysis. After you get your answers, you need to organize your data into a dashboard or even report for consumption. Go through Power BI Certification Course to build an easy understanding of all these skills.
1. Create Reports
At the base level, to develop a Power BI report, you need to develop the text, design metrics, and visualizations. And further, arrange them in a particular manner.
Analyze and add correct visualizations
Editing and configuring visualizations
Make use of a custom visual
Add and further theme customization
Configure conditional formatting
Apply filtering and slicing
Create the report page
Make use of the Analyzation in Excel feature
Select when to use a paginated report
2. Make Reports Interactive for Storytelling and Usability

A Power BI report's usefulness mostly depends on how many insightful and engaging ideas its viewers have after viewing it. The efficacy of the report can increase by making it simpler to use and by further including a narrative.
Configure bookmarks
Build custom tooltips
Edit and then configure interactions happening between visuals
Set up report navigation
Apply sorting
Further, configure slicers sync
Make use of the selection pane to group and layer visuals
Make use of interactive visuals to drill down into data
Configuration of the export of content report and export performance
Designing reports for mobile devices
Addition of the Q&A feature in all types of report
3. Identify Patterns and Trends
Alongside descriptive statistics, data analysis uses a variety of methods to answer queries regarding the data. Starting from cluster analysis, which identifies corresponding data points, to forecasting, which further makes future predictions.
Learn to use Analyze feature while working with Power BI
Use binning, grouping, and clustering
Further Use of AI Visuals
Use error bars, reference lines, and additional forecasting
Look for outliers as well as other anomalies
Build and further share scorecards and their metrics
Deploy and Maintain Assets
After you make your reports or dashboard, you further require to make it easily available for all your users and update it.
1. Build and then Manage Workspaces and their Assets
Power BI Workspaces allows you to manage reports, dashboards, and datasets.
Build and structure a workspace
Designate workspace roles
Organize and further update a workspace app
Publish, import, or even update assets while working in a workspace
Create dashboards
Choose between a distribution method
Addition of sensitivity labels to content workspace
Structure subscriptions and configure data alerts
Promote or even certify Power BI content
Moreover, manage files for global options
2. Manage Datasets

Maintaining the underlying data needs arranging an update procedure in order to keep dashboards and additional reports current.
Determine when a gateway is necessary
Create a scheduled refresh for the dataset
Set up security group membership at the row level
Lastly, give users access to data
Conclusion:
Now that you know what skills to add to your knowledge. Moreover, now you can better prepare yourselves for this certification exam. With a descriptive answer to How to Pass the PL 300 Certification Exam? You can create your further strategies. To make things even easier Power BI Certification Course is the ideal medium to prepare for this journey. Thus, get this most desired certification to enhance your career outlook.
Free Demo for Corporate & Online Trainings.
LEAVE A REPLY
Your email address will not be published. Required fields are marked *
Course Features

Reals Life Practical & Case Studies

Assignments

Lifetime Access

Expert Support

Global Certification

Job Portal Access