Data Analytics & BI
(55 Blogs)
What Is The Use Of Tableau?
4.9 out of 5 based on 1866 votes
Last updated on 22nd Apr 2023
12.3K Views

If you are looking for Tableau Training in Delhi, you can enroll in Croma Campus which offers live project-based practical training according to the candidates.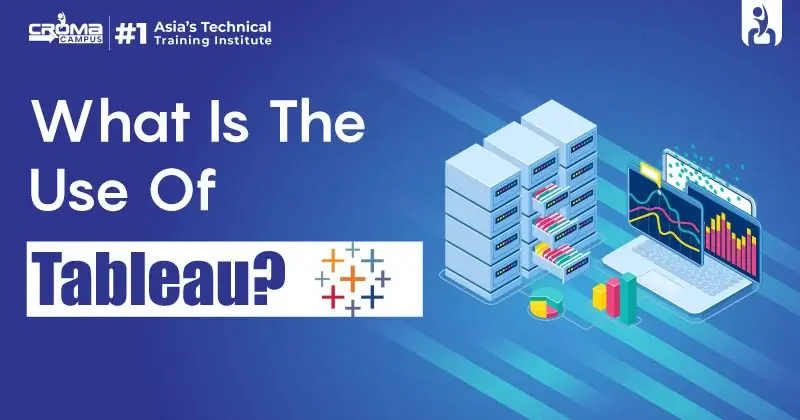 Introduction
With the introduction of Big Data, different tableau uses have come into existence. All organizations usually have tons of data with them, but how to take out useful insights from it? Here, Tableau becomes an ideal solution. It helps in reading data to take out useful insights from it. Moreover, there are different other uses of Tableau as well. Tableau Training in Delhi can guide you on the path to illuminate the uses of Tableau software.
The Best Uses of Tableau
1. Fulfills Organizational Requirements
Deep data analysis is a prime need for every organization. However, the requirement of an organization comes from the requirement of the client and applications of the product or an application.
2. To Derive Meanings from Data
It can analyze data from various data sources to develop reports to be easily understood at first sight. Data analysis takes place in different ways by extracting, loading, as well as transforming data. Tableau's different features allow data analysis and processing in different ways.
3. Access to Visual Dashboards
Tableau performs the process of data analysis by summarizing the content and important characteristics of the data sets into non-redundant information. Further, these visual dashboards in Tableau offer different representation capabilities like tables, graphs, or Graphical representations.
4. Supports Many Data Sources
It also supports different data sources from various database types like MongoDB, Oracle, IBM DB2, MySQL, MS SQL, Cassandra, Virtual databases, and more.
5. Easier to Handle
The process of handling various types of data is easier and also customizing it as per requirement is even easier. While working with the Tableau tool does not involve any type of programming or coding. Basically, it just requires a kind of drag and drops feature too easily operate and that too requires less learning curve.
6. Bigger Community Support
Tableau hosts great professionals with exceptional knowledge and passionate enough to learn and work together in supporting the complex issues of handling and managing data. Its community forums have various types of user groups, communities, and user bases with varied cross-functional and technical knowledge to help other users.
7. Best Visual Analysis
Visual analysis is graphical or any kind of representation that is easier to understand at first glance. Thus, this visual analysis for different types offers different ways of representation.
8. Flexible Data Pulling and Analysis
The process of pulling data and analyzing it from different types of data sources is flexible. It uses a data source configuration feature by connecting to multiple data sources and pulling the data into Tableau for processing or analyzing the data.
9. Develops Custom Data Reports
You can make customized data reports by manipulating data representation as per the client's requirement. Hence, making the decision-making process easier and beneficial for conducting their business applications.
Conclusion
You can go through Tableau Online Training in India to enhance your existing knowledge of this tool. Today Tableau is one of the top utilized tools for Data visualization. Hence, learning to work on this tool will not only improve your data representation quality but it will also improve your credibility in your organization. Hence, learn the exciting feature of this Tool to use in your work to improve your work quality.
Free Demo for Corporate & Online Trainings.
LEAVE A REPLY
Your email address will not be published. Required fields are marked *
Course Features

Reals Life Practical & Case Studies

Assignments

Lifetime Access

Expert Support

Global Certification

Job Portal Access