Data Analytics & BI
(55 Blogs)
How Power BI Solves Your Data Visualization Work?
4.9 out of 5 based on 13245 votes
Last updated on 13th Feb 2023
11.63K Views

A Power BI Certification can ensure your capabilities in this field and help you move in your career.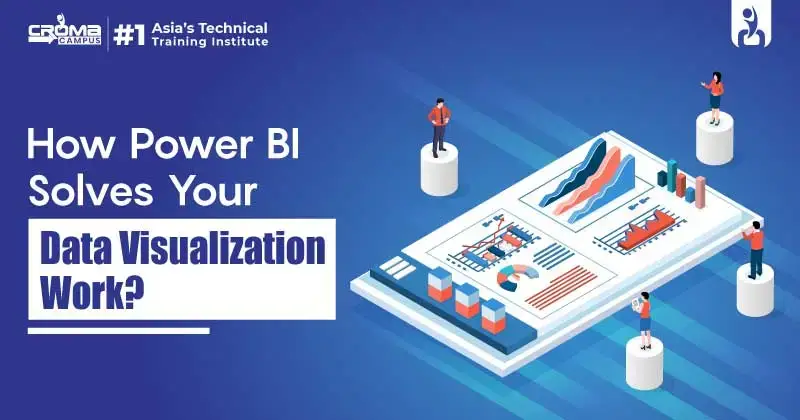 Introduction:
Power BI offers a collection of products and services for individuals and teams to enhance business intelligence (BI), reporting, and data visualization. Power BI is easy to use for everyone and helps in all sorts of business activities. Power BI Online Training in India can help you learn its professional approach to data visualization approach. However, looking at its long-range consumer base, it offers multiple versions to satisfy each customer's demand.
How Power BI offers its support in Data Representation?
Easy Connecting Your Data:
Power BI makes it simple to consolidate your data into a single location for better accessibility, organization, and visibility in your reporting works. It supports up to 70+ connectors, thus allowing businesses to load data from a long range of popular cloud-based sources. You can even load pre-built Power BI dashboards in seconds and execute advanced data analysis in minutes. You can even customize aspects to your preference, or create your own dashboards and reports.
Powerful and Performant:
Power BI's Power Pivot data modeling engine compresses databases and ensures they load completely into memory for the greatest possible speed. Where Excel usually begins to slow down when dealing with huge models, Power BI is designed to work with tables with more than 100 million records. Power BI also makes use of automatic, incremental refreshes to ensure data is always up to date. Indeed, this is a great benefit that further simplifies visual reporting for its end users.
Custom and Open-Source Visuals:
Power BI offers pre-packaged basic data graphics to use in your interactive reports. It mainly includes bars, columns, maps, lines, matrices, pie charts, scatter, tables, and waterfalls. Moreover, each with its own set of customization options for better presentation and usefulness.
Data Modeling:
Advanced data modeling has enabled modern software to identify trends and predict future events. Moreover, Power BI is one such product that offers excellent predictive analytics and forecasting tools for exploring future outcomes.
Simple & Accessible Insights:
You don't need to be a data scientist to use Power BI for data analysis or even to understand how it displays information. The application moreover allows you to view and produce visual reports in as basic or thorough a manner as you like. Power BI Desktop is generally for both beginners and professionals. It quickly explains rises and reductions in data charts with just a click of a button. Which further performs automatic smart analysis on your selected data with the help of machine learning techniques.
Real-Time Information:
Dashboards usually update in real-time as data is streamed in. It allows viewers to instantly solve issues and also uncover possibilities. Real-time data and graphics may be shown and updated in any given report or dashboard.
Conclusion:
You can see Power BI offers multiple support to data rendering capabilities. Learning to work on this tool to can help you progress in your work as well as in your career. A Power BI Certification can ensure your capabilities in this field and help you move in your career. Moreover, a good source of certification will enhance visibility in the eyes of recruiters.
Free Demo for Corporate & Online Trainings.
LEAVE A REPLY
Your email address will not be published. Required fields are marked *
Course Features

Reals Life Practical & Case Studies

Assignments

Lifetime Access

Expert Support

Global Certification

Job Portal Access