Data Science & AI
(81 Blogs)
Best Machine Learning Certification Program For IT Aspirants
4.9 out of 5 based on 8321 votes
Last updated on 9th Nov 2023
7.6K Views

Consider the Google Machine Learning Engineer certification for comprehensive ML skills and industry recognition.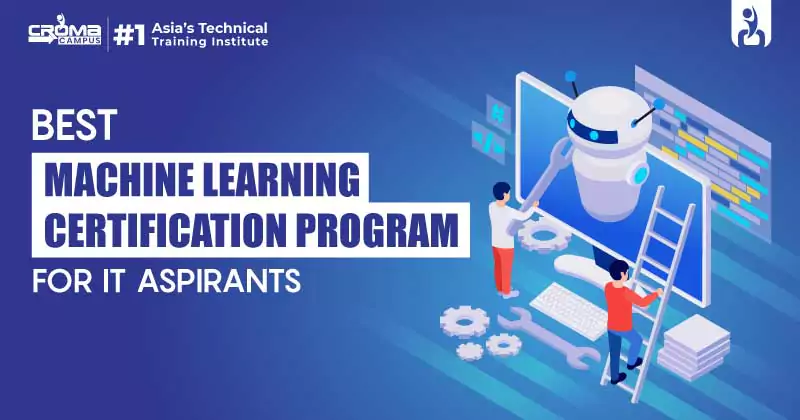 This blog covers the introduction to Machine Learning Programs, the importance of machine learning, key attributes of an excellent program, criteria for choosing top courses, and highlights the best Machine Learning Certification at Croma Campus.
Introduction to Machine Learning Programs

Why Machine Learning?

What makes an Excellent Machine Learning Program?

Top Machine Learning Courses – Criteria to Consider

Best Machine Learning Certification at Croma Campus
Overview:
Machine learning certifications play a pivotal role in enhancing your profile and distinguishing you from competitors in the fields of data science and programming. Whether you complete a comprehensive course or successfully pass an exam, these certificates signify your achievements and validate your expertise and experience in the realm of machine learning. In this article, we'll explore five renowned machine learning certifications, helping you select the perfect one to advance your career.
Certificate vs. Certification: Understanding the Distinction
The terms certificate and certification are often used interchangeably, yet they hold different connotations based on the awarding institution. Certificates typically underscore your training and academic accomplishments, while certifications indicate your professional proficiency, demonstrating that you've excelled in a certification exam demanding specialized skills.
Machine Learning Prominence in Computer Science
Machine Learning, deeply rooted in statistics, stands out as one of the most exhilarating and rapidly advancing domains within computer science. Its far-reaching applications span across various industries, enhancing efficiency and intelligence in diverse sectors.
From powering chatbots, refining spam filters, optimizing ad placements, and enhancing search engine algorithms, to strengthening fraud detection systems, machine learning plays a crucial role in our everyday lives. It empowers us to discern intricate patterns and construct mathematical models that were once deemed beyond human capacity.
Distinguished from data science courses, which encompass a broad spectrum of topics like exploratory data analysis, statistics, communication, and data visualization techniques, machine learning courses offer specialized instruction in machine learning algorithms, their mathematical underpinnings, and their practical implementation in programming languages.
Drawing from years of experience navigating the e-learning landscape and enrolling in numerous machine-learning courses across platforms like Coursera, Croma Campus Edx, Udemy, Udacity, and Koenig Solutions, I've meticulously curated the most exceptional machine-learning courses available.
Here are the criteria that each course on the list adheres to:
Exclusive Focus on Machine Learning: These courses are dedicated to the art of machine learning, providing a comprehensive learning experience.
Utilization of Free, Open-Source Programming Languages: Courses employ open-source languages like Python or R, making them accessible to a wide audience without additional costs.
Integration of Free, Open-Source Libraries: To ensure affordability and accessibility, these courses rely on open-source libraries, bypassing commercial packages that may hinder learning opportunities.
Inclusion of Programming Assignments: Hands-on practice is essential, and each course offers programming assignments to reinforce learning through practical application.
Mathematical Explanation of Algorithms: Understanding the mathematical underpinnings of machine learning algorithms is paramount, and these courses deliver clear explanations.
Flexible Learning Options: Whether you prefer self-paced, on-demand, or monthly availability, these courses accommodate diverse learning preferences.
Engaging Instructors and Compelling Lectures: The courses feature instructors who captivate learners and lectures that maintain interest throughout.
High Ratings and Reviews: These courses have garnered above-average ratings and positive reviews across various aggregators and forums, attesting to their quality.
In adhering to these criteria, the course selection process ensures that you invest your time and energy in a program that offers a superlative machine-learning experience.
Top Machine Learning Courses – Criteria to Consider
Choosing the best machine learning program tailored to your career objectives involves considering several key factors:
Course Content: Begin by pinpointing the specific areas of focus essential for your professional growth. Determine the skills you intend to acquire, whether it's feature engineering, exploratory data analysis, or model evaluation. Then, align these requirements with the program descriptions available.
Duration: Balancing your professional development with full-time work, academic commitments, or other responsibilities can be demanding. Ensure that the workload and deadlines associated with your chosen learning path are manageable within your schedule.
Outcome: Clearly define the purpose behind earning a certificate or certification. If you aim to secure a new position, explore relevant job listings in your field of interest and note the required skills and qualifications. Some employers may specify certifications by name. If the qualifications predominantly revolve around practical skills or you prefer to study before taking an exam, a certificate program might be the better choice.
Cost: Certification prices can vary based on the offering organization. Sometimes, the cost covers the examination fee only, with training or study materials available separately at an extra cost. Before enrolling, research what your selected certificate's price includes and assess whether additional instruction is necessary.
Prerequisites: Tailor your choice to your existing knowledge of machine learning. If you are new to this field, consider beginner-level certification programs that cover fundamental concepts to establish a strong foundation. For those with prior experience in machine learning, intermediate or advanced programs may be more beneficial, focusing on advanced techniques and technical skills.
Machine Learning Certification Programs at Croma Campus
Croma Campus, an ISO-certified training organization, offers top Machine Learning Certification programs. Led by highly qualified technical professionals with over 15 years of experience in various technical domains and serving a broad clientele of MNCs, Croma Campus excels in corporate training and equipping learners with industry-standard skills.
Our Machine Learning Certification Program has gained popularity due to its comprehensive curriculum and detailed teaching methodologies. The courses are offered in a combination of online and offline modes, providing flexibility for students to choose their preferred tracks.
Key Course Details:
Course Duration:
7 days (fast track)

8 weekends (weekend mode)

20-25 days (weekday classes)
Course Content:
Linear Regression with One Variable

Linear Algebra Review

Linear Regression with Multiple Variables

Octave/Matlab Tutorials

Logistic Regression

Regularization

Neural Networks Representation

Neural Networks Learning

Machine Learning System Design

Support Vector Machine

Unsupervised Learning

Dimensionality Reduction

Anomaly Detection
Additional Benefits:
Study Material

Regular Assignments with Feedback

Practical Projects

Grooming Sessions

Interview Preparations

Placement Assistance

Additional Workshops

CV Designing
Croma Campus stands out as a top destination for Machine Learning Programs, offering the Best Machine Learning Certification courses to equip learners with the skills demanded by the industry.
Free Demo for Corporate & Online Trainings.
LEAVE A REPLY
Your email address will not be published. Required fields are marked *
Course Features

Reals Life Practical & Case Studies

Assignments

Lifetime Access

Expert Support

Global Certification

Job Portal Access