SAP MM Certification Cost In India
4.9 out of 5 based on 13012 votes
Last updated on 17th Jul 2023
15.32K Views

SAP MM looks after all tasks happening within the supply chain from consumption-based planning to other warehouse management.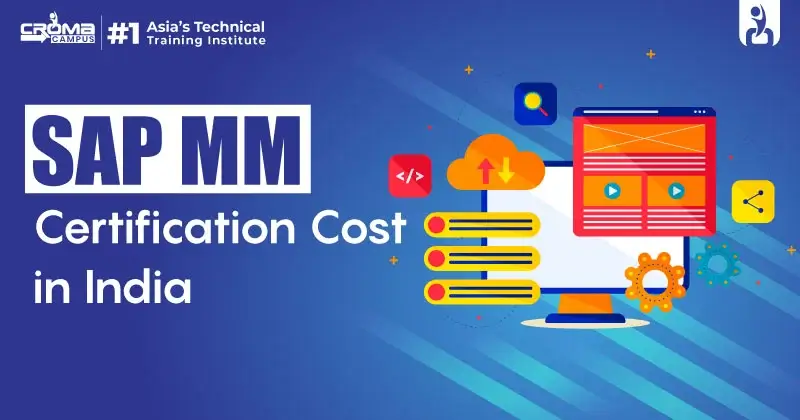 Introduction
One of the key components of SAP ERP software is the SAP MM (Material Management). It is responsible for inventory and procurement processes happening in regular corporate operations. This MM module provides a wide range of features, including purchasing, obtaining commodities, storing materials, consumption-based planning, and inventory. With SAP MM Online Training, you can easily get proficiency in this module. Also, when most organizations are using this solution, it is indeed a great idea to learn to work on this platform. SAP MM Certification Cost in India is easily accessible by all individuals. Hence you do not need to worry about the cost. You only require true dedication and with the correct mentors, you can excel in this field. SAP MM looks after many other areas as well. The following paragraphs will through light on other aspects of this module.
Understanding the SAP MM Module Structure
The SAP MM module integrates with another module as well. As Controlling (CO), and Quality Management (QM), and Finance (FI), Production Planning (PP), Plant Maintenance (PM), Sales and Distribution (SD), and Warehouse Management (WM). It further supports all key phases of materials management to make a smother flow of business.
● Organizational Structure Under SAP MM
● Plant
● Buying organizations
● Storage locations
● Assessment location
● Purchasing groups
● Other sub-modules of SAP MM
● Material Planning.
● Stock Management.
● Buying.
● Invoice Verification.
● Procurement Process.
● Vendor Valuation.
● Statutory Requirements.
Purchasing and procurement are crucial processes in the SAP MM module. When an organization needs a product or service, the purchase process is initially initiated. Further, the responsible person for that company must identify the vendor or supplier. For providing the material/service on the required date if it is not possible to receive it from the company's internal resources. The creation of the Purchase Requisition (PR), Purchase Order (PO), Goods Receipt/Services, Invoice Verification, and Payment to Vendors marks the beginning of the purchasing process. The SAP MM Certification Cost is only the thing you had to bear to get training in this module. Else you require nothing else, you are ready to go for training and certification to prove your credibility.
The logistics department's SAP MM module aids in handling whole procurement and logistical business activities. Requisitions, purchase orders, goods receipts, accounts payable, inventory management, BOMs and master raw materials, finished goods, etc. are some of the primary elements you may find in the MM module.
Advantages of SAP MM
Customer demands are continuously evolving. So an organization's effectiveness can only be measured by its ability to stand up to the market demands at the earliest time possible. To make this happen, the business needs to have stock of the necessary raw materials at the correct time to use it efficiently. A balanced Material Management process ensures there is never a chance of a shortage of materials or any gaps in the working supply chain process of the organization. The SAP MM further automates procurement and material management functions to speed up the process. SAP MM Certification Costs in India have become a minimal affair. Therefore, start your training now to widen your knowledge breath.
Some benefits of SAP MM:
Fewer material costs by eliminating unnecessary stocking or obsolete materials.
Minimized Inventory losses
Further, direct labor costs are lower and efficient usage of labor
Lower Manufacturing cycle times with better effectiveness
Impactful inventory management and lower expenditure on unnecessary material storage.
Additionally, improves delivery time transparency across the organization.

With SAP MM Training in Delhi, you can easily install all these understanding in your knowledge. Moreover, when you are well aware of the process you can work better at your organization. SAP MM Certification is another easy medium to acquire this training. Looking at the growing market demands, you should definitely add this expertise to your career.
Key Features of SAP MM
SAP MM is one of the crucial modules of SAP that looks after material management and inventory management.
Material Management is more of a process that ensures no shortage or limitations of materials or any kind of gaps in the supply chain process of the organization. SAP MM further speeds up procurement and activities of material management. Thus, allowing business to run smoothly with proper timing and cost-efficiency.
It further looks after the management of the materials that is the products and services and the resources of an organization to improve productivity and lower costs. Moreover, SAP MM is versatile enough to properly accommodate to the changes made in the business environment.
It deals with the procurement process, Valuation of material, material requirement planning, Account Determination, master data (Material and vendor Master), inventory management, and more. SAP MM Certification Cost in India is a cost-effective medium for adding this expertise to your skill.
Future of SAP MM
The SAP MM future is indeed promising. SAP Master Data Management is in certainly high demand in India. The SAP technology as it stands today will be in use for the next 30 years, and it is continually developing. Among the many modules, functional modules like MM, SD, and so forth are in high demand. The MM module is utilized in the majority of SAP projects because the material is one of the demands of the majority of SAP firms. Moreover, you can grasp a range of functional and technical modules, including SD, QM, and SAP ABAP, to raise your market worth. Consequently, SAP MM has a promising future.
Conclusion
With a well-guided training and practice session, you can make your proficiency in this module. Looking at the high demand for such professionals you can definitely start your career in this sector. SAP MM Certification Cost in India is indeed a minimum affair. It is moreover a convenient and accessible option for gaining this expertise. Also, when you look at a highly demanding tech environment, you need to be well-updated with recent technologies and advancements. Getting an SAP MM certification will make you an informed candidate in this domain. Thus, start your journey on this path now.
Free Demo for Corporate & Online Trainings.
LEAVE A REPLY
Your email address will not be published. Required fields are marked *
Course Features

Reals Life Practical & Case Studies

Assignments

Lifetime Access

Expert Support

Global Certification

Job Portal Access