What Are The SAP HCM Modules?
4.9 out of 5 based on 4218 votes
Last updated on 18th Feb 2023
7.3K Views

With the help of SAP HCM modules, you can improve your skills, credibility, and network. To know more about the SAP HCM modules read this post.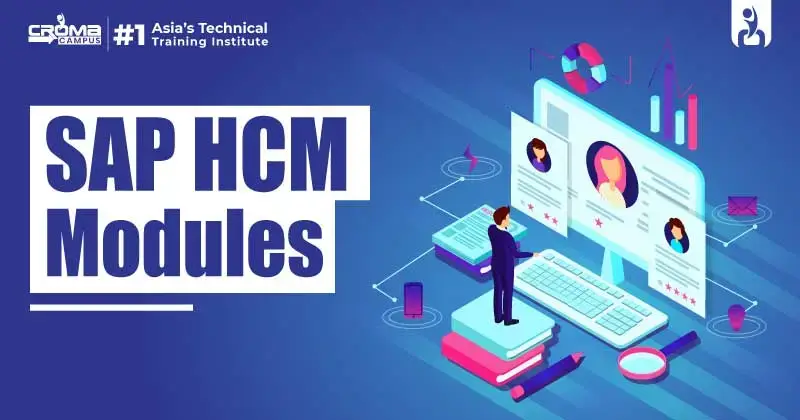 SAP HCM (Human Capital Management) enables enterprises to create an organized human resource management. It offers strategized solutions for the Human Resources department for talent management, payroll, attendance, employee experience, and much more. There is a generalized idea that HR is associated with hiring alone. However, at a deeper level, the HR department of an organization is much more than that. The HR is responsible for segregating employees based on their designation, payment, employee engagement, talent acquisition, etc. This is where SAP HCM comes in to help the Human Resources team organize and manage all the HR processes. The SAP HCM offers multiple strategic and innovative solutions to manage employee details, payroll, attendance, employee experience, etc., to enable the various departments within an enterprise to function smoothly.

Let's now proceed and know the benefits of SAP HCM.
Benefits of SAP HCM
Installing SAP HCM comes with its own advantages. Apart from organizing the HR operations, many tasks can be automated through the SAP HCM ERP. Thus, manual work is significantly reduced, increasing employee productivity. The SAP HCM enables organizations to maximize their recruitment. It also helps HR departments hire contractual, part-time, or daily-wage workers and maintain their records efficiently.
The SAP HCM software is flexible. It does not require re-designing the entire company structure. The SAP HCM software can be installed with slight adjustments within the existing system to function. For more information on SAP HCM and its features, one can visit websites on SAP HCM Training in Delhi.
SAP HCM Modules
The SAP HCM focuses on all the nitty-gritty of the HR processes. The software is comprehensive and includes all components of the Human Resource systems. SAP HCM is sub-categorized into further modules, which have been discussed below.
1. Organisational Management (OM)
Organizational management is the way to make multiple employees work under the same organization to achieve a common goal. The SAP HCM environment ensures structured management of the workers within the workstation. This module supports data management of the workers, personnel planning, and analysis.
2. Personnel Administration (PA)
Personnel Administration is the system of managing the human resources within an organization. The PA module of SAP HCM keeps track of every minute detail of the employees right from the beginning. Information like details while recruitment, compensation, benefits, appraisal, etc., are recorded through the Personnel Administration.
3. E-Recruitment (PB)
The HCM Recruitment module enables employers to acquire the right talent for the company. It assists HR during the entire hiring process and manages organizational vacancies. Tasks such as scheduling interviews, tracking applications, application deadlines, etc., can be managed under this module of SAP HCM.
4. Personnel Time Management (PT)
This module enables one to keep a tab on the overall performance of an employee over a certain period. Through the PT module of HCM, an employee's impact on the organization's functioning can be estimated. PT also includes management of employee attendance, payroll, log-in and log-out reports, and so on.
5. Payroll Accounting (PY)
As the term suggests, this module under HCM deals with all the data related to the payment of employees. Everything comes under this module, from calculating salaries, bonuses, comp-off, overtime payment, etc. The SAP HCM PY supports different periods, making it especially beneficial for international companies.
6. Training And Event Management (PE)
SAP HCM PE is related to Personnel Development, where HCM is used to compare vacant positions with existing human resources. The HCM PE enables planning and executing events like training and education of the employees. In this, previous or existing events can also be used for reference. Thus, the HCM PE helps one organize the event, rooms, lecturers, etc., more systematically.
7. ESS And MSS
The ESS and MSS are sub-modules of the SAP HCM. Employee Self-Service (ESS) enables employees to track various data throughout their service within the organization. Management Self-Service (MSS) is similar to ESS. However, it helps the management track data related to their employees.
Mentioned above are a few of the main modules that come under SAP HCM. These modules together enable more efficient functioning and management by HR and ensure smooth workflow throughout the organization.
With its increasing benefits in every sector of companies, SAP HCM training is of great advantage for aspiring HRs'. Various institutes offer training and SAP HCM Certifications. Those willing to pursue HR as their career may opt for such training to excel in the field.
Conclusion
SAP HCM is a one-stop solution to help companies organize and manage their valuable human resources. Over recent years, it has become a widely used tool in most of the companies. SAP HCM facilitates data storage and manages employee information, payment, benefits, time management, reporting, training records, events, etc. The SAP HCM software is an emerging prospect that has the potential to create huge career advancements and better organization within the companies. SAP HCM certification can create new job opportunities for freshers and offers a higher earning potential. By opting to train in SAP HCM, one can improve their skills, credibility and network. Some of the common career opportunities after training with SAP HCM include SAP HCM Consultant, SAP HCM Analyst, SAP HCM Functional Consultant, SAP HCM Technical Consultant, SAP HCM Project Manager and so on.
Free Demo for Corporate & Online Trainings.
LEAVE A REPLY
Your email address will not be published. Required fields are marked *
Course Features

Reals Life Practical & Case Studies

Assignments

Lifetime Access

Expert Support

Global Certification

Job Portal Access