SAP S4 HANA Certification Cost In India
4.9 out of 5 based on 8412 votes
Last updated on 23rd May 2023
12.5K Views

SAP S4 HANA Online Training Course is ideal for those who wish to learn these skills and start a career in this domain. For more, read this post.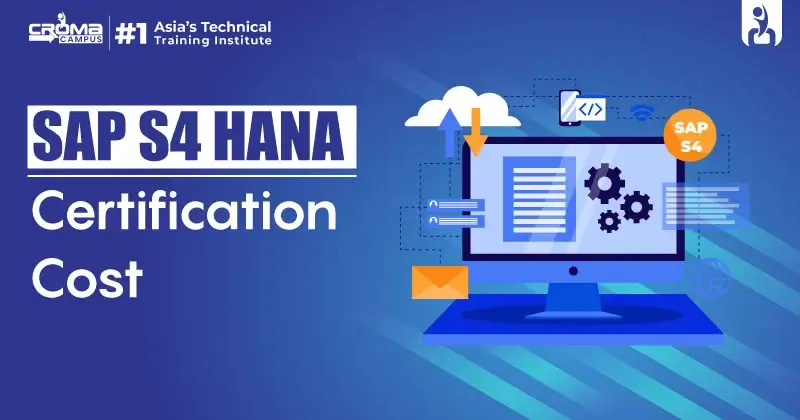 To begin with, SAP HANA refers to High-performance Analytic Appliance. This is a multi-model database useful for storing the data in its memory rather than keeping it on a disk. It follows a column-oriented in-memory database design approach that helps you run advanced analytics alongside high-speed transactions.
Significant Features of SAP S4 HANA
SAP HANA comes with column-based storage along with data aging and dynamic tiering. In addition, it facilitates data modeling and provides high availability and disaster recovery. SAP HANA provides in-memory monitoring tools and offers provisioning capabilities for users. Apart from these, this tool comes with tons of security options. To further know about it, one can visit SAP S4 HANA Online Course. Here are some of the significant features of SAP S4 HANA.

In-memory database.
Innovates intelligently without boundaries.
Transform with speed and agility.
Allows you to extend your data storage footprint.
It provides support for higher or variable workloads.
This tool connects data across premises and clouds.
Comes with advanced analytics and embedded AI.
Reasons to Learn SAP H4 HAHA
Using SAP S4 HANA brings immense simplification to the management and administration of the IT landscape. In addition, it facilitates the centralizing of hardware and network resources and serves as the digital core for business process simplification. This is an easy-to-handle tool that provides a modern design for a completely innovative user experience. Thus, allowing 0users to prompt questions and access required details, regardless of device or deployment. Above all, SAP S4 HANA ensures cost-effectiveness and provides you the ability to bring together all the analytical and transactional capabilities of a variety of systems in one location. Thus, ensuring better and quicker decision-making. This module of SAP also sets the stage for future innovation and allows businesses to keep up with the technology. Apart from these, given below are some of the reasons why you should learn SAP H4 HANA.

Promotes Innovation and Makes Your Company Future-proof
Makes Quote-to-order Processes 95% Faster
Provides Real-time Insights for Making Informed Decisions
Enhances Customer Services by Reducing Complaints
Offers Resources and Reduces Various Costs
What are the benefits of Enrolling in the SAP S4 HANA Course?
The SAP S4 HANA Online Course is ideal for those who wish to learn these skills and start a career in this domain. In addition, this course will provide you with a brief overview of SAP S/4HANA for learners. This course will provide you with a comprehensive overview of the processes in SAP S/4HANA Sourcing and Procurement. Furthermore, it will teach you about the fundamentals, major business processes, and functions. THE SAP S4 HANA course will provide you a deep knowledge relevant to learners who are familiar with the SAP Business Suite. Above all, it will prepare you for getting the SAP HANA certification which will be highly beneficial for your career.
What is the Cost of SAP S4 HANA Certification in India?
The cost of SAP S4 HANA certification depends on the certification you wish to obtain. There are many certification exams and each exam has a number of recommended courses. For SAP HANA, there are currently 4 tracks. Most courses are online anyone can enroll in them. Enrolling in these courses will help you clear the SAP certification exam. In India, the SAP S4 HANA Certification Cost is 35000 to 40000 INR.
Conclusion
SAP is a multi-model database useful for maintaining data in memory rather than on a disc. In addition, it employs an in-memory column-oriented database architecture strategy that enables you to execute complex analytics with quick transactions. Data aging, dynamic tiering, and column-based storage are all included with SAP HANA. Additionally, it offers high availability and catastrophe recovery, as well as data modeling facilitation. This SAP module paves the way for future innovation and enables companies to stay current with technology.

Free Demo for Corporate & Online Trainings.
LEAVE A REPLY
Your email address will not be published. Required fields are marked *
Course Features

Reals Life Practical & Case Studies

Assignments

Lifetime Access

Expert Support

Global Certification

Job Portal Access