Amazon Web Services(AWS)
(26 Blogs)
AWS Certification Cost In India: Is It Worth The Investment?
4.9 out of 5 based on 8547 votes
Last updated on 10th Aug 2023
13.4K Views

In this post, we are discussing the AWS certification cost in India and explore whether the investment is worth the potential benefits.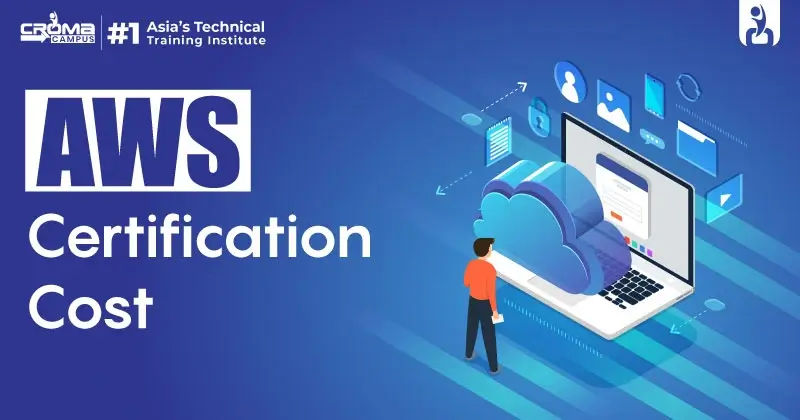 In the rapidly evolving landscape of cloud computing, Amazon Web Services (AWS) has established itself as a dominant player, offering a plethora of cloud services that empower businesses to scale and innovate. As the demand for skilled cloud professionals continues to rise, AWS certifications have gained substantial importance. However, one crucial factor that potential candidates often consider is the cost associated with obtaining these certifications.
Further, we will have a look at the AWS certification cost in India and explore whether the investment is worth the potential benefits.
Is AWS worth opting for certification?
Understanding AWS Certifications
AWS certifications are designed to validate individuals' technical skills and expertise in various aspects of cloud computing. These certifications cover a wide range of roles and domains, catering to professionals with diverse backgrounds and job responsibilities. Whether you're an aspiring cloud architect, a developer, a solutions architect, or even a data scientist, AWS offers certifications tailored to your specific career path.
AWS certifications are categorized into different levels: Foundational, Associate, Professional, and Specialty. Each level signifies a different degree of expertise and complexity. Here's a breakdown of the certification costs in India:
Foundational Certifications:
AWS Certified Cloud Practitioner: ₹6,000 - ₹7,500
Associate Certifications:
AWS Certified Solutions Architect – Associate

AWS Certified Developer – Associate

AWS Certified SysOps Administrator – Associate: Each certification typically costs around ₹10,500 - ₹12,000.
Professional Certifications:
AWS Certified Solutions Architect – Professional

AWS Certified DevOps Engineer – Professional: These certifications generally cost ₹12,500 - ₹14,000.
Specialty Certifications:
AWS Certified Advanced Networking – Specialty

AWS Certified Security – Specialty

AWS Certified Machine Learning – Specialty: The cost for these specialty certifications ranges from ₹12,500 - ₹14,000.
Weighing the Investment
While the cost of AWS certifications in India might seem daunting at first glance, it's essential to view this expense as an investment in your career growth.
Here are a few reasons why obtaining AWS Training could be a worthwhile endeavour:
Enhanced Career Opportunities

: AWS certifications are recognized globally and are highly regarded by employers. Holding an AWS certification can open doors to a wide range of job opportunities with competitive salaries.

Skill Validation

: Earning an AWS certification showcases your proficiency in using AWS services and technologies. This validation can be a powerful addition to your resume, especially in a field as dynamic as cloud computing.

Industry Demand

: As more organizations migrate their infrastructure to the cloud, the demand for skilled cloud professionals continues to soar. Holding an AWS certification can make you a desirable candidate for various cloud-related roles.

Stay Current

: AWS certifications require you to stay updated with the latest advancements in cloud technology. This commitment to continuous learning can help you stay relevant and adaptable in a rapidly changing industry.

Networking Opportunities

: Joining the community of AWS-certified professionals provides opportunities to connect with like-minded individuals, share experiences, and gain insights into industry best practices.
Maximizing the Value
To ensure that you're getting the most value out of your AWS Training investment, consider the following strategies:
Choose Wisely

: Select certifications that align with your career goals. Research the roles and domains that interest you the most, and pursue certifications that will enhance your expertise in those areas.

Preparation is Key

: AWS certification exams are rigorous and cover a broad range of topics. Dedicate time to thorough preparation by studying official AWS documentation, taking online courses, and practicing hands-on with AWS services.

Hands-On Experience

: Practical experience with AWS services is invaluable. Experiment with creating and managing resources on the AWS platform to solidify your understanding of the concepts.

Practice Exams

: Utilize practice exams to familiarize yourself with the exam format and types of questions you'll encounter. This can help reduce anxiety on exam day.

Stay Updated

: AWS services and best practices evolve over time. Even after obtaining your certification, continue to learn and adapt to new developments in the cloud space.
What an AWS Engineer is supposed to do?
An AWS Engineer is supposed to execute numerous tasks. If you also aspire to turn into a knowledgeable AWS Engineer, you must know what duties you will have to execute. Some of the main roles are listed below.
An AWS (Amazon Web Services) engineer is responsible for designing, deploying, and managing applications and infrastructure on the AWS cloud platform.

They configure and maintain various AWS services, monitor system performance, ensure security and compliance, automate processes, and troubleshoot issues to ensure the efficient and reliable operation of cloud-based systems.

Their role involves optimizing resource usage, implementing best practices, and collaborating with development and operations teams to deliver scalable and highly available solutions.
How much an AWS Engineer earn?
Whereas exact salary structure is concerned, an AWS Engineer earns quite well. If he/she holds a legit AWS Certification, then comparatively to other employees, they end up earning more. To be honest, the salary package depends upon numerous factors like- total work experience, skills, information, etc. Here in India, a fresher AWS Engineer makes around ₹3.6 Lakhs per year. On the other hand, an experienced AWS Engineer earns around ₹ 4.8 Lakhs-₹ 9.8 Lakhs or beyond. Well, there is no fixed salary structure as of now, a knowledgeable candidate can earn as much as they based upon their skills and ability.
What the future holds for AWS?
To be honest, the life of an AWS Cloud Engineer is genuinely filled with numerous opportunities, challenges, and excitement. With the immense increasing demand for cloud computing offerings, the role of AWS Cloud Engineers has become highly vital. They are accountable for designing, implementing, and keeping up with the cloud infrastructure for organizations. They are genuinely accountable for assuring that cloud systems are secure, scalable, and cost-effective.
Well, they have a diverse set of skills that comprises in-depth information on AWS services, cloud computing architecture, network security, and DevOps practices. They must be able to work with cross-functional teams and collaborate effectively with both technical and non-technical stakeholders.
Whereas future scope is concerned, it has quite a bright future, and the demand for skilled professionals in this field is only expected to grow. As per recent industry reports, there's a huge requirement for cloud computing offerings that are expected to grow at a rapid pace in the coming years. And this is due to the rapid adoption of cloud-based solutions by companies of different sizes.
In the present scenario, you will find numerous companies are investing heavily in cloud infrastructure, and there's a high surge for AWS Cloud Engineers that is expected to increase accordingly. In fact, they can expect to be in high demand and can acquire higher salaries. They will also have brilliant career growth opportunities, comprising management roles, solutions architecture, and security.
So, if you want to turn into an AWS Engineer, you must acquire AWS Training and get ahead in this field. It genuinely has space for skilled and knowledgeable candidates, and as it's hugely in demand, it has a bright scope ahead as well.
Benefits of acquiring AWS Training from Croma Campus
Acquiring AWS (Amazon Web Services) training from Croma Campus can offer several benefits, including hands-on experience with cloud technologies, industry-recognized certifications, practical skills for cloud deployment, management, and scalability, as well as networking opportunities with professionals in the field. Well, it's a one-of-a-kind institution that ensures alignment with your learning objectives and career goals.
Some advantages include:
Access to AWS's vast cloud infrastructure allows us to scale our IT resources as needed, reducing the burden of maintaining physical hardware.

AWS provides the ability to easily scale up or down based on demand. Here, we provide quick provision resources to meet spikes in usage without the need for large upfront investments.

Well, AWS offers a wide array of cloud services, including computing, storage, databases, analytics, machine learning, and more. In Croma Campus, we leverage these services to meet various needs.

By getting associated with us, you will get access to cutting-edge technologies.

AWS operates data centres in multiple regions globally, enabling us to deploy applications and services close to their users for reduced latency and improved performance.

AWS provides a range of security features and compliance certifications, enhancing data protection and regulatory compliance for institutions.

Here, along with theoretical information, you will also get practical knowledge and placement assistance.
Conclusion
While the cost of AWS certifications in India might require an upfront investment, the potential long-term benefits are substantial. These certifications can provide a competitive edge in the job market, validate your cloud expertise, and present opportunities for career growth. As the cloud computing landscape continues to expand, being an AWS-certified professional can position you at the forefront of innovation and technological advancement. So, if you're passionate about cloud technology and dedicated to advancing your career, the investment in AWS certifications could very well be worth every rupee.
FAQs
What is AWS training all about?
AWS training provides individuals and organizations with the skills and knowledge needed to effectively use Amazon Web Services (AWS) cloud computing platform. It covers various aspects such as cloud architecture, services, security, and best practices.
Who can benefit from AWS training?
AWS training is valuable for a wide range of audiences, including IT professionals, developers, system administrators, architects, and business decision-makers. Whether you're new to cloud computing or experienced, there are different training paths suited to various skill levels.
Why should I consider AWS certification?
AWS certifications validate your cloud skills and knowledge, making you more competitive in the job market. They demonstrate your expertise in using AWS services and can lead to better career opportunities and higher earning potential. AWS offers certifications for different roles and proficiency levels.
Free Demo for Corporate & Online Trainings.
LEAVE A REPLY
Your email address will not be published. Required fields are marked *
Course Features

Reals Life Practical & Case Studies

Assignments

Lifetime Access

Expert Support

Global Certification

Job Portal Access