Data Analytics & BI
(55 Blogs)
A Complete Guide On Tableau (Meaning, Features, And Benefits)
5 out of 5 based on 752 votes
Last updated on 19th May 2022
2.3K Views

Tableau is a fast-developing visualization tool used for several business applications. It's a high-demand software owing to its user-friendly interface.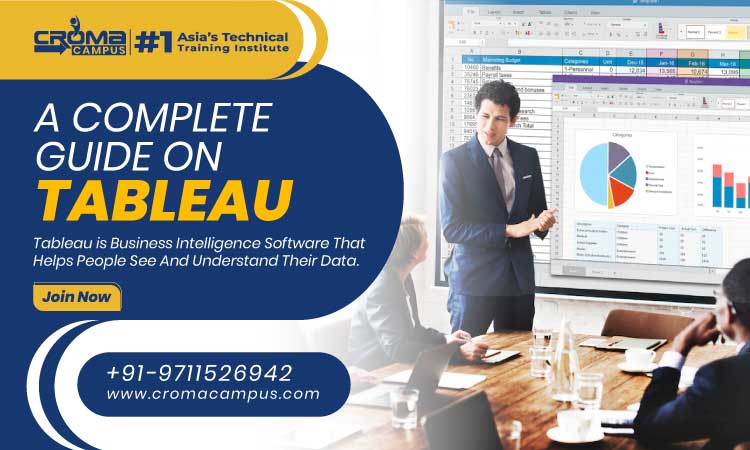 Introduction
All of the business-oriented solutions work perfectly well and are easier to pursue when the results of the dataset analysis are in the form of data visualization. Moreover, it's easier to forecast insights when all graphs, charts, plots, and so forth are on a single dashboard. This is where tableau comes into play. It is one of the best business intelligence tools that help analyze and process a large amount of data. As a result, many large enterprises have adopted this tool, increasing the demand for skilled professionals. Therefore, the objective of Tableau Online Training in Saudi Arabia revolves around preparing candidates and aspirants to become professionals in this domain and assisting them with their career goals.
Meaning of Tableau
Tableau is a fast-developing visualization tool used for several business applications. It's a high-demand software owing to its user-friendly interface. Also, you can use this tool for Business Intelligence processes. Moreover, this tool is structured to provide various types of charts, plots, and graphs for visualization. Furthermore, when it comes to data type and structure and their access in tableau, it works well with any form of data, whether structured or unstructured datasets. Thus, a person with a non-technical background can operate this software as it doesn't require any programming language.

Unique Features of Tableau
The tableau consists of several features, which include:
Tableau Dashboard
Tableau Dashboards provide a comprehensive view of your data with the help of visualizations, visual objects, text, and more. Dashboards are very informative as they show data in the form of stories, allow the user to include different views, provide different layouts and formats, and allow users to install appropriate filters.
Collaboration & Sharing
Tableau offers simple ways for users to collaborate and rapidly exchange data using visualizations, sheets, dashboards, and more. It also enables you to securely communicate data from different data sources, including on-premise, on-cloud, hybrid, and more.
Advanced Visualization
Tableau's wide selection of visualizations is a crucial factor in the popularity of the software. Moreover, it allows you to create visuals as basic as a Pie chart and Bar chart. Furthermore, you can create visuals as advanced as a bullet chart, Gantt chart, histogram, and motion chart.
Maps
The map is another significant feature of the tableau software. It comes with several pre-installed map data, such as cities, postal codes, administrative borders, etc. As a result, Tableau maps are very detailed and insightful. You may add different layers of geology to the map based on your needs and use your data to generate informative maps in this software.
Security
Tableau prioritizes data and user protection. It has a foolproof security system for data connections and user access based on authentication and authorization mechanisms. Also, the software allows you to interact with other security protocols like Active Directory, Kerberos, and others. Furthermore, it is crucial to note that the Tableau software employs row-level filtering, which helps in data security.
Mobile View
Tableau recognizes the importance of mobile phones in today's environment and offers a mobile version of its application. However, you can design dashboards and reports that are mobile-friendly. Moreover, it allows you to create unique mobile layouts for your dashboard specific to your mobile device.
Need for Tableau Training
After getting an overview of the basis of the tableau, it is necessary to understand why you should go for this type of training for a promising career. List down below are the top reasons to learn this technology.
Rewarding Career
Along with the strong demand for Tableau Professional, there is a substantial rise in the salary of such experts. However, salaries of Tableau professionals' are likely to rise in the future. Moreover, the average annual salary of the professional is roughly around INR 7,50,000.
Various Job Roles
The most obvious reason for learning the Tableau software is the availability of different employment opportunities. However, there are several job roles available in this Tableau domain. Thus, tableau experts may select their profession according to their area of interest from the list below:
Senior Tableau Developer
Data Analyst
Business Analyst
Tableau Consultant
Business Intelligence Analyst
Software Engineer
Easy to Use
One of the top reasons to get a Tableau training is its ease of use. It is a user-friendly application that enables users to create complex charts and graphs. Moreover, users may generate data visualizations by managing massive amounts of data quickly and easily with the help of its excellent abilities. Furthermore, it enables consumers and experts to focus on visual data.
Easy Growth of an Individual
The most important reason to learn this powerful software is that it will help you advance in your job prospect. Professionals who want to work in this software should master this technology. Certified Tableau experts will have a greater probability of being hired by top MNCs for different positions and earning higher wages than their peers.
Why Choose Croma Campus for Your Tableau Training?
Croma Campus is the top Tableau Institute and has been in the industry for a long time. As a result, you enjoy several benefits by joining Croma Campus for your Tableau Training. These benefits include;
The course will teach you how to respond to interview questions so that you may sail through your interview.
Furthermore, this course will assist you in gaining a thorough understanding of the technology and data visualization techniques.
Croma Campus training allows you to learn at your speed while still receiving full mentorship from your mentors.
Finally, you will have the opportunity to study the software from industry veterans with at least ten years of expertise.
Conclusion
Finally, many large businesses take the help of Tableau software to analyze large amounts of data. It is the best option to develop a career in this field and be one of the highest-paid professionals in a reputable organization. Thus, to become proficient in this domain, you need to enroll yourself in Tableau Online Training in Dubai. Such training will help you get an in-depth knowledge of the software. So this is the best time to get certified from Croma Campus and start working as a professional.
Free Demo for Corporate & Online Trainings.
LEAVE A REPLY
Your email address will not be published. Required fields are marked *
Course Features

Reals Life Practical & Case Studies

Assignments

Lifetime Access

Expert Support

Global Certification

Job Portal Access