What Is The Function Of SAP SCM?
4.9 out of 5 based on 12987 votes
Last updated on 11th May 2023
12.32K Views

SAP SCM works in businesses of every size in multiple dimensions of industries. SAP SCM Online Course can help you get a better understanding of its different functionalities.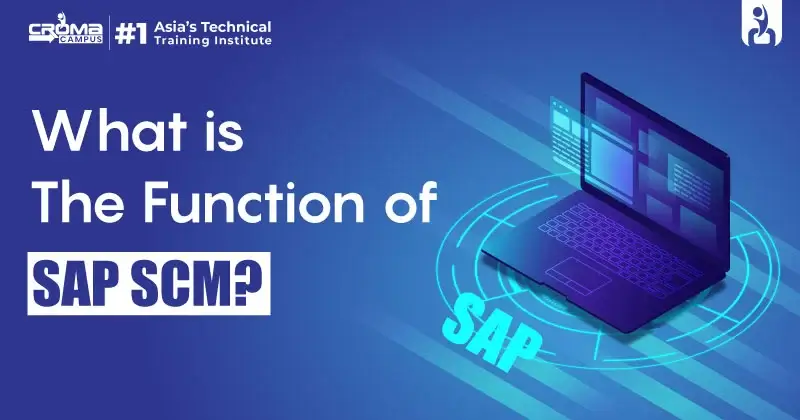 Introduction
SAP SCM streamlines the end-to-end supply chain management (SCM) processes. It basically looks after planning, and execution, and manages collaboration. It works in businesses of every size in multiple dimensions of industries. SAP SCM Online Course can help you get a better understanding of its different functionalities. Further, it also manages production schedules, looks after transportation routes, and demands forecasting. Allowing them to make better-informed decisions, lower costs, improve operational efficiency, and lastly improve customer service.
SAP SCM Module
The SAP SCM Modules' purpose is to assist organizations in comparing their specific demand management needs. Against a well-organized description of the crucial system's key processes, modules, submodules, and different other individual features.
Features of SAP SCM Software
1. Promotion Planning
Brings out the product's ability to plan promotions with its trading partners. Taking care of the simulation, execution, and moving to the evaluation of the promotion.
2. Pricing and Profit Optimization
SAP SCM offers the capacity to develop profitable price points for different products according to their specific markets, demographics, pricing parameters, and other necessary deciding factors.
3. Forecasting
SAP SCM allows users to process historical data and present demand to better forecast future demand. While also allocating the essential labor and resources needed to further maximize operational efficiency and productivity looking at the market fluctuations.
4. Merchandise Planning
SAP SCM allows you to briefly understand your demand based on demographics, correct store locations, and other factors. Further enabling you to optimize merchandising and manage purchasing efficiency. SAP SCM aims to prioritize merchandise planning functionality. Since this solution comes with multiple features in this category just like the average demand management product.
5. Life Cycle Planning
The life cycle planning section looks after the product's ability to show sell-in and sell-through data to develop an overall understanding of your product's life cycles. SAP SCM offers more tools in this section than any other average competing demand management product.
6. Consensus Planning
SAP SCM efficiently aligns the business requirement of different teams and departments to offer consensus forecasting numbers. It forms like the basis of the organization's unique business goals and certain objectives. When you talk about consensus planning, SAP SCM stands atop all other the average competitor.
7. Collaborative Planning
SAP SCM offers collaborative planning functionality. It allows collaboration and advanced planning with other business partners by sharing and also modeling demand-supply gaps with one another. Also including the ability to build target replenishment levels that ensure businesses always have the correct goods and products to satisfy customer demand.
8. Sales and Operations Planning (S&OP)
SAP SCM has the capacity to improve responsiveness, lower risk, and enhance the company's market share. This happens by balancing supply and demand management capabilities to develop feasible business forecasts.
9. Vendor Managed Inventory (VMI) Replenishment
VMI capabilities allow customers and suppliers to look at each other's inventory to further streamline ordering efficiency and manage costly product outages. This allows businesses to further optimize inventory management, look after healthy stock levels, and bring down costs. Thus, SAP SCM has more VMI replenishment tools than any other demand management solution.
10. Event Planning
SAP SCM has the ability to coordinate different marketing events with the media, different channel partners, retailers, and more. This is mainly beneficial during product launches, media advertising campaign launches, and different other promotional events.
11. Metrics and Reporting
SAP SCM documents the product's capability for processing operational data in real-time, identifying trends and patterns within the data. Further optimizing business performance by comprehensive reporting and analysis.
12. Demand Management Systems Architecture
The SAP SCM allows users to enhance customer satisfaction and productivity and make better informed data-driven demand management decisions.
Conclusion
All these features certainly make SAP SCM an ideal solution for business needs. Go for an elaborate training method and learn its essentials. Also, SAP SCM Course Fees do not cost highly and make learning even easier. Thus, start learning to become familiar with all its features.
Free Demo for Corporate & Online Trainings.
LEAVE A REPLY
Your email address will not be published. Required fields are marked *
Course Features

Reals Life Practical & Case Studies

Assignments

Lifetime Access

Expert Support

Global Certification

Job Portal Access