Professional Programs
(19 Blogs)
Easy Steps To Master Adobe Illustrator In 2024
4.9 out of 5 based on 1423 votes
Last updated on 27th Sep 2022
1254K Views

In the recent time, Adobe Illustrator has become the most used image editing and graphics production application.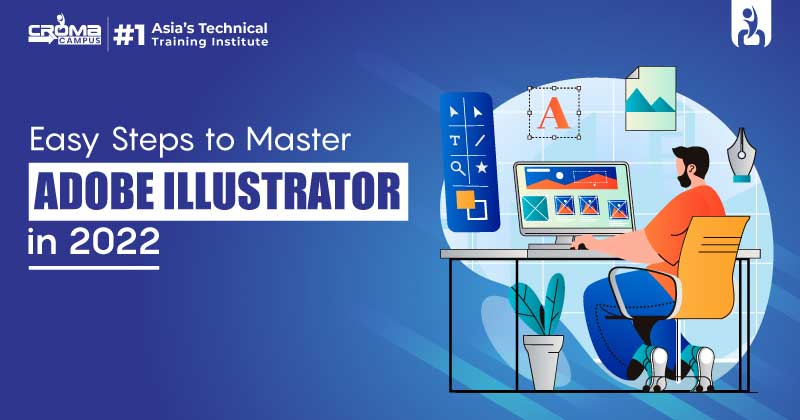 Introduction:
Adobe Illustrator has become the most popular graphic designing application used in various sectors to create vector graphics. With this program, you can create vector images and graphics made of lines, shapes, points, and curves based on mathematical formulas and help in maintaining image quality. Therefore, many individuals want to learn this software to get exciting and great career opportunities and upgrade their career paths. It has become the most used image editing and graphics production application. As a result, Illustrator makes your vector image creation and editing goals faster and easier. Start learning Illustrator by joining the best Adobe Illustrator and Graphics Designing Training in Noida to advance your skills and understand the advanced concepts. As a result, many industries like photography, advertising, and others use this effective image editing tool.
Key Points for Learning Adobe Illustrator:
Getting started with Illustrator basics
By understanding the basic tools of Illustrator, you can perform tasks and actions more effectively. In addition, you will get to learn about all the essential tools and options present within Illustrator. In general, you can learn to utilize Adobe Illustrator tools in an hour with each tool allowing you to achieve something new.
Practice Day-by-Day
After learning all the main features of Illustrator, you will need to practice your skills by designing and editing vector images. Therefore, practicing is the key to enhancing your skills and becoming a master of Adobe Illustrator.
Crucial to have experience
Many Illustrator features will require practice and experience to use effectively. Without proper knowledge and practice, you will find it difficult to use some of the advanced Illustrator tools and features.
Learn from Books and Tutorials
Many books and online tutorials will help you learn about Illustrator tools and their basic concepts. There are many online tutorials available, in addition, you can join training institutions to get extensive training and advance your skills.
How Long does it take to Learn Photoshop?
Learning the basics of Adobe Illustrator will take you approximately 6 hours. However, to become an expert and master the skills of Illustrator, it will take you 20 to 30 minutes to understand the applications of Adobe Illustrator. Therefore, 50 to 100 hours with Illustrator will help you completely master the skills to become a professional. Hence, by getting the Adobe Illustrator Training in Noida, you can make the learning process easy and guarantee your success.
Conclusion
Finally, you can see Adobe Illustrator has become the most trusted and demanding software for graphics designing and creating vector graphics. With Illustrator, you can enhance their creativity level and make effective use of Illustrator features. As a result, it has become essential software for graphics designers to help them deliver desired results. Due to this, Adobe Illustrator offers a promising and bright career path.
Free Demo for Corporate & Online Trainings.
LEAVE A REPLY
Your email address will not be published. Required fields are marked *
Course Features

Reals Life Practical & Case Studies

Assignments

Lifetime Access

Expert Support

Global Certification

Job Portal Access