Full Stack Development
(46 Blogs)
5 Benefits Of Learning Java Full Stack
4.9 out of 5 based on 12309 votes
Last updated on 18th May 2023
10.36K Views

Java Full Stack training course is an ideal platform that will help you to make a career in this domain.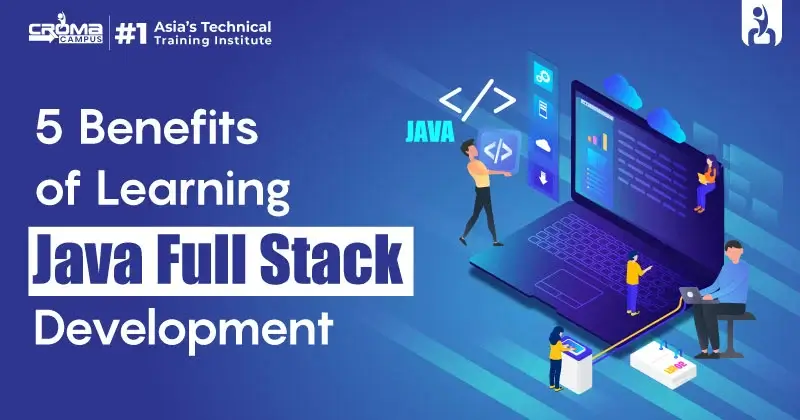 Introduction
Today, most organizations prefer to hire candidates who are masters of all trades. Requiring developers to upgrade their skills to serve in this demanding industry. This makes full-stack development into a bigger light as it offers a broader opportunity for programmers. Most Clients and IT firms prefer to appoint full-stack programmers for all website project execution. You can be proficient in any language with Full Stack Development. With a Full Stack Java Developer Course, you can prepare to work on the projects with complete dedication.
Why Should Learn Java Full Stack Development?
Saving Time and Money
A full-stack developer has better insight into how the business requires to grow with end-to-end visibility. Also, it continues to switch between the front and backend easier for them, as they can easily manage both ends. This becomes the most in-demand requirement for one developer owing to both capabilities at the price of one.
Furthermore, these developers can easily resolve difficult programming problems in a shorter period of time and with less money. A lot of companies demand full-stack engineers.
This further helps in adding more people to the project team. Thus, reducing operational as well as other costs. All types of companies prefer to appoint individuals with capabilities to run the show on all levels.
Knowledgeable Source
A person with brief expertise in all domains can make an easy solution that has relatively a smaller number of bugs and has higher efficiency. Additionally, it makes debugging the code and also testing the product a much easier task. All these factors indeed have a positive effect on the overall outcome of the time frame to make a solution. Thus, in the given time frame you can your product in the market.
Higher Visibility
Full-Stack software engineers don't think from just one particular perspective. However, they give you a solution that suits best both in the front-end and back-end.
No slippage in the complete structure of web development is however possible. Because the developer has higher visibility in the sense of the structure of the program. Adding its representation on the given front end.
Complete Ownership
Will working as a quality assurance engineer for a project you must have come across some basic responsibility. Thus, you will have an overall idea of responsibility between the stands of the backend and front end. Especially when there is a case of a bug coming into the picture. So, in this case, a full-stack developer has the capability of working on different features.
More Learning & Greater Opportunity
Developers working in the full-stack domain get to learn even more. It indeed creates a greater number of opportunities to expand their wings. Some of these developers are even solution-oriented.
They basically have a career that gives the entire blueprint of the products working on both functional and architectural levels. Additionally, these developers get to enjoy more learning opportunities both on frontend and backend domains. This further allows them to constantly learn, and upgrade their skills throughout their careers.
Conclusion
Java Full Stack Training in Gurgaon is an ideal platform that will help you to make a career in this domain. Also, being a full-stack developer, you have the prospect of learning a vast domain. Also, enjoy the freedom of working alone and creating a powerful and seamless website.
Free Demo for Corporate & Online Trainings.
LEAVE A REPLY
Your email address will not be published. Required fields are marked *
Course Features

Reals Life Practical & Case Studies

Assignments

Lifetime Access

Expert Support

Global Certification

Job Portal Access