What Is The Difference Between SAP FICO And SAP HANA?
5 out of 5 based on 1963 votes
Last updated on 8th Jul 2022
5.2K Views

SAP means 'Systems, Applications, and Products in Data Processing. Hence, two of the most popular SAP products include SAP HANA and FICO.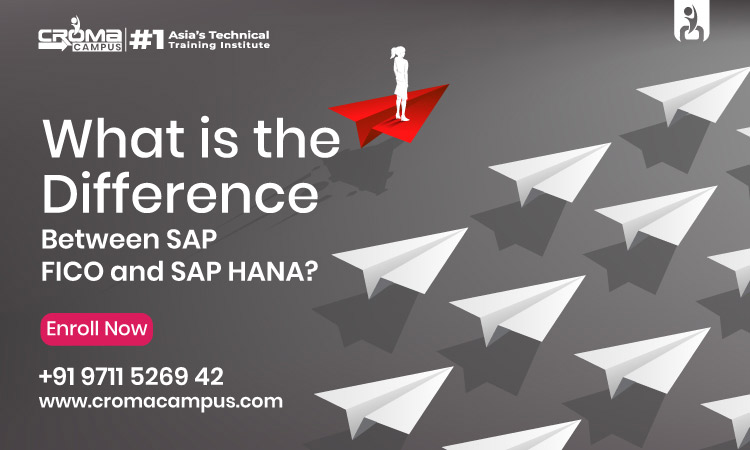 In the present scenario, many organizations make use of unused data to enhance and improve their business performance. Thus, to manage customer interactions and manage business operations, SAP creates ERP systems. SAP means 'Systems, Applications, and Products in Data Processing. Hence, two of the most popular SAP products include SAP HANA and FICO.
Here, we will understand the importance of both modules and how they differ from each other.
An Introduction to SAP HANA
SAP HANA or High-Performance Analytics Appliance has recently become the most used platform for ERP (Enterprise Resource Planning software. With the help of SAP HANA, you can store the data in the memory, which results in faster processing of data. SAP HANA also helps in enhancing customer satisfaction and immediate delivery of products and services. In addition, by using the SAP HANA system, enterprises can keep their employees happy and enhance collaboration. Due to this reason, many organizations implement ERP systems to handle their business operations. With this, the demand for skilled SAP professionals has increased in the market opening doors to new career opportunities. As a result, this is the best time for you to get yourself enrolled in SAP HANA Online Training and get familiar with the applications of the SAP HANA framework.
Different Components of SAP HANA
By using SAP HANA, enterprises can store data on a cloud server and retrieve data from different applications. In addition, you can perform data processing, advance analytics of data, and optimize the business processes. Moreover, SAP HANA contains important tools to help in streamlining the business processes.
Some of the most important SAP HANA elements include;
SAP HANA DB component acts as the primary in-memory database this will help SAP HANA to function accurately.
With SAP HANA Application Cloud has become the most important as it acts as the main cloud-based infrastructure.
In addition, SAP HANA offers the HANA Studio through which enterprises can manage the data using modeling tools.
The most unique feature of SAP HANA is that you can install it on any platform without any hassle.
Key Features of SAP HANA
SAP HANA has become an important aspect for different premises like the cloud or a hybrid system. In addition, the SAP HANA platform will help you build essential tools and applications. Hence the most important features of SAP HANA include;
Database Enhancement
SAP HANA has become the most used multi-model database system. With this, you can easily integrate various data models into one single backend. This will help you maintain the relationship between data points. Therefore, with this enterprises can enhance the database.
Enhancing Data Management
With SAP HANA's in-memory feature, you can process the data and store the data without any latency. Thus, enterprises can optimize their business processes and become more efficient. In addition, it also offers unique features like data integration, and modeling, and provides useful business insights.
Advanced Analytics
It provides real-time analytics of data and lets you access large sets of data. With this enterprises can enhance the data analytics processing and enhances the productivity of the data science team. Moreover, the SAP HANA offers a machine learning engine that extracts the data and identifies the problems.
Application Development and Tools Enhancement
SAP HANA offers unique features to enhance the performance and simplify the applications of development tools. In addition, you can build tools without the help of IT consultants with SAP HANA's advanced processing.
What Career Opportunities You Can Choose in the SAP HANA Field
Nowadays, SAP HANA has become the most trending career path to choose. Hence, if you are a beginner to the SAP system, you must choose the best SAP HANA Online Training to develop all the essential skills. After the completion of the training, you will learn about the SAP HANA implementations. Here is the list of the most popular career opportunities you can select after completing the SAP certification;
Performance Consultant
Business Consultant
Operations and BW Consultant
Security Consultant
Project Manager
Application Developer
Introduction to SAP FICO
Recently, SAP FICO has become the most popular and used SAP module within the industry. In addition, FICO has dominated the corporate world as it offers many unique features and advantages. SAP FICO or 'Finance and Controlling' deals with the finance of the business and controlling it. Thus, many enterprises have completely shifted towards the SAP FICO system as it helps in managing their finance and controlling their data effectively. So, if you want to become a professional in this field, you will need to get yourself enrolled in the SAP FICO Online Course to understand the advanced concepts of the FICO module. As a result, you will get the best training experience and provide you with exciting career opportunities from all over the world.
Reasons to Learn SAP FICO in 2022
With SAP FICO, enterprises can manage and organize their financial statements and control the flow of data. By using this effective system, you can easily record the financial framework of an organization. Moreover, SAP FICO offers unique features like modifications, record management, and product costing. In addition, this allows you to track the overall profit and sales of an organization.
The SAP FICO module has become the most demanding SAP module in the world today. Thus, if you have proper training and certification in the SAP HANA module, you will become more credible in an organization. Therefore, you must choose the SAP FICO module to earn high salary packages and get great career opportunities.
FICO also offers features like Accounts receivables and payable, Cost-center configuration, and Bank configuration. Therefore, to perform integration and accounting, you will require to get familiar with both FI and CO modules.
You can use real-time functions which makes FICO the most suitable ERP system for finance and control. Moreover, FICO will automatically update you about the latest updates and meets all the requirements to deliver the best results.
Conclusion
Finally, the main difference between both SAP HANA and FICO is the technology used within them. As SAP FICO operates on the ECC model, SAP HANA is based on the HANA database working with cloud technology. In addition, with all its new features SAP HANA has dominated the ERP functionalities and provides the best user experience. Consequently, SAP FICO follows both the Finance and Controlling of data. With these features, both SAP HANA and FICO are different from each other offering several important advantages. Therefore, you can select the most preferred module and learn about it to make a successful career within the SAP world.
Free Demo for Corporate & Online Trainings.
LEAVE A REPLY
Your email address will not be published. Required fields are marked *
Course Features

Reals Life Practical & Case Studies

Assignments

Lifetime Access

Expert Support

Global Certification

Job Portal Access