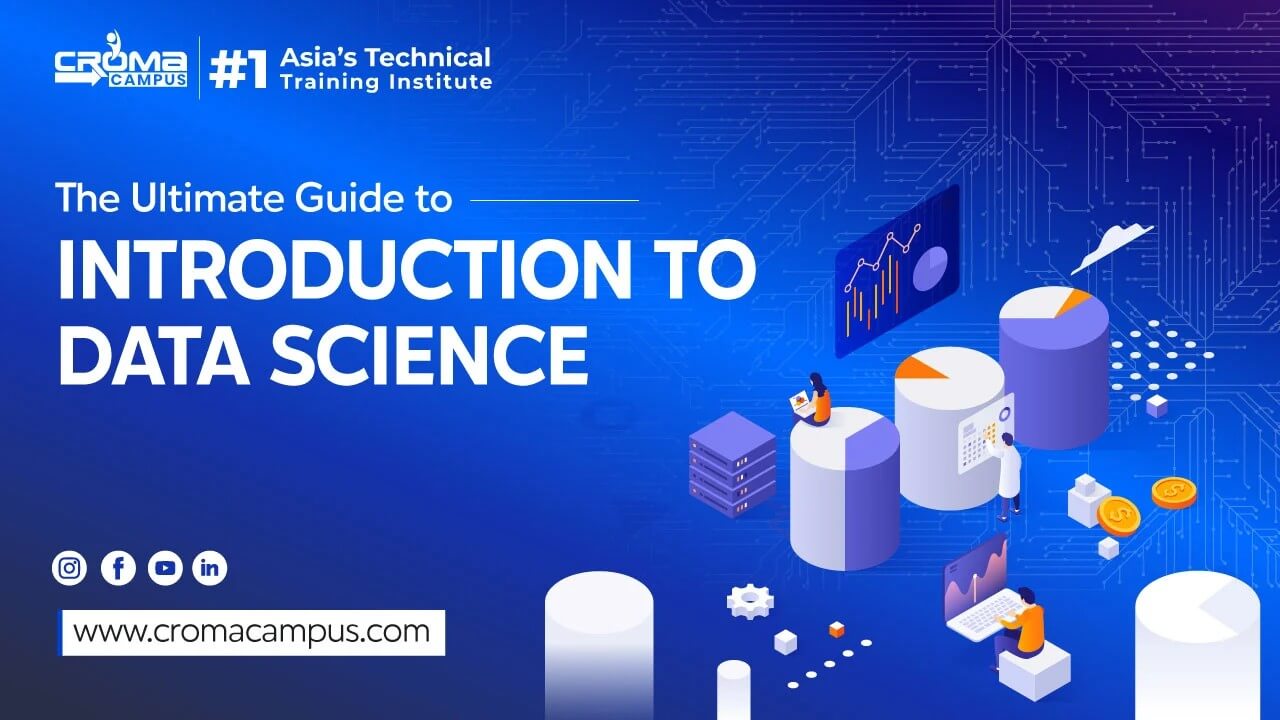 The Ultimate Guide To Introduction To Data Science
12-Apr-2023
Komal Prasad
In today's world, data science has become one of the most in-demand fields in the job market. With the exponential growth of data and the need to extract insights and value from it, data science has become a crucial skill set for any professional or individual interested in building a career in technology. However, the vastness and complexity of the field can be overwhelming for beginners who are just starting. Croma Campus, a leading provider of professional training and certification courses, has announced a new course in Data Science. This comprehensive course is designed to help professionals and students build their skills and knowledge in the rapidly growing field of data science.

The Data Science Online Training in India by Croma Campus is an intensive program that covers all the key concepts and techniques used in data analysis and machine learning. It is designed to provide students with a solid foundation in statistics, data mining, and data visualization, as well as programming skills in Python and R. The course is taught by industry experts with extensive experience in data science and related fields. They bring real-world insights and practical applications to the classroom, giving students the opportunity to apply their knowledge to real-world problems and scenarios. This course from Croma Campus covers all the essential topics of data science, from the basics to advanced concepts. Moreover, it provides practical insights and advice for individuals to get started with data science and build a strong foundation in the field. In this course, you will learn the following topics.
What is Data Science and Why it Matters
The Essential Math Skills for Data Science
The Basics of Statistics for Data Science
Data Wrangling and Cleaning Techniques
Data Visualization and Exploratory Data Analysis
Introduction to Machine Learning and Deep Learning
Building a Data Science Project from Scratch
The Future of Data Science and Emerging Technologies
Above all, the Data Science Training in Gurgaon also features practical examples, code snippets, and real-world case studies to help readers understand the concepts and apply them in their projects. This course by Croma Campus helps beginners to overcome the barriers and challenges of learning data science and provides them with the tools and resources to start their journey in the field. We believe that data science is not just a skill set, but a mindset that requires curiosity, creativity, and problem-solving skills. We hope that this course will inspire individuals to explore the field and build a successful career in data science. The Data Science course is available online and students can access it from any device, including desktops, laptops, tablets, and smartphones. In addition, it is optimized for readability and accessibility, with a user-friendly design and intuitive navigation that allows readers to find the information they need quickly and easily.
This course is ideal for anyone who wants to get started with data science and build a strong foundation in the field. Whether you are a student, a professional, or an individual interested in technology, this training will provide you with the knowledge and skills you need to succeed in the world of data science. Croma Campus is committed to providing high-quality training and certification courses that meet the needs of today's professionals. Their Data Science course is a testament to this commitment and is sure to be a valuable asset to anyone looking to build their skills in data science.
For more information about the course, including enrollment details and pricing, please visit the Croma Campus website or contact their customer service team.