What Is Salesforce Marketing Cloud?
4.8 out of 5 based on 3217 votes
Last updated on 6th Dec 2022
5.1K Views

In this blog post, we will discuss about the Salesforce Marketing Cloud and its benefits. For more details read this post or join the best salesforce online training.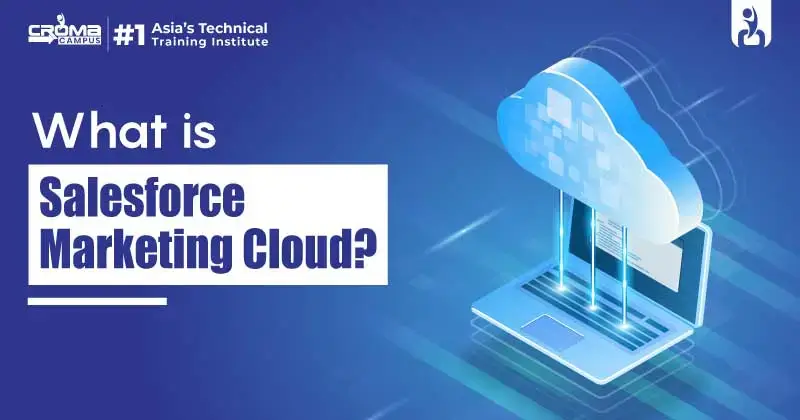 Introduction
Salesforce Marketing Cloud is a platform for managing customer relationships. It is generally for marketers to enable them to create and manage marketing relationships and campaigns with customers. The Marketing Cloud hosts integrated solutions for customer journey management, email, mobile, web personalization, social media, advertising, content management, content creation, and data analysis. Also, the software consists of predictive analytics to help further in making decisions. Like, what channel to prefer, for a given message. You can learn more about marketing analysis, by going for the best salesforce online training available. Further, the Marketing Cloud is connected to Sales Cloud and Service Cloud, which allows coordination for a unified experience.
What can you do with Salesforce Marketing Cloud?
Salesforce Marketing Cloud is a feature-rich platform that functions across the marketing domain. This consists of the following:
Building Customer engagement in real-time
Structure email and marketing automation
Making social media engagement, listening, and advertising
Mobile messaging and push notifications
A brief customer marketing analytics
Let's have a look at its different tools;
Data-Driven Messaging
The tool can deliver messages to each contact on the basis of the individual's current data. And further trigger new messages coming from the real-time customer data changes and interactions. It is further categorized into different sections;
Contact data – This data in the Marketing Cloud relates to the contact you send information to. However, the data which connects a contact, or any change in the data, determines which route to take. For instance, a contact could be on a communication journey for prospects but then converts into a customer journey. The change in their contact data in SFMC could automatically eliminate them from a prospect journey and place them into a new customer journey.
Journey data – This data is about how the contact has interacted with the SFMC journey, that is email opens or clicks. One example can be a welcome journey. After buying a product, a customer may receive multiple emails. Such as Email 1 – welcome, Email 2 – product registration, Email 3 – product usage tips, and more. Salesforce Marketing Cloud detects who is opening and interacting with each email. This further allows you to send a customer down a branch to resend a different email on the basis of the choices made.
Multi-Channel Messaging
SFMC Journey builder enables you to construct journeys that comprise email and SMS messaging. There are various uses cases for having multi-channel messaging, including:
Service and support case communication – Uses emails to communicate with content relative to service and support for a customer. Basically, use SMS to communicate more timely information.
Post-purchase communication – Uses SMS and emails to share post-purchase communications.
Financial communications – Uses emails and SMS to communicate financial status. Generally relating to loans or credit.
Dynamic Components
SFMC has some dynamic components that develop personalized experiences for email recipients and further increase engagement. These include:
Dynamic content – This comprises creating personalized email content and subject lines according to an individual's attributes and associating data and rules applied to them. The email content will include, who the message recipient is, and further deliver a personalized experience without crafting multiple versions of a single email.
Dynamic sending profiles – This allows creating custom sending addresses for an email.
All the above help deliver customer engagement with your brand and generally creates a strong customer relationship with timely communications of relevant content.
What are Salesforce Marketing Cloud's benefits?
Data Management
Data management in Marketing Cloud is done using a data extensions table. That associates to form a relational database, which is supported by SQL.
Integration Capabilities
Salesforce Marketing Cloud has extensive integration capabilities that can provide data from different sources.
Third-Party Applications
Salesforce Marketing Cloud has an extensive set of third-party applications available, including those from the Salesforce AppExchange, to increase its capabilities and customize it to your specific business goals.
Application of Artificial Intelligence
It enables, engagement scoring to predict who will interact with messaging. Additionally, send time optimization to predict the best time to send a message to each individual. Further, engagement frequency to understand how many messages to send each individual
Conclusion
Marketing Cloud offers extensive services for both B2B and B2C businesses. To expertise in this domain of marketing, you can visit Salesforce Training Institute in Noida for better guidance. A proper training module will help you excel in the sale's relative fields. Besides, it will teach you to work with data sources unification, channel customization, interaction at any given moment of the customer relationship, and campaign results measurement. Thus, Salesforce Marketing Cloud will help you in almost all domains of the business marketing field.
Free Demo for Corporate & Online Trainings.
LEAVE A REPLY
Your email address will not be published. Required fields are marked *
Course Features

Reals Life Practical & Case Studies

Assignments

Lifetime Access

Expert Support

Global Certification

Job Portal Access