How To Get Entry-level Salesforce Admin Job Without Experience?
4.9 out of 5 based on 8869 votes
Last updated on 9th Aug 2022
12.75K Views

Salesforce course online will help you gain hands-on experience and get to advance your career to the next level. For more details read this post.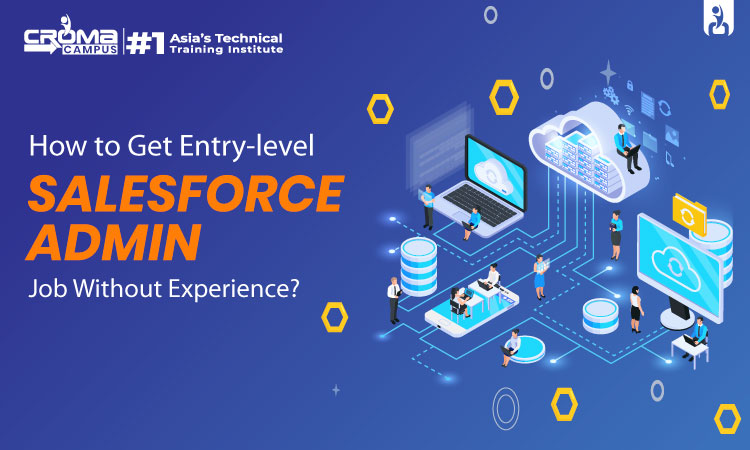 Introduction:
In recent times, Salesforce has become the most trending and used cloud computing software. As Salesforce offers important services in the field of Customer Relationship Management and has become the most trusted CRM platform. With the help of Salesforce, businesses get the ability to get an easy and shared customer view. Hence, by using the Salesforce ecosystem, businesses and IT enterprises can optimize their tasks and operations to enhance their performance. Due to this reason, the demand for Salesforce has increased opening new doors of career opportunities.
How To Join The Salesforce Field Without Experience?
In the present scenario, Salesforce's career scope has increased rapidly opening new doors of job opportunities like Salesforce Administrator, Developers, Architects, and Consultants. Hence, the very first step to making a successful career in this field is to enroll yourself in a certified and industry-recognized Salesforce course online. As a result, it will provide you with adequate knowledge and help you develop the required skills to advance your career to new heights of success. Now let us look at the ways to join this field without having any prior experience.
Join a Salesforce Community
You will require to check for Salesforce job openings and appear for interviews to get selected and become a professional in the Salesforce domain. Moreover, by joining such communities, you can become a good team player, and active listener, and enhance your communication skills. In addition, this will keep you updated with the latest trends in the field of Salesforce and provides you with professional support.
Join an internship
Joining an internship has become the most preferable option for beginners to get proper experience in the Salesforce work environment. As a Salesforce intern, you will get extensive industrial experience and get to work with Salesforce professionals. However, you will get to know about the fundamentals of Salesforce, SQL and Database concepts, JavaScript, and coding skills. With this internship, you will get to develop advanced analytical and problem-solving skills.
Volunteers
Once you have crossed the fresher level, you will get to know about Salesforce cloud in-depth. With this, you will get to enhance your resume and make it more impactful which will help you get full-time jobs. Hence, you can volunteer for Salesforce jobs in top-notch enterprises and get a chance to experience the Salesforce work environment.
Freelancing
You can approach various enterprises and websites to search for freelancing career opportunities. With this, you can develop Salesforce skills and gain experience within the Salesforce domain. Therefore, this will help you gain hands-on experience and get to advance your career to the next level.
Get Certified
The most popular way to join the Salesforce field without any experience is to get the Salesforce certification. With this, you can get job opportunities for junior roles in the Salesforce area. Therefore, getting certified in Salesforce will help you develop all the required skills and also validates your skills and knowledge about Salesforce. Moreover, you will get to learn from industry-expert trainers and help you build confidence, skills, and communication expertise.
What Is The Difference Between Certified and Non-certified Salesforce Experts?
The major difference between both certified and non-certified Salesforce experts is the remuneration. The average salary of a Salesforce expert with no certification revolves around $69,000 annually. Whereas, a Salesforce expert with certification is around $86,850. So, the difference between both the salary packages is vast. Hence, you must get Salesforce certification by joining the best Salesforce Training Institute in Noida and get great salary packages.
Skills Required To Become A Salesforce Expert:
You will need to develop all the required skills and knowledge to become a professional Salesforce expert and perform tasks more effectively. Now let us look at the skills you need to have to become a Salesforce expert;
You need to have excellent administration skills and knowledge about essential platforms such as ERP, Microsoft Dynamics, and NetSuite.
In addition, knowledge of data modeling has become important to perform Salesforce functions.
Finally, you must have strong analytical and project management skills.
You need to know about MS Excel, SQL, and data visualization platforms like Tableau.
Conclusion:
To sum up, you can see how Salesforce has dominated the CRM industry and offers many unique services to enhance the performance of enterprises. After completing the certification course, you can get great career opportunities and become Salesforce Developer, Consultant, Marketing Cloud, and Pardot. In addition, Salesforce certification will validate your skills and help you get high salary packages. With proper training, you will get to understand the Salesforce framework and make effective use of this technology to enhance and scale the business.
Free Demo for Corporate & Online Trainings.
LEAVE A REPLY
Your email address will not be published. Required fields are marked *
Course Features

Reals Life Practical & Case Studies

Assignments

Lifetime Access

Expert Support

Global Certification

Job Portal Access