Data Science & AI
(81 Blogs)
What Is Data Science?
5 out of 5 based on 780 votes
Last updated on 13th May 2022
1.9K Views

Data Science refers to the domain of study with large volumes of data with modern sophisticated tools.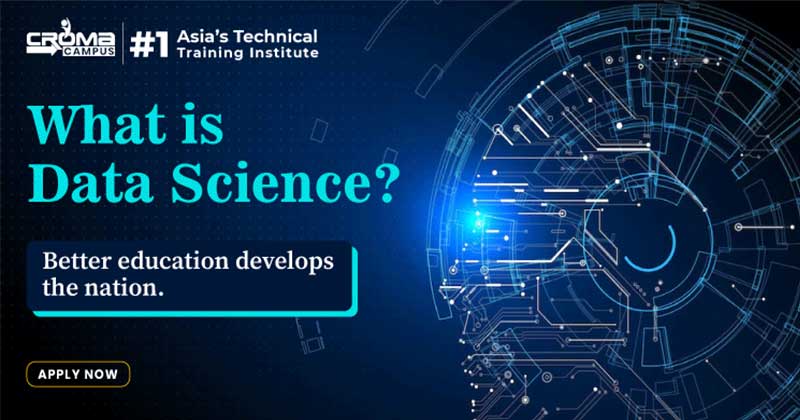 Introduction:
People get confused about the question of What is Data Science? It is very simple to understand that it uses complex techniques, predictive models, and other things. With its gaining importance more & more organizations are understanding out the importance of data science, AI as well as Machine Learning. It doesn't matter out that the size of organization is big or small but the most important criteria is the competitive intelligence which data science offers.
Checking out the Lifecycle of Data Science:
Before looking for the Data Science Online Training we must emphasize the lifecycle of the concept. Moreover, it consists of four different stages which we are going to consider in the below-mentioned details:

Capture:
It consists of the procedure of Data Acquisitions, Data Entry, Signal Reception as well as Data Extraction. Moreover, it also involves the gathering of raw data.
Maintain:
Many people are unaware of this cycle which consists of Data Warehousing, Data Staging, Data Processing as well as Data Architecture. This stage also helps in covering raw data & putting it out in a different form.
Process:
Data Mining Clustering/ Classification, Data Modelling, Data Summarization helps out in examining the new patterns and ranges for determining new things.
Analyze:
Predictive Analysis, Exploratory Analysis, and Qualitative Analysis lead to the efficient channelizing of the real-time life cycle. Moreover, this stage performs data analysis for various purposes.
Communicate:
Data Reporting, Data Visualization, Business Intelligence, and Decision Making are some necessary steps of this portion. Moreover, it consists of the activities of making reports, charts as well as graphs.
How to Become a Data Scientist?
Now we defined What is Data Science? But it is important to see the essentialities to become a data scientist. Go throughout the following information:

Machine Learning:
Machine Learning is the backbone of data science they are needed to have a strong grasp of the various concepts related to data science. Basic knowledge of statistics is a prerequisite.
Modeling:
As we all are aware of the fact that mathematical models enable quick calculations as well as accurate predictions. Moreover, modeling is also a part of machine learning which involves the identification & implementation of an algorithm.
Statistics:
Statistics are the essential component of data science. Moreover, the sturdy hurdle on statistics assists you in extracting more intelligent as well as meaningful results.
Programming:
There is some level of programming that helps in executing successful business projects. Moreover, the most common programming languages are Python & R Python as they are especially easy to learn.
Databases:
Before looking for Data Science Training you must be well aware of some essentialities. Moreover, capable data scientists need to understand the working of databases.
The Work Profile of a Data Scientist:
As we have defined the question What is Data Science? Now we will move out our focus to the KRA (Key Responsibility Areas) of a data scientist. Go through the details carefully:
Before tacking out with the sophisticated analysis the data scientist determines the exact problem which relates to gaining understanding.
Now, they determine the correct set of variables & data sets.
The work profile of data scientists ranges from gathering structured as well as unstructured data from various types of disparate sources.
After the data gets collected the processing of raw data starts and it gets converted into suitable formats.
Moreover, it leads to more validation of data and guarantees the uniformity & completeness of the procedure.
If the data gets completely rendered out then the scientist interprets it for finding out new opportunities.
Data scientists finish out the tasks by preparing the results as well as insights for sharing with the appropriate shareholders.
They also handle the communication initiatives regarding the organizational structure.
Why Become a Data Scientist?
As we have found the answer of What is data science? Now learners must be acknowledged with the reasons for becoming a data scientist. We are considering the reasons in the below-mentioned details:
According to the research websites like Glassdoor & Forbes demand for data, among scientists will increase by 25% by the period 2026. Moreover, it emphasizes the longevity & durability of this profession.
Additionally, the profession of data scientist emerges as the second-best job in America. They get out an average salary of USD 127, 500.
Let Us See the Job Roles of Data Scientists:
Undoubtedly, Data science offers the focus & specialization in a particular domain. But before going to Data Science Training in Noida it is important to be well-aware of designations:
Data Scientist:
They are required to understand the problem and the questions that need to get answered.
Moreover, they clean out data for eliminating unnecessary things.
There are some skills needed like Programming skills (SAS, R, Python), storytelling, data visualization, mathematics, knowledge of Hadoop, SQL, and others.
Data Analyst:
They are responsible for bridging the gap between data scientists & business analysts. Moreover, they analyze the matter technically and transfer them into qualitative action.
After taking out Data Science Online Training you must be well-equipped with certain skills like data wrangling & data visualization. Apart from this, they must be aware of mathematical & statistical skills.
Data Engineer:
They emphasize developing, deploying, managing, optimization of data. It gets concerned with the data structure & data pipelines of organizations. Moreover, the engineers need to transform & transfer data for queries.
For becoming a data engineer there are some special skills needed like MongoDB, Cassandra DB, Java as well as other frameworks.
Conclusion:
Are you still wondering What is Data Science? If yes, then you first learn to differentiate between business intelligence & data science. Moreover, data science helps in providing historical, current, predictive as well as business operations.
Free Demo for Corporate & Online Trainings.
LEAVE A REPLY
Your email address will not be published. Required fields are marked *
Course Features

Reals Life Practical & Case Studies

Assignments

Lifetime Access

Expert Support

Global Certification

Job Portal Access