Value Of Salesforce Certifications In 2022
5 out of 5 based on 1629 votes
Last updated on 8th Jul 2022
5.6K Views

This is the best time for you to join the best Salesforce Training Institute in Gurgaon and learn about Salesforce from professional and experienced trainers.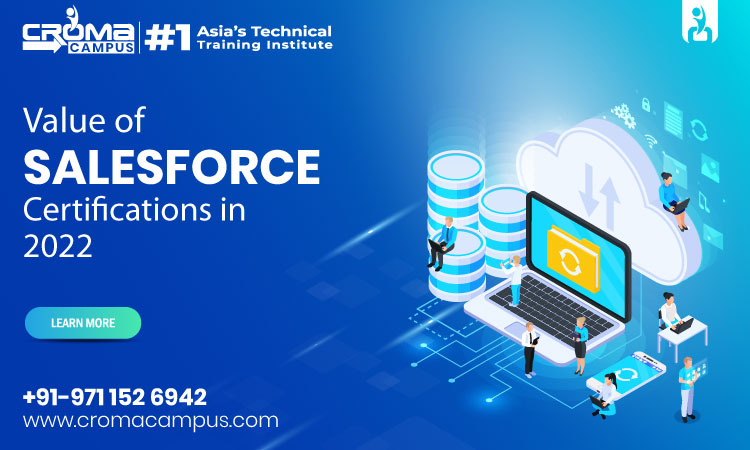 Introduction
Salesforce offers important services over the internet and has become the most popular cloud computing software. It has specialized in the field of Customer Relationship Management and has become the most used CRM platform. Therefore, it offers businesses an easy and shared view of the customer. Due to this, the demand for Salesforce professionals has increased in the past few years. So this is the best time for you to join the best Salesforce Training Institute in Gurgaon and learn about Salesforce from professional and experienced trainers. Therefore, with the help of the Salesforce ecosystem businesses can optimize their operations and enhance the performance of the enterprise.
Why Skilled Salesforce Professionals are in Demand?
You will need to understand the entire business ecosystem to understand the importance of cloud computing, automation tools, and CRM software. Recently, many large-scale organizations depend on Salesforce to perform real-time reporting, communicate with departments, and scale the ERP. Due to this, the Salesforce career path has become the most popular and promising career for aspirants who wish to become a professional in this field. Moreover, many business organizations and enterprises use this technology to enhance their performance and make more profit by saving operational costs.
How Long Will It Take to Master Salesforce?
After completing the Salesforce certification, you can join this field as a professional and choose different job profiles based on your skills and qualifications. Moreover, to become a professional Salesforce Admin, you will require 4 months to complete the training. In addition, to become a Salesforce Consultant, you will undergo 6 months training period. Finally, to become a Salesforce developer, you need to go for 5 months of extensive training. Further, it will take you around 4 weeks to master essential skills such as Apex, Visual Force, Einstien, Lightning, and Performance Management. Therefore, to learn and understand the concepts of Salesforce and develop all the essential skills, you need to join a certified Straining institute and get hands-on training.
Most Popular Salesforce Certifications in 2022
Here is the list of the most popular certification courses available within the Salesforce field;
Salesforce Administrators
There are two main levels of Salesforce Administrator Certification which includes Salesforce Certified Administrator and Advanced Administrator. After completion of this certification, candidates can manage the data and enhance their security. In addition, you can handle Sales and Service Cloud applications and build effective dashboards, reports, and the entire workflow.
Platform App Builder
This Salesforce certification has become most popular among candidates who wish to create custom applications on this platform. Here, you will get to learn about important tools like Process Builder, Objects and Fields, Approval Processes, and other unique features.
Salesforce Architect
Salesforce Architects are respected more as team leaders. It comprises two important certifications including Salesforce Certified Technical Architect and Salesforce Certified Solutions Architect. Therefore, you can become a professional Salesforce Architect by getting exclusive training and learning the concepts of Salesforce.
Conclusion
Finally, you can select certifications such as Salesforce Consultant, Developer, Pardot, and Marketing Cloud. Moreover, Salesforce Online Training offers the best learning experience and provides candidates with all the knowledge required to become a professional. After completion of Salesforce training, you will get great career opportunities and get a chance to earn high salary packages. In addition, Salesforce certification has become the most popular course in the market. With proper training and guidance, you will get to understand the Salesforce framework and its various applications. Therefore, to enhance the performance of the business, you need to have experienced and trained Salesforce professionals to scale and enhance the business.
Free Demo for Corporate & Online Trainings.
LEAVE A REPLY
Your email address will not be published. Required fields are marked *
Course Features

Reals Life Practical & Case Studies

Assignments

Lifetime Access

Expert Support

Global Certification

Job Portal Access