Full Stack Development
(49 Blogs)
Top 6 Benefits Of Java Full Stack Online Training
4.9 out of 5 based on 13421 votes
Last updated on 13th Jan 2023
15.63K Views

It is a great career option nowadays and the easiest way to become a developer is to take Java Full Stack Development Online Training at your convenience.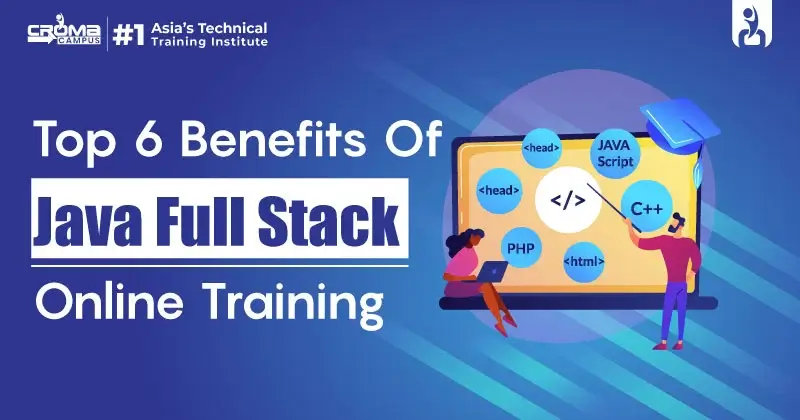 Introduction:
A Java Full Stack Developer is a developer with extensive knowledge and expertise in full-stack tools and frameworks compatible with Java. The Java suite of technologies includes working with different servlets, core Java, REST APIs, and many other tools that ease the creation of web apps. It is a great career option nowadays and the easiest way to become a developer is to take Java Full Stack Development Online Training at your convenience. Opting for online training is comparatively easy in comparison to an offline medium. Moving further, let's witness some benefits of taking Java Full Stack online training.
Benefits of Java Full Stack Online Training:
Better Understanding of Fundamentals -
You get the training from highly experienced and well-qualified trainers. They provide you with authentic content and that too in an interactive environment. Which makes it easier for students to grasp concepts, improve problem-solving skills and further grow as developers. Our training prepares you for your first job in the IT industry, gives you an edge over other candidates, and helps you progress in your career.
Become an Independent Learner -
Many people who opt for online java training are majorly looking for ways to advance their careers. So, when you learn independently, you are able to tailor your learning experience that fits your individual needs. As you aren't bound by strict schedules or location-specific classrooms, online java training can fit easily into your busy schedule.
Better Analytical Skills -
As an IT developer, you have an edge in problem-solving and also organizational skills. These skills help you increase your productivity and maximize returns on projects. Once online Java training is complete, you'll be ready for every challenge coming your way.
Learn From Experts -
The best part of an online course is that you can access expert minds that may otherwise be cost-prohibitive. Also learning online can lead to job opportunities, and knowing how to code can open up doors in various fields.
Access To Learning Anytime, Anywhere -
With online training, you can study anytime, anywhere—and at your own pace. Moreover, online learning often leads to higher retention rates as students complete assignments immediately after they learn something new. Thus, you'll be able to apply your codes sooner in your coding career. Online courses also allow you to create a schedule that works for you and doesn't require any long commutes or travel.
Improve the Chances of Getting Better Job Opportunities -
It has however become more important that IT professionals keep pace with its speed and technological advancement. You easily get access to these with quality online Java training online. With such training, you can learn how to make use of your existing skills to secure better employment opportunities or enhance your existing career as well as take it forward.
Conclusion:
If you want to take your career in a new direction, online training is definitely worth exploring. Both for adults and students, online courses are becoming very popular as an avenue to higher education. To make your career in this domain, you can take Java Full Stack Training for a better grasp of this language. Looking at rapidly evolving technology, there are multiple job opportunities for professionals with a firm knowledge of Java. With the rising demand, the Java language continues to generate many jobs in the tech business.
Free Demo for Corporate & Online Trainings.
LEAVE A REPLY
Your email address will not be published. Required fields are marked *
Course Features

Reals Life Practical & Case Studies

Assignments

Lifetime Access

Expert Support

Global Certification

Job Portal Access