Top 5 SAP CRM Courses In India
4.9 out of 5 based on 1522 votes
Last updated on 15th Jan 2023
6.9K Views

You can enroll in the SAP CRM Course in Delhi for a more accurate approach to reaching out to professionals who can guide you toward a prospering career in the SAP domain.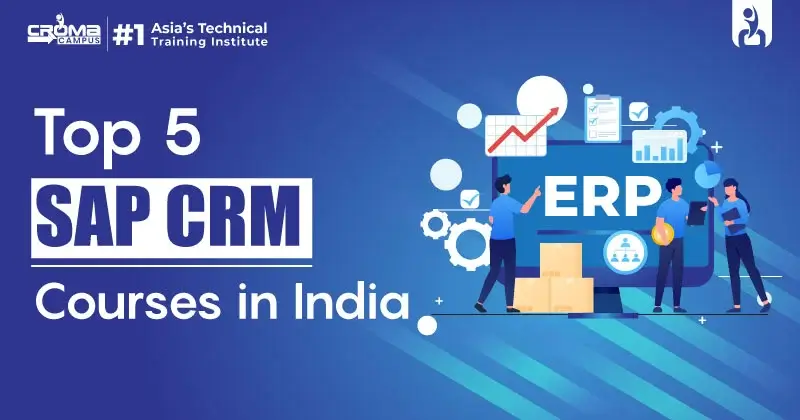 Introduction
SAP CRM is a component of SAP Business Suite that helps to manage customer relationship-related operations. Here, CRM stands for Customer Relationship Management. It is a collection of approaches and technologies that assist organizations and businesses in managing customer interactions in an orderly manner. You can use it to help all customer-facing company sectors, such as service, marketing, and sales. Also, SAP CRM encompasses all the firm processes to manage its customer contacts. Therefore, to learn more about SAP CRM and its available courses, we suggest you enroll for the best SAP CRM Online Course. These courses will help you step forward with your professional goals and make a promising career.
Top SAP CRM Courses in India
SAP CRM allows a company to achieve customer satisfaction by satisfying their expectations and offering the items they demand. Thus, to become proficient in these skills, you should enroll in the training program from the below-reputed organization.
Kodak Consulting
Kodak Consulting is an SAP-certified technology consulting firm with a specialization in SAP software solutions and enterprise application services. This firm spans countries, industrial verticals, functional areas, and technological environments. Also, it focuses on enterprise application services for SAP Business Suite S/4HANA, SAP Cloud Platform, Successfactors, C/4HANA with Hybris C4C, BW/4HANA, SAP Multi-Channel Foundation, Cloud Analytics, and so forth. Moreover, Kodak Consulting offers SAP S/4HANA implementations, support, conversion, and cloud-based services. Their main area of expertise include; Manufacturing Automotive and Auto Components, Manufacturing Industrial Machinery and Equipment, Pharma and Chemical Industries, Agro Food Products Processing industries, utilities, infrastructure, and project-based industries.
Quick Xpert Infotech
Quick Xpert Infotech is one of the top institutes that provide SAP Basis courses online. The course content is created in such a manner that students learn all they need to know about the SAP Basis course from industry experts. However, their SAP training covers everything from the fundamentals to advanced subjects in the allotted two months. Also, their job-oriented SAP Basis online course guarantees that it covers all the basic and advanced curriculum.
Atos India
Atos India is India's premier SAP partner. However, for the past 20 years, they have been dedicated to education in this subject. They serve several people due to their competence in various SAP courses. Also, it is India's first SAP training institute, founded in 1999. Furthermore, they identify the changing and developing demands and then change to fit the SAP market.
In addition, they provide corporate training to SAP end-users and project teams, whether certified or not. Moreover, their courses solve skill gaps in existing SAP users and solely address particular needs.
ICA Edu Skills
ICA Edu skills came to light in 1999 to educate everyone at a low cost. Not only that, but they also concentrate on putting individuals in MNCs that demand competent workers. They assist their trainees by providing practical training and preparing them for employment in the sector.
However, they are now one of the leading colleges in India for SAP FICO training. They are well-known for providing financial, accounting, and tax training.
Moreover, they have over 200 locations around the country and several awards to their name. Their objective is to minimize unemployment by preparing all individuals for work in the business.
SMEClabs
SMEClabs, situated in Kochi, was founded in 2001 and is an ISO 9000:2015 certified firm. It has garnered several honors from top corporations throughout the globe, including TUV Rheinland, Certiport, Microsoft, Schneider Electric, and many more.
In India, SMEClabs is a market leader in delivering different training programs, including SAP courses.
They practice on:
SAP FICO
SAP MM (Material Management)
SAP PP (Production Planning and Control)
SAP SD (Sales)
By cooperating with industry and academic specialists, this school provides students with a curriculum that meets industry requirements. Moreover, their professors offer full support and assistance to students in completing the course.
Furthermore, this curriculum is available offline and online, depending on the needs of the students. Also, participants will receive 100% placement support.
Conclusion
Hopefully, you may find this article informative. We have compiled the top institutes which offer courses in SAP CRM. These courses are beneficial for those individuals who are looking to make a career in the SAP domain. Alternatively, you can enroll in the SAP CRM Course in Delhi for a more accurate approach to reaching out to professionals who can guide you toward a prospering career in the SAP domain.
Free Demo for Corporate & Online Trainings. Shams
Thanks for sharing this article. It is quite useful for someone like me who is looking for an institute that provides training in this course.
LEAVE A REPLY
Your email address will not be published. Required fields are marked *
Course Features

Reals Life Practical & Case Studies

Assignments

Lifetime Access

Expert Support

Global Certification

Job Portal Access