SAP ABAP: Job Prospects And All You Must Know
5 out of 5 based on 1632 votes
Last updated on 22nd Jul 2022
6.9K Views

SAP ABAP is a software coding language with high-level characteristics created and marketed by the company SAP SE.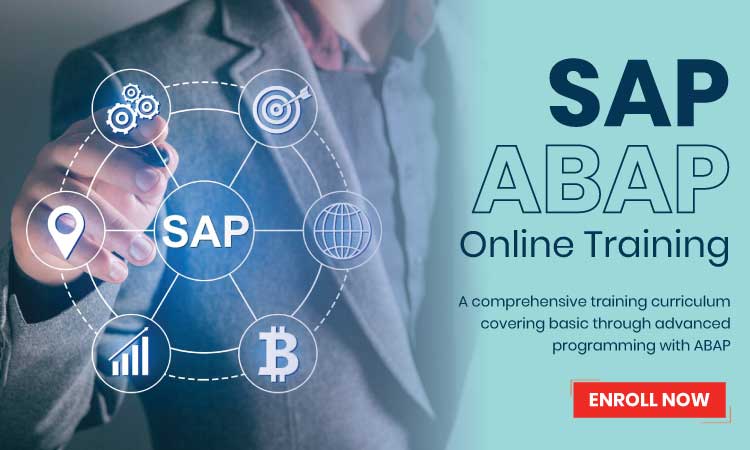 Introduction
The main function area of the language is in the manufacturing of business applications. Primarily, many developers prefer to work with this or Java for coding for the NetWeaver Application Server, which is a subset of the NetWeaver. It enables programmers to embed object-oriented programming characteristics in the code. Apart from the high-level attributes makes it an easy language to work with. it provides a few advantages like faster retrieval of data and prevention of memory of wastage. Despite the existence of other prominent languages like JAVA, it has not become outdated. Therefore, if you know how to code with this comprehensive, you can find multiple profitable opportunities. Hence, insights from the expert SAP ABAP Online Training are still valuable. So, level up your skillset and seek lucrative job openings.
Proceed to the next sections and clear all of your fundamentals pertinent to this domain. Let us commence our discussion with the advantages-
Advantages of SAP ABAP
SAP ABAP is a user-convenient language that permits users to choose between objected-oriented programming and procedure-oriented programming. It is a coding methodology, which is easy to learn and work with, and among its multivariate uses, it also aids users in upgrading their SAP-based applications.
It is a convenient source to build SAP R3 platform. SAP R3 platform is an end-to-end information system solution. The platform aids in the coordination of resources, information, and activities that help in the smooth running of business processes.
It entails simple syntaxes and functions which allow users to learn it easily and even on their own. The ease of learning permits users to upgrade their knowledge with minimum investment and time. The easy syntax also allows users to start implementing the functions with minimal knowledge level. It is one of the ways it enhances production speed.
It has a unique capability to allow programmers to configure the programs as procedure-oriented and object-oriented. This attribute renders users to choose between general-purpose programming and special-purpose programming. Furthermore, the existence of polymorphism and inheritance functions in the OOPs also makes the programs flexible and reusable.
With this, the functional update of the SAP applications is also easy to deploy. The coding language permits programmers to easily code for the application update, which enhances the functionality and security.
It also has another attractive facet, which allows programmers to create personalized reports and interfaces.
Now, let us examine the demand and prospects of SAP ABAP
Is SAP ABAP Still in Demand?
SAP ABAP still has high demand and helps programmers in creating customer-specific technologies by working in correlation with them. In the present scenario, the demand is still considered to choose it as a technical skill and then build a career around it. If you look at the salary prospects, then you would be glad to know that the value and reputation of the developers are still at the top levels. According to job-based websites, the remuneration range varies between ₹2.5 to ₹12LPA subject to the experience and abilities of the professionals. Now, it is imperative to understand that since the competition is less, there is a golden opportunity for professionals to climb quickly to the leadership role. It is quite possible for the developers in this domain to reach senior positions quickly. However, for that, you have to enhance your profile and get help from additional training.
Speaking of additional training, there are multiple sources from which you can access certification courses quite easily. Apart from the job prospects and growth benefits, there are multiple advantages of completing a course that is emphasized in the next section:
Advantages of SAP ABAP Certification
It requires a vast amount of knowledge to reach a leadership position. So, to tune your knowledge and reach a superior state in your career, you would need industry-specific insights from the expert training curriculum. Study the points written below to comprehend the benefits of getting a relevant certificate-
At a professional institute, you will comprehensively understand the development procedure of business-oriented applications. It aids in increasing the profitability of the business and service range.
Furthermore, you will understand core concepts and terminologies that you should be aware of. In particular, you will learn about data types, dictionary concepts, tables, indexes, buffers, structures, etc.
Also, you will comprehend from scratch the coding basics, syntax verification, formatting, data operations, etc.
Join the course to get some idea about the advanced features and esoteric functionalities like BADI, ALE, ALV, RFC, etc. It will help you in making an impression on the interviewer by showing the extent of your knowledge.
Conclusion
The above article provides an in-depth description of all the fundamentals relevant to SAP ABAP. Now, as stated earlier, it is a coding language that provides economical and time-efficient solutions to programmers, especially in the coding for NetWeaver. It is a comprehensive coding language that is still in demand courtesy of its user-convenient facets. Attributes like ease- of-coding and simple retrieval of data render the language to be better than Java in some aspects. Hence, the demand in the global market is still there despite the prominence of numerous other software coding methodologies. If you are interested in constructing a career in this field, you can leverage this opportunity to reach top positions. Imbibe all the industry-specific details and know-how from the SAP ABAP Training in Noida and get hands-on experience. Handle complex projects to rise through the positions quickly.
Free Demo for Corporate & Online Trainings.
LEAVE A REPLY
Your email address will not be published. Required fields are marked *
Course Features

Reals Life Practical & Case Studies

Assignments

Lifetime Access

Expert Support

Global Certification

Job Portal Access