Full Stack Development
(49 Blogs)
PHP Full Stack Development Road Map
4.9 out of 5 based on 1322 votes
Last updated on 15th Nov 2022
3.2K Views

You can look for the PHP Full Stack Web Developer Training in Noida, which will make you aware of the steps and help you to become a proficient Full Stack developer.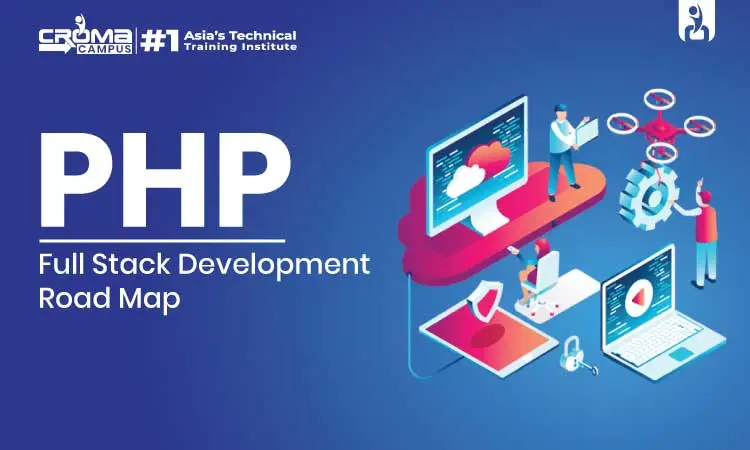 Introduction
Multiple programming languages are available in the industry, and each has its own advantages. But do you know what makes PHP different from other languages? It is a server-side language that helps to create static, dynamic, and web-based applications. Also, it is one of the popular programming languages to learn for generating applications and websites that are gaining popularity by the day. PHP is a secure solution for individuals who wish to work on accredited projects without hassles. So, if you want to make a career as a PHP Full stack developer, this article will walk you through the road map of becoming a proficient PHP developer. Alternatively, you can look for the PHP Full Stack Web Developer Training in Noida, which will make you aware of the steps and help you to become a proficient Full Stack developer.
PHP: Meaning
PHP, an acronym for Hypertext Pre-processor, is a popular open-source general-purpose scripting language. It is ideal for web development. Also, you can integrate PHP into HTML.
However, the server can execute PHP code, and the resulting HTML makes up to the client. It's a pretty simple language to learn for a beginner. This simplicity does not prohibit different complex capabilities that any experienced professional coder will enjoy.
PHP Full Stack Developer
A PHP Full Stack developer is a person who creates apps, programs, and websites using the PHP dynamic programming language. They are sometimes referred to by more general titles such as "software developer" or "web developer."
However, PHP developers are a specialized subset of the developer role. Though PHP is a backend technology, an individual should also learn front-end for a more lucrative career option to become a PHP Full Stack developer.
Necessary Skills to Become a PHP Full-Stack Developer
Below are the particular skills that every individual must master in order to become a PHP Full Stack Developer:
Programming
A PHP Full Stack developer is usually familiar with multiple programming languages. These specialists are skilled in JavaScript and HTML. Some of the other programming languages that a proficient PHP developer must master are Ajax, jQuery, and MySQL. These professionals utilize these languages to help them design websites and applications and debug any difficulties that may arise in the future.
Framework Architecture
PHP Full Stack developers are often familiar with several online frameworks and platforms. Moreover, they may interact with multiple application programming interfaces or APIs and understand how these functions might help them build more streamlined code. Furthermore, these developers are often knowledgeable with MVC framework design and excel at developing web-based environments.
Communication
PHP developers frequently collaborate with other developers and have excellent communication skills. They also convey complex procedures or concepts to their clients to help them understand the programs. Also, they obtain feedback to include in their software or online application. However, communicating clearly and effectively can help to avoid miscommunications and lead to more successful programs that fulfill the requirements of clients and consumers.
Problem Solving
These developer acquires customer feedback and applies it to current systems. It includes diagnosing and correcting flaws in their code. Moreover, these specialists frequently run tests to identify the problem before using their programming skills to address it. They also assist clients in troubleshooting their applications if they are having difficulty optimizing them on their hardware.
Critical Thinking
These developers frequently approach their projects with a rational, analytical approach. They may need to investigate another program to figure out how to optimize their code to operate on it. They are also excellent at evaluating their code to ensure that no errors are present before deployment.
Steps To Become a PHP Full-Stack Developer
In order to become a PHP full-Stack developer, an individual must move forward with the below steps to become proficient in this domain.
Step 1: Get a Bachelor's Degree
The best way to start a career as a PHP Full-Stack developer is to get a bachelor's degree from a reputed institution or university. However, an individual can get a degree in software engineering or computer science. The classes you will get in such degree courses can teach you the essential programming languages. Many college degree programs enable you to specialize in a particular area of computer programming to prepare you for a prospective profession. Also, in an undergraduate degree, you might be able to specialize only in PHP programming. Furthermore, many firms that recruit PHP developers may prefer individuals with a college degree because it ensures that you have extensive training and mastery of the field.
Step 2: Gain PHP Knowledge
After receiving your undergraduate degree, you should focus on gaining PHP knowledge. Learning the PHP language will help you qualify for jobs available in this industry. In general, PHP developers learn the language before being employed. Therefore, you may take up classes to become proficient in PHP.
Step 3: Gain Experience
Next, try working with PHP code to acquire knowledge and mastery of the language. This way, you can gain familiarity with PHP code. Also, you can take up freelance PHP programming projects to help you develop a portfolio of work to submit with your applications. However, hiring managers may favour applicants with substantial knowledge of this language since it may indicate that they can complete tasks more quickly.
Step 4: Pursue Certification
Certification can help you land a job as a PHP Full Stack developer. Some companies prefer certification to be proof that you have a degree of proficiency with PHP code. Also, it may show that you are passionate about and devoted to the profession. Thus, when looking for a job as a PHP developer, this might make you a more interesting candidate.
Conclusion
Hopefully, you may find this article informative. PHP Full Stack developer is a rewarding job position that requires a lot of effort and an extensive understanding of PHP and other technologies. Because PHP programming is a constantly growing area, you must enroll in PHP Full Stack Web Developer Training in Gurgaon to get familiar with new approaches to make your job better and more efficient.
Free Demo for Corporate & Online Trainings.
LEAVE A REPLY
Your email address will not be published. Required fields are marked *
Course Features

Reals Life Practical & Case Studies

Assignments

Lifetime Access

Expert Support

Global Certification

Job Portal Access