Is Piping Designing A Worth Learning Course?
4.9 out of 5 based on 2935 votes
Last updated on 4th Mar 2022
4.5K Views

If you are adamant enough to choose this field to build your career, then you should surely obtain a proper accreditation of Piping Design.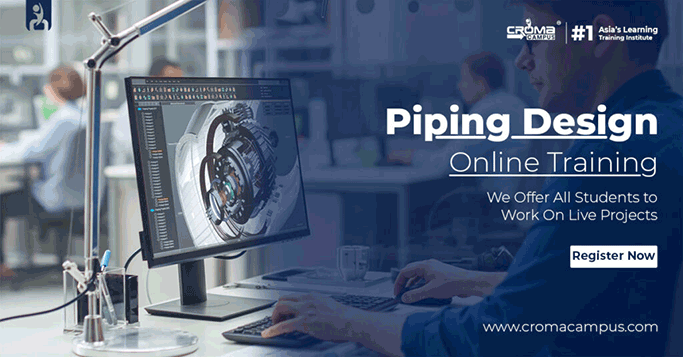 Introduction
Piping Design is an important element of engineering projects and process plants respectively. The technique of piping engineering comprises developing effective piping processes that safely export fluids and gases across numerous industrial plants. At the moment, Piping Design is being considered as one of the most demanding jobs. If you aspire to turn into a Piping Designer, then you should surely get started with the Piping Design Online Training course. This specific field has loads of job opportunities. By enrolling in this course, you will get the chance to know the overall procedure of the transportation of fluids.
Let's now proceed further, and have a look at some of the main job roles of a Piping Designer.
Main Job Role Of A Piping Designer
The roles and responsibilities of a Piping Designer might sound easy to you, but it's eventually not that simple to execute. To be precise, a Piping Designer has to perform a lot of duties regularly. If you also aspire to turn into a Piping Designer, then you must know some of the main obligations of this designation.
Your foremost duty will be to organize fieldwork of current working systems, locate connections, and measure.
Furthermore, your role will also be to keep up with the stress section to ensure adequate adjustability and help piping systems respectively.
Working as a Piping Designer will also indulge you in crafting design sketches, needed by drafting personnel.
You will also be responsible for checking piping drawings, and fittings respectively.
In fact, you will also have to ensure and complete the piping component and execute detailed drawings as necessary.
Developing bills of materials, reviewing the project, and equipment will also come under your responsibility.
The listed information expresses the main role of a Piping Designer. Your duties will eventually vary from project to project. Sometimes, you might have to do tasks beyond your job role also.
How To Turn Into A Piping Designer?
You need to have a set of skills before even thinking of turning into a Piping Designer. Well, these skills are mandatory to have as they will help you in executing your work smoothly. So, you need to imbibe these skills before entering this direction professionally.
You must know AutoCAD. It's a proper assemblage that tells you about the isometric sketches, creating piping diagrams, and producing piping isometrics respectively.
In fact, you must have detailed information concerning the layout.
Acquiring information concerning IDS (intrusion detection system) is also important.
You should also know the importance of construction documents.
Knowing the whole mechanism of the refinery is also very important.
Along with these skills, you must also have a detailed command of isometric drawings.
Is Piping Designing A Suitable Course For Your Career?
Well, there was a time, when a few groups of people were only interested in the piping industry, but with time and its demand, a lot of candidates seems to be interested in this direction as well. If you belong from a mechanical background, then it is one of the well-suited courses for you. It is a sort of complex course and is probably not suited for candidates belonging to any field.
If you have the passion to do your best in the design field, then only you should pursue Piping Design Training in Delhi. Whereas its future scope is concerned, then it has a wide bright future ahead. If you really want to know this course in detail, then you should surely get started with this course. This field will also bestow you with a good salary package. In fact, right from the beginning, you will earn quite well, and with gaining more skills, your salary structure will also be uplifted. Moreover, by gaining a bit of experience in this field, you can work as a freelancer, and earn a good amount as well.
Conclusion
The listed information significantly highlights the importance of Piping Designing and its scope. It's genuinely one of the flourishing fields, and you will get ample opportunities to learn new things and polish your skills. If you are adamant enough to choose this field to build your career, then you should surely obtain a proper accreditation of Piping Design Training in Delhi in hand. Post having this certification, you will get the opportunity to get into a good organization. In fact, you might end up receiving international job offers as well.
Free Demo for Corporate & Online Trainings.
LEAVE A REPLY
Your email address will not be published. Required fields are marked *
Course Features

Reals Life Practical & Case Studies

Assignments

Lifetime Access

Expert Support

Global Certification

Job Portal Access