Full Stack Development
(46 Blogs)
How To Grow Your Skills With Python Full Stack?
5 out of 5 based on 2312 votes
Last updated on 6th Apr 2023
16K Views

Before you jump into learning full-stack development Python Full Stack Training in Noida can be helpful in making you understand the actual role of this profile.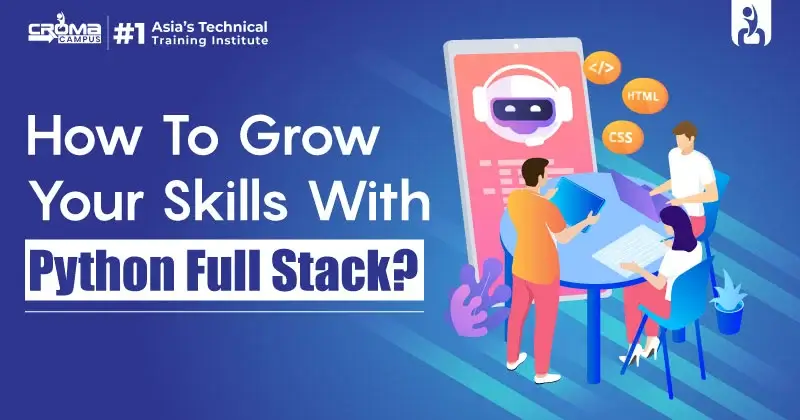 Introduction
There are multiple benefits of using the Python programming language for the purpose of web development. Python is most popularly in use for back-end development as well as front-end development. Before you jump into learning full-stack development Python Full Stack Training in Noida can be helpful in making you understand the actual role of this profile. Mainly, Full-stack developers work with both the front-end and back-end structure of a website or web application. They are well familiar with HTML, JavaScript, CSS, and languages. Mainly these developers work to create web pages, websites, and web apps from scratch to finish.
Skills You Need to Master to Work with Python Full Stack
To excel at this one particular role, one does not need a professional degree, however, just needs to fulfill a set of requisite skills.
Below are some full-stack developer skills that will help you excel in this position.
1. HTML and CSS
Hypertext Markup Language or HTML is the most useful language for front-end technologies. It is mainly used by developers to create the format and visuals of text and images that appear on the website. It manages the design of the webpage on the parameters of headings, body, paragraphs, pop-ups, and much more.
Cascading Sheet Styles or CSS is another style language that helps you to style and make changes to the HTML elements.
Being a full-stack developer, you need to know how to work with these two front-end tools to work efficiently with the client side of the application. These languages will further assist you in improving the interaction and visuals of the web application for the end users.
2. JavaScript
JavaScript is one of the dynamic languages in use by developers for the purpose of interactivity and better front-end development. However, due to its dynamic nature, it is useful in both client-side as well as server-side development. Also, JavaScript in its integration with HTML and CSS makes the work of developers quite simple and efficient. A full-stack developer needs to have a basic knowledge of JavaScript as well and be familiar with its added libraries or new frameworks.
3. Git and GitHub
Git allows developers to handle every step of the development process. It certainly stands out from the other control systems owing to its efficiency in error-solving and tracking. Moreover, you can monitor your progress, make significant changes, make useful modifications, and much more. GitHub allows developers to work, monitor, and review simultaneously on many projects.
4. Backend Development Languages
As a full-stack developer works generally on both the front-end and back-end, a fundamental understanding of technical backend programming languages becomes quite necessary.
Python: With frameworks of Django and Flask, Python becomes the most common in use programming language for backend development.
Java: It is not only used for web application development, but it is useful for mobile applications and desktop applications. Thus, making it a multipurpose programming language for developers.
PHP: It is fast, resilient, and moreover well efficient. Adding its features for server-side scripting and adaptability on different operating systems such as Unix, macOS, and Windows, it is a useful programming language for backend development.
Ruby: This programming language is useful for both backend and web application development. This language is well known for its simple coding, dynamic typing, as well as object-oriented principles. Irrespective of other languages, Ruby offers multiple approaches to solving a problem while coding.
These languages overall assist the full-stack developers to make them an expert in their roles.
5. Web Architecture
A full-stack developer requires to update him/herself to maintain his/her proficiency. Python Full Stack Training in Noida can help you build a fundamental knowledge of web architecture.
6. Database Management Systems
To become a well-experienced and extraordinary full-stack developer, you need to know everything about database management systems. Being a part of the development team, it is necessary to manage all the databases. Besides the other programming language you know, familiarity with Oracle, MySQL, Microsoft Access, SQLite, etc. can be helpful.
7. Designing Fundamentals
Quite often it is said that a development team differs from a design team. It is however true; a diversified role of a full-stack developer requires the basic knowledge of designing to make the front-end development even more appealing and interactive. This skill can be helpful for you to understand user psychology while creating the client side of the application.
8. REST and SOAP
The gap between the two most useful elements of a web application, and communication between the two is of the most importance. Moreover, these two web services enable you to share data between two diverse systems to make the operations efficient and productive.
Conclusion
If you master all the above skills, you will certainly be the most desired candidate in the eyes of recruiters. Python Full Stack Developer Course in Delhi can be the best medium to become a true professional in this field. Moreover, being such a desired field, it hosts a plethora of opportunities to grow in its career. Thus, make a good decision and choose one of the most demandable careers.
Free Demo for Corporate & Online Trainings.
LEAVE A REPLY
Your email address will not be published. Required fields are marked *
Course Features

Reals Life Practical & Case Studies

Assignments

Lifetime Access

Expert Support

Global Certification

Job Portal Access