Full Stack Development
(49 Blogs)
Future Scope For PHP Full Stack Developer
4.9 out of 5 based on 2356 votes
Last updated on 1st Oct 2022
1245K Views

In the recent time, PHP is the programming language for creating web applications among IT professionals in almost every Fortune 500 company. Also, PHP is simple to learn and understand.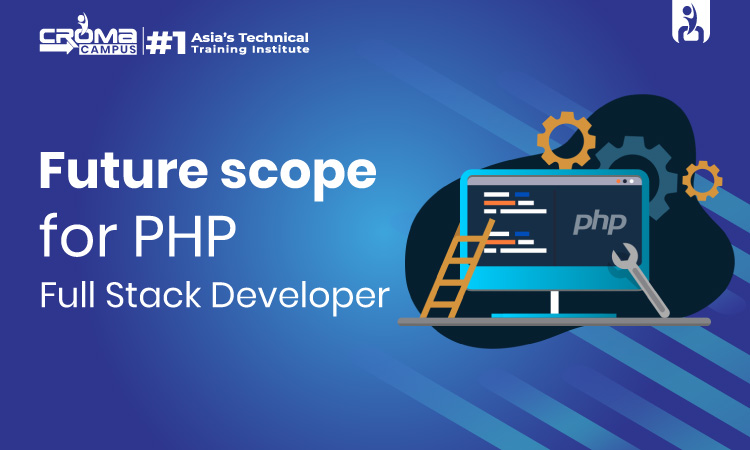 Introduction
PHP is the programming language for creating web applications among IT professionals in almost every Fortune 500 company. Also, PHP is simple to learn and understand. Thus, in this article, we will find out about the PHP Full Stack profession and its future scope in 2022. However, multiple exciting languages are available in the market, but PHP remains a trustworthy backend web development skill many employers are searching for. Therefore, to make a career in this domain, you can take the help of PHP Full Stack Developer Training in Noida, which will make you proficient in this domain and help you get placed in high-paying companies.
PHP Full Stack Developer: Meaning
A PHP Full-stack Developer is an applications developer with competency to design, testing, and implement software in PHP. However, PHP (Hypertext Preprocessor) is a scripting language that allows developers to create dynamically produced content and is often used to add functionality to websites.
As Full Stack Developers, PHP professionals must know both front and backend technologies. Thus, you may classify these developers into three broad categories depending on their understanding of languages and software usage, owing to the availability of seamless technological suites.
While working as front-end developers, PHP specialists should concentrate on feel, appearance, interaction, interface, and display aspects of websites. For such a scenario, PHP Full Stack developers must have expertise in CSS, HTML, Javascript, and similar languages.
As backend developers, they should focus on server-side apps and write to solve functionality and logic problems.
Also, working as Full-Stack Developers, these professionals mix their language skills and apply them to problems on both sides.
Necessary Skills for a PHP Full Stack Developer
In order to become proficient as a PHP developer, the aspiring candidates must master the following skills:
CSS
PHP is a server-side programming language. As a result, you must require a stylesheet language to make the web pages dynamic. A PHP developer with CSS expertise can design engaging and user-friendly websites.
Javascript
JavaScript is a scripting language for the client side. Thus, a PHP developer who understands Javascript may work easily on both client-side and server-side instructions.
WordPress
WordPress is another crucial skill in PHP's future. However, WordPress interacts with the database and searches for relevant data using PHP. The PHP tags offered by WordPress determine the activity on your webpage.
Reasons to Chose a Career as a PHP Full Stack Developer
These days, PHP Full stack developers are in great demand as most firms are going online and mobile. Thus, below are the reasons why you should choose a career as a PHP developer.
PHP as a Web Development Language
Top corporations such as Yahoo, Facebook, IBM, and others utilize PHP as the primary language for creating a website. As a result, your career as a PHP developer will have enormous possibilities.
Simple to Understand
As PHP syntax revolves around Java and C, this language is simple to learn. However, there are several internet resources and training institutes you may refer in order to learn PHP. Moreover, real-world case studies and the available projects online may effectively improve the PHP language abilities.
Open Source
PHP is a completely free Open Source Language. However, other open-source software used by PHP developers to develop online applications includes SQL, Apache, and others.
OOPS Assistance
Like Java and C++, PHP allows for Object Oriented Programming through inheritance, polymorphism, and data encapsulation. So, if you are familiar with these languages, learning and implementing PHP will be simple.
Availability of the Framework
The availability of the necessary frameworks is one of the most crucial reasons for the popularity of PHP. PHP frameworks such as Symfony, Laravel, Zend, and others encourage code reuse. This reusability allows the individual to design applications rapidly and with few mistakes.
Compilers Based Applications
Developers may readily convert the applications written in other languages into PHP with the help of extensions. Moreover, they may enhance the PHP's adaptability using compiler-based applications such as JavaScript, HTML, etc.
OS Interoperability
PHP works with all operating systems, including Windows, UNIX, Linux, and Mac. As a result, you don't have to worry about adding extra code lines to your apps for inter-OS compatibility.
Dynamic and Adaptable
PHP applications may be adjusted and customized to meet the needs of various clients. Also, you may rapidly add different parts of Graphic Design to an existing application because it is an open-source language that supports code reusability.
Resources
PHP is a well-documented language with several resources available. These resources cover the whole set of tools and frameworks that PHP supports.
Job Opportunities
PHP developers are in high demand as all big companies relocate their operations online. Even if you don't have a degree in computer science, you may begin your career as a PHP Full Stack developer by enrolling in several training classes.
PHP Full Stack Future Scope and Career Opportunities
A PHP Full Stack Developer provides immense opportunities for interested candidates. Thus, below are the future scope and available for aspiring candidates after completing their training from the reputed institute:
Web Development Career
The biggest use of PHP language is in web development. They are in charge of designing, developing, and managing Internet websites and apps. Also, you may use PHP to create interactive and dynamic websites and applications. Thus, combining with a database produce excellent results.
Database Administrators
Database administrators are in charge of organizing and maintaining data. This is where PHP plays a crucial part. PHP simplifies database administration and allows you to connect and manipulate databases. However, PHP, the server-side language, enables database interaction and is beneficial for developing database management systems.
Graphic Design using Dream Weaver
Graphic designers are in charge of developing visually appealing digital images. This is where Adobe Dreamweaver assists such professionals. This tool helps graphic designers in creating eye-catching visuals for internet content.
Salary Structure of PHP Developers
In India, there is no specific fixed salary package for PHP Full Stack developers. The salary package depends on the PHP developer's abilities, experience, qualifications, and awareness of current technology. Also, the salary depends on industry-wide criteria. However, a fresher PHP Full Stack developer may expect approximately 3 LPA to 4 LPA. It will rise as you gain experience and the necessary certification. Moreover, top corporations may offer a more comprehensive package than startups. Some factors like location, skill set, and experience affect the income structure of a PHP developer in India.
Conclusion
To conclude, PHP Full Stack developers are competent in all layers of the engineering process. This results in a constant increase in demand for PHP developers in growing firms. Also, these developers have enormous opportunities all across the globe. So, if this profession drives you to a prosperous career, PHP Full Stack Developer Training in Delhi is the best alternative to advance your career scope.
Free Demo for Corporate & Online Trainings.
LEAVE A REPLY
Your email address will not be published. Required fields are marked *
Course Features

Reals Life Practical & Case Studies

Assignments

Lifetime Access

Expert Support

Global Certification

Job Portal Access