Mobile Development
(18 Blogs)
Everything You Need To Know About Android Development
5 out of 5 based on 1526 votes
Last updated on 23rd Jun 2022
6.3K Views

Since the introduction of mobile operating systems, Android has become the most popular and used operating system for mobiles in the world wide.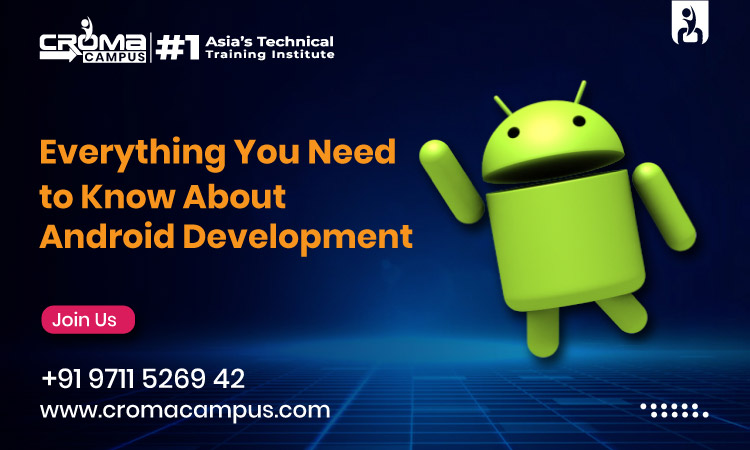 Introduction
Since the introduction of mobile operating systems, Android has become the most popular and used operating system for mobiles. As a result, Android shares around 80% of the overall market share. In addition, more than 4 million people across the globe use Android devices. Moreover, there are more than 3 million applications available on the Android store. With time Android applications have completely dominated the mobile market all over the world.
In addition, many large companies focus on creating third-party android applications for their business. Thus, it has opened many great career opportunities and offers certification programs to help individuals become a professional Android developers. So, by choosing the best Android Training Institute in Noida, you can get to learn about android development and get hands-on training. As a result, with proper Android training, you can create fully functioning android applications.
An Introduction to Android Technology
Android is completely based on Linux operating system for mobiles, tablets, smartwatches, smart Tv, and computers. Android development uses effective use of Java Programming Language to write codes and deploy dynamic Android applications. Therefore, the main goal of Android development revolves around creating successful products and enhancing the performance of Android applications.
Android Developer Roles and Responsibilities
After successful completion of your Android training, you will learn how to create effective applications for mobile and other android devices. Moreover, Android development is a complex and complicated process. Therefore, you must know about different Android platforms and versions. Android development aims to create applications as per the demand. After becoming an Android Developer, you will start your career as a junior developer. With experience and time, you will advance to become a Senior Android developer. Let us look closely at the responsibilities of an Android Developer;
As an Android developer, you will require to create and deploy interactive and dynamic applications for various Android-based devices.
The primary responsibility of the Android Developer is to collaborate with different team members and identify bugs and errors. Moreover, you will need to plan and execute new updates and features for Android applications.
You will require to interact with several data sources and APIs to integrate them within the application.
In addition, you will need to enhance the performance of the application and improve the features to get the desired results.
The most important of an Android developer is to ensure the functionality of the application by performing regular testing.
In addition, you will require to meet the changing technological trends and improve the overall productivity of the applications.
You must have experience with Android SDK, APIs, and working with third-party libraries.
Moreover, you should know about Android SDK, API, and how to make effective use of third-party libraries to build android applications. In addition, you must properly understand the Android Development Cycle.
Why Choose the Career Path of an Android Developer
Let us have a look at why you must learn about Android Development and choose this operating system to build applications;
Free to Use
Android Development revolves around a free-to-use environment and developers can access several Android ecosystems. In addition, with the help of open source, developers can quickly upgrade the applications and improve their performance. Since it's free to use customers can give their reviews and feedback without any hassle. With this feedback, developers can make changes and deploy applications as per the demand of the users.
Quick and Easy Integration
With the Android operating system, developers can enjoy a lot of customization features. In addition, they can add new features to android applications. Thus, this easy integration of programs and features makes Android the best-suited platform to create applications.
New Career Opportunities
In the present scenario, every organization uses applications to offer several features and services. This has increased the demand for skilled and trained Android developers. As a result, you will get great career opportunities and become professional Android Developers.
Conclusion
The demand for Android Developers has recently seen a boost. Therefore, this is the best time for you to learn about Android Development to successfully create applications. The primary objective of the Android Training Institute in Delhi is to offer the best hands-on training in Android Development. This extensive training will help you develop all the essential skills and knowledge to become a professional Android Developer.
Free Demo for Corporate & Online Trainings.
LEAVE A REPLY
Your email address will not be published. Required fields are marked *
Course Features

Reals Life Practical & Case Studies

Assignments

Lifetime Access

Expert Support

Global Certification

Job Portal Access