Full Stack Development
(49 Blogs)
Career Guidance For Node JS Full Stack Developer
4.9 out of 5 based on 1423 votes
Last updated on 3rd Nov 2022
3.9K Views

Node.js is a JavaScript-based open-source cross-platform with a runtime environment. It revolves around the V8 JavaScript engine in Chrome, which parses and executes JavaScript code.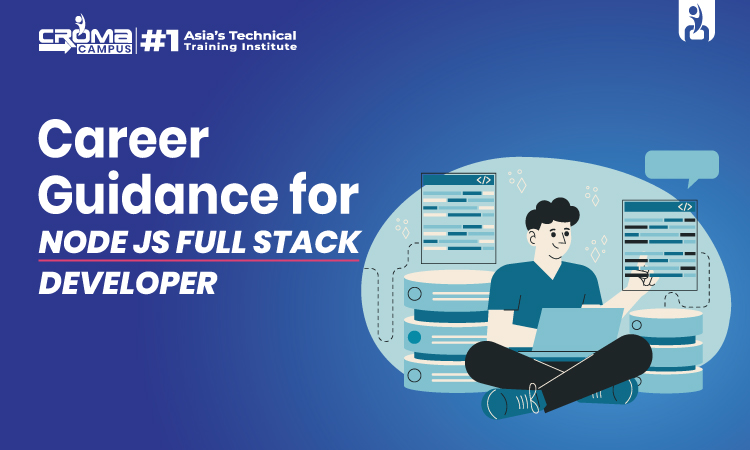 Introduction
Like any other technology, Node.js has its supporters and competitors. Undoubtedly, several powerful websites like Uber, LinkedIn, and PayPal use this technology. Thus, making it a powerhouse regardless of whatever side of the issue you are on.
So, what exactly is Node.js? Node.js is a JavaScript-based open-source cross-platform with a runtime environment. It revolves around the V8 JavaScript engine in Chrome, which parses and executes JavaScript code. As a result, Node is fast and lightweight. It employs an event-driven, non-blocking I/O approach. Moreover, this programming approach is one of the primary reasons Node has grown in popularity. Therefore, in order to have lucrative career opportunities in this domain, Node JS Full Stack Developer Training in Noida is the best decision an individual should make.
Node JS Full Stack Developer: Meaning
Every web or mobile application has two components; the front end (client-side) and the back end (server-side). The former is what the user sees and interacts with. The latter part of the application is a collection of behind-the-scenes components that power the app's user interface. Thus, a server, an application, and a database make up the back end. These three works together to make the visible aspect of an app possible. This is where full-stack developer plays their part. He is responsible for both the client and server sides of a system. As a result, they are knowledgeable about the full technology stack.
Moreover, combining it with Node.js offers several advantages and career opportunities. Node JS Full Stack developer is proficient in both technologies and helps to scale the projects to a greater extent.
Education Criteria for a Career as a Node JS Full Stack Developer
Note that there are no special academic requirements in order to become a Node JS Full Stack developer. However, candidates having a background in software engineering, either academically or via job experience, are often given more preference than the others who don't hold such credentials. Moreover, some of the most popular degrees in the business include B. Tech or M. Tech, MS/BCA/MCA, etc. Thus, interested individuals with such certification are more likely to get employment in this technology. Furthermore, freshers usually begin with HTML or JavaScript-based apps before moving on to Node.js Full stack within the first 1-2 years of employment.
In addition, employers are willing to hire candidates who do not have a formal degree in computer science or a similar profession but have a working experience with this technology and can produce a handful of code without any limits.
In case you have an experience in this domain or already working as front-end developers or web developers can take up the challenge to pursue the Node JS Full Stack certification training to advance in this area of domain.
Career Path After Node JS Full Stack Training
As a fresher in this domain, interested individuals begin their careers as front-end developers. They create applications with HTML, JavaScript, and CSS. Then, you must start introducing more technologies into the project. This is where Node JS makes things more powerful and easy. However, candidates who have spent 5-6 years working as a senior developer in this technology are given new responsibilities as a team lead, scrum master, architect, and product owner. Moreover, all those candidates who wish to advance to management positions typically become people managers, team managers, or line managers.
Even many people launch their start-ups or consultancies. Some people pursue blogging, online and classroom-based tutorials, teaching, and book authoring. Thus, app development, game development, and product creation may also be attractive career paths for Node JS Full Stack experts.
Salary Structure for Node JS Full Stack Developer
The starting salary for all graduates from tier B or tier C colleges who are looking for a career in Node JS Full Stack developer may receive around 3-5 lakhs. On the other hand, graduates from tier A colleges may earn approx. Rs 7 to Rs 8 lakhs. However, with five years of experience, the salary pay might rise to Rs 12-15 lakhs as one gains more abilities and expertise in his field. Moreover, large multinational corporations and well-known brands usually pay more for qualified individuals and provide several advantages and incentives.
Similarly, Node JS full-stack developers with 5-7 years of expertise are paid up to Rs 20-22 lakhs by firms like Google, Facebook, or Twitter, depending on the project and issue complexity.
Conclusion
To conclude, we have compiled the career guidance and different opportunities a fresher and an experienced Node JS Full Stack Developer may take after completing their Node JS Full Stack Developer Training in Delhi from a reputed institute. Such training will help the freshers to start their careers in this domain and help the experienced candidates to advance their knowledge and skills and get them a higher position in top organizations.
Free Demo for Corporate & Online Trainings.
LEAVE A REPLY
Your email address will not be published. Required fields are marked *
Course Features

Reals Life Practical & Case Studies

Assignments

Lifetime Access

Expert Support

Global Certification

Job Portal Access