Software Testing
(48 Blogs)
Best Software Testing Tools In 2023
4.8 out of 5 based on 3547 votes
Last updated on 27th Dec 2022
5.2K Views

Software testing tools allow the execution of functional and regression tests in the application to produce consistent results with the incoming data provided.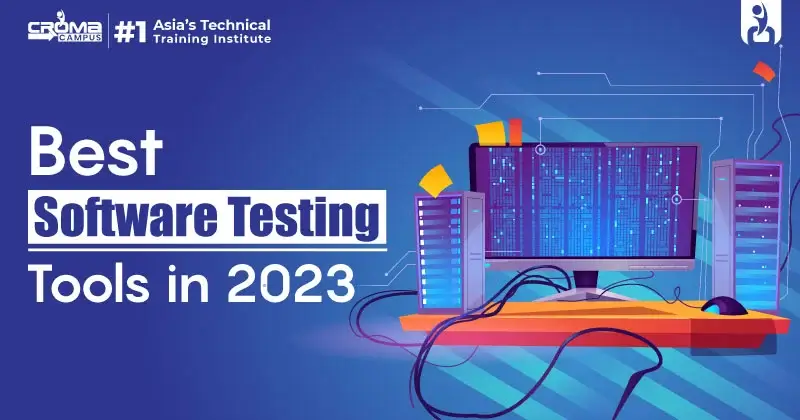 Introduction
It's quite important to have a test plan that includes testing both during and after development. Certainly, to assure that the software is up to the mark before opening it up to general users. Basically, you may require one tool or multiple tools for different types of testing or different types of software. So, here comes the need for software testing tools before you start your journey. Software Testing becomes a very crucial step in the journey of software development. To gain a better advantage over this section, Software Testing Online Training in Saudi Arabia can guide you on the correct path. Despite spending the majority of your time on testing, you can use some intelligent software testing tools. There are many software testing tools available in the market. Let's explore some of the best tools for software testing.
Best Software Testing Tools in 2023:
1.
Selenium

It is an open-source, portable tool and offers functional testing of various web application modules across platforms and browsers. It supports parallel text execution, which further saves a lot of testing time. Selenium also supports many languages like Java, Ruby, C#, Python, etc. Selenium automates web browsers giving a varied speed and efficiency level that's not possible through manual testing.
2.
Gatling

This open-source testing tool is specially designed for load testing of CI/CD and DevOps. With Gatling, you basically avoid crashes and slow response times. It detects quickly the errors and issues in your application's performance during development. However, it integrates with the development pipeline and further continuously tests the load on your web apps.
3.
Kualitee

A cloud-based automated software testing solution called Kualitee enables companies to organize and automate their testing procedures. It is intended to save time and enhance the quality of the developing software tested by developers and testers. The tool moreover automates the software testing process by running tests automatically and enabling developers with instant feedback on the results.
4.
HeadSpin

HeadSpin empowers engineering, QA, operations, and product teams to ensure optimal digital experiences across delivery channels throughout the development lifecycle.
5.
Test Studio

Telerik Test Studio promotes easy automated testing. It offers code and codeless capabilities to test functionality, API, and load.
6.
Testim

Testim is an intelligent automated software testing tool that implements machine learning to speed up the design, execution, and maintenance of automated test cases. Test cases can be run on various platforms, including mobile devices.
7.
LoadRunner

LoadRunner is perfect for assessing the performance of a website or web application under high load conditions. It can simulate thousands of users using the software to basically record and analyze the application's performance. It also provides user-friendly analysis and monitoring.
8.
WebLoad

WebLoad can test complex test case scenarios. It is useful to test cloud and standalone apps and support all major web protocols, enterprise applications, and technologies. With Webload, it is certainly easy to build and load test scenarios.
9.
Blazemeter

Blazemeter is useful for running performance test cases on mobile apps, APIs, or web applications to assess performance at any stage of application development. It assures the delivery of high-performance software in the end. You can develop a new test setup by obtaining new data from Google Analytics and integrating it.
Conclusion
Your choice of testing tools should meet both your current needs potential trends and improvements. Moreover, you will see the introduction of new tools to the market, on the basis of requirements. However, you should opt for a Software Testing Online Course in Qatar before choosing an appropriate tool. Besides choosing the right tool, you should be aware of the software requirements.
Free Demo for Corporate & Online Trainings.
LEAVE A REPLY
Your email address will not be published. Required fields are marked *
Course Features

Reals Life Practical & Case Studies

Assignments

Lifetime Access

Expert Support

Global Certification

Job Portal Access