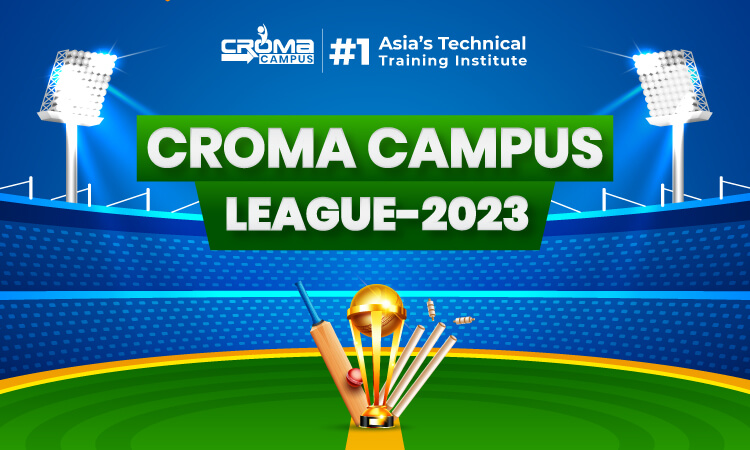 Fun & Excitement Marks The End Of The Croma Campus Sports Day 2023
04-Mar-2023
Sahil Sharma
Sports are essential for developing an athletic spirit in youngsters and are a crucial part of every student's life. Yet, there is one more aspect that many people overlook. It helps the organizational employees demonstrate their sporting skills and make them stress-free from their daily schedule. It also allows for building the sporting spirit among individuals.
Keeping all this in mind, Croma Campus, a premier institute in providing quality IT training courses, celebrated its Sports Day on 23rd February 2023 at Raja Cricket Academy, Noida. It started with great enthusiasm from all the employees and the Directors and was clearly visible in everyone's eyes.
The event started with the cricket match between the Team Avengers, led by Divya Dixit (Sales Manager), and Team Warriors, led by Saurabh Chauhan (Senior Learning Consultant).
After winning the toss, Team Warriors opted to bat first in the innings. They batted well and put up a score of 176 in 20 overs for the Team Divya Dixit. On the other hand, Mr. Lalit was the leading wicket-taker from the opponent's side.
After having refreshments and some cooling period, it was time for Team Warriors to chase down the big total in 20 overs. Team Warriors started their innings slow but gained momentum after the second over. However, they were not able to chase the target within the said overs. In return, Team Warriors scored 120 runs and lost the match by 55 runs. It was an amazing performance by everyone who played the cricket match. After that, all three directors (Saurabh Sir, Pawan Sir, and Devender Sir) presented the trophy to the winning team captain.
After the cricket match, the HR team organized a Kho-Kho game, where girls and boys participated with much excitement. Here, the squad was split evenly between Team Anjali and Team Ankit. Team Ankit performed first, and everyone was all out within 4 minutes of the game. Then comes the chance of Team Anjali, which performed exceptionally well and won the match. After that, Saurabh Sir presented the trophy to Ms. Anjali and the team for winning the Kho-Kho match.
After the two events, the surprise event for the day was a Relay Race for the employees who didn't participate in the first two games. With the three rounds of the race, Mr. Nadeem, Shams, and Mohammad Faiz won the show by receiving medals from the directors. This Sports Day, held under floodlights on the multisport grass, ended with clicking pictures of the team and prize distribution to the outstanding performers. More than the individual or group performance, the purpose of organizing Sports day was to make employees realize the importance of teamwork.
Media Contact
Croma Campus
G-21, Block G, Sector-3, Noida