What Is Salesforce Pardot Market Automation?
4.75 out of 5 based on 2547 votes
Last updated on 28th Nov 2022
3.8K Views

With Salesforce Pardot Market Automation you can automate repetitive marketing tasks and save your precious time. To know more read this post.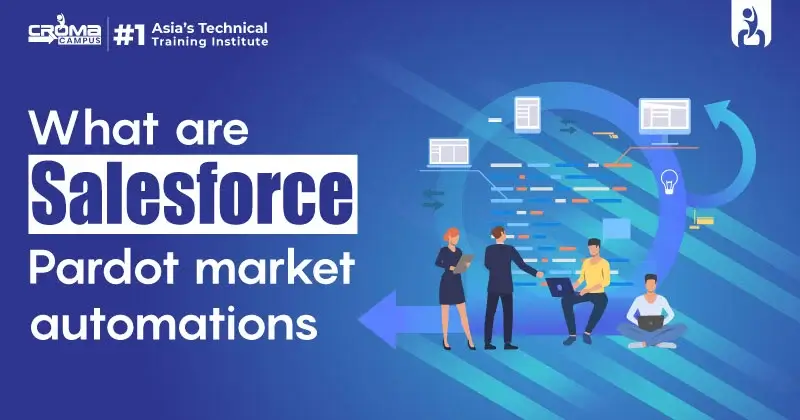 Introduction
Salesforce Pardot is an ideal marketing automation solution for businesses and enterprises. It integrates with Salesforce Sales, which is one of the best CRM software platforms on the market. This software solution help businesses analyze, organize, automate and measure the effectiveness of sales and marketing campaigns. Additionally, this software suite is widely in use across industries. If you want to grow in the business sector, Salesforce Pardot Training Institute in Noida will guide you on the correct informative path. This suite is a smart B2B marketing automation solution coming with the Salesforce Marketing Cloud's toolset. Generally, businesses use this suite for the sales department to generate high-quality leads. Thus, it enables the sales representatives to close more deals faster with the added information. Thus, giving the businesses an opportunity to collaborate with the sales team quickly and efficiently using Pardot's functionality.
How Pardot helps with marketing automation?
With Pardot you can automate repetitive marketing tasks and save your precious time to focus on your larger goals. Let's explore the capabilities of Pardot and the ways you can benefit from them;
Lead generation: Pardot gives handy options to streamline the process of collecting high-quality leads. With the help of Landing Page Builder, you can develop attractive landing pages with custom layouts and integration with your marketing and sales plans. Additionally, Pardot makes it possible to add smart forms to the pages to gather necessary contact information about users. It also provides statistics about organic and paid search and keyword performance. Further, this allows you to analyze them and improve your SEM and SEO efforts in the best possible way. Moreover, this gives you a complete picture of your social media marketing campaigns. Besides, it also increases the interactions with your audience through social platforms thanks to Pardot's functionality.
Lead management: With Pardot, you can easily be in touch with your audience through messaging on the basis of particular triggers, such as interactions, time, and other custom parameters. Working with this marketing tool, you can collect the best leads by scoring and grading metrics about users. Additionally, Pardot automatically divides the prospects into targets and dynamic lists. Further, Pardot helps you track your customers' behavior and interests, so you'll be able to offer relevant and dynamic content.
Email marketing: Pardot implements easy email marketing campaigns effectively and efficiently. Adding a user-friendly, visual Email Builder, you can build attractive, responsive emails tailored according to your customers' requirements. Moreover, Pardot has some useful features, such as a visual nurturing canvas, a schedule option, and autoresponders to automate a customer engagement process. Further, this tool allows you to personalize and send relevant messages to your customers, and generate statistics about deliverability and best-performing content.
Alignment with Development: The best advantage of using Pardot is a medium to connect marketing and sales reps to reach the best results in customer engagement campaigns. With Pardot, it's easy to track messages sent via Gmail, get real-time alerts, and communicate with hot prospects immediately. Pardot allows you to monitor customer activity and receive tracking information for analysis.
ROI Reporting: With Pardot, you can analyze the impact of your marketing and sales efforts on revenue. Pardot creates different types of reporting, such as ROI Reporting, Lifecycle Reporting, and Advanced Email Reporting. Moreover, it's possible to connect different marketing tools that you use and manage interaction with customers across those channels.
Artificial Intelligence: With the implementation of artificial intelligence in Pardot, you can improve your marketing and sales efforts and engage more leads. Additionally, with Machine learning you can find qualified leads, view influence fields, use a customer-centric approach and discover new audiences.
Conclusion
In the evolving business world, Global B2B marketers spend most of their budget on marketing automation tools. Basically, they do this to increase their revenue and generate better leads. Looking at the present market needs, acquiring professional training in this sector will benefit you in multiple ways. The Salesforce Pardot Training in Gurgaon will guide you effectively in this learning journey. However, it is a well-known fact that Pardot, as a digital marketing automation solution is on top of the Salesforce CRM platform. Owing to its capabilities of managing your marketing and sales processes successfully it has become the best among all.
Free Demo for Corporate & Online Trainings.
LEAVE A REPLY
Your email address will not be published. Required fields are marked *
Course Features

Reals Life Practical & Case Studies

Assignments

Lifetime Access

Expert Support

Global Certification

Job Portal Access