Mobile Development
(18 Blogs)
What Is Mobile Application Testing?
4.8 out of 5 based on 2547 votes
Last updated on 26th Nov 2022
4.9K Views

Mobile Application testing assures that your mobile experience is strong. If you want to know more about this then read this post.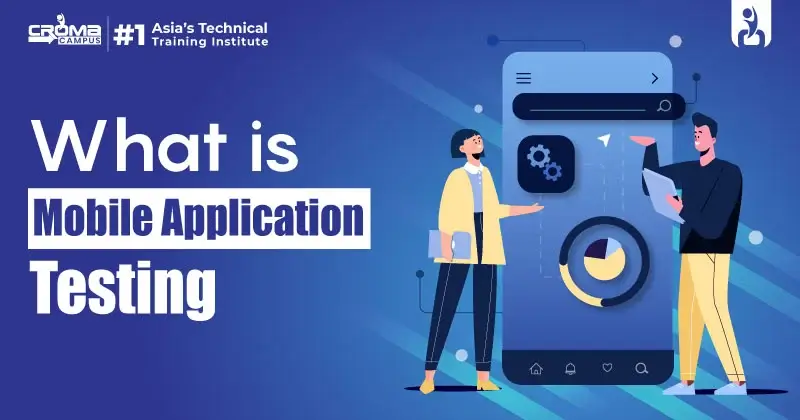 Introduction
After developing every mobile application, it is necessary to run it through the mobile testing process. This process ensures, the quality of the application before releasing it to the market. In simple words, Mobile Application Testing is the process of checking applications for modern mobile devices in the terms of functionality, usability, performance, and many more. However, the development life cycle of the mobile application is shorter than the other. As a result, the mobile application's success depends only on the successful testing of the mobile application. To learn this process of testing, you can target Mobile Application Testing Training in Delhi for productive results. Also with proper training, you will work more efficiently. Moreover, mobile application testing increases the general efficiency of the application and increases the reliability factor among the users as well.
Why Mobile App testing is important?
Nowadays, people use mobile applications for every small thing. So, it becomes important and also a responsibility to develop a well-functional mobile app. That suffices the need and requirements of the users. If you do not test the mobile experience your users are receiving, then you will be unaware of how well your application serves a large and growing portion of your users. Mobile app testing assures that your mobile experience is strong. Irrespective of the app you're using or what platform it is developed for.
Different kinds of Mobile Apps
Native Apps: It is built specifically for a particular mobile platform (Android or iOS). You can download and install it via an app store like Apple's App Store or Google's Play Store. This comprises both pure native apps built on Java/Kotlin for Android or Objective-C/Swift for iOS, as well as cross-platform native applications built with frameworks like ReactNative, Flutter, and NativeScript.
Responsive Web Apps: It is made for access on a mobile browser. Additionally, to include mobile-friendly features, Web apps can either be a responsive version of a website or a progressive web app.
Hybrid Apps: It is designed as a compromise between native and web apps. You can install Hybrid apps from app stores just like native apps and also have some native functionality. But also, partially rely on operating essentially as web apps wrapped in a native shell.
Types of Mobile Testing
Functional Testing: Functional testing is important to ensure the basic functions are performing as per expectations. It gives the appropriate input and verifies the output. It basically focuses on things like checking standard functionalities and error conditions, along with some basic usability.
Usability Testing: Usability testing goes far more than functional testing in checking the ease of use and intuitiveness. It mainly focuses on simulating the real experience of a customer using the app.
Conclusion
With the current changing and rapid market growth where new products are coming each day, it gets challenging to keep the devices up-to-date. However, to deliver the required user experience and issues that have to be handled way ahead, testing on the latest versions of devices is always a preferred option. Mobile testing can be a complex challenge due to the wide variety of hardware and software variations in common usage today. For a professional approach, Mobile Application Testing Training Institute in Noida can guide you better in learning this language. Mobile Testing can be tough but with proper training, you can ace this job role. However, with mobile internet usage continuing to soar, the quality of your mobile applications is more critical than ever before. Therefore, mobile app testing is a crucial role and will be prevalent in all stages.
Free Demo for Corporate & Online Trainings.
LEAVE A REPLY
Your email address will not be published. Required fields are marked *
Course Features

Reals Life Practical & Case Studies

Assignments

Lifetime Access

Expert Support

Global Certification

Job Portal Access