Advance Programs
(18 Blogs)
What Is ChatGpt And How To Use It?
4.9 out of 5 based on 14364 votes
Last updated on 11th May 2023
16.59K Views

ChatGPT Certification Training will help you learn more about its features and cover all your doubts about this domain.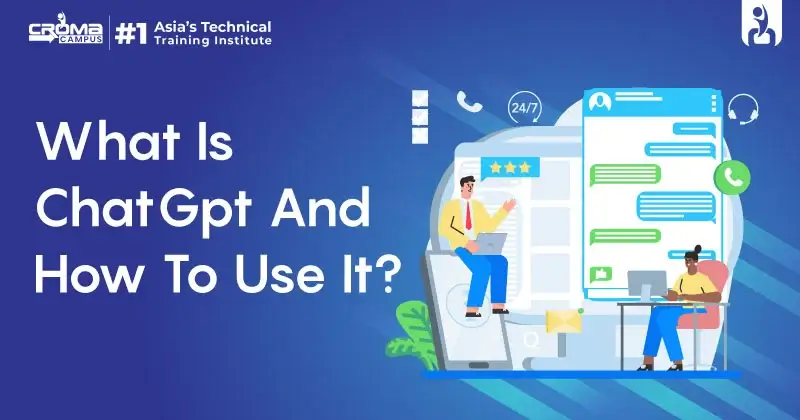 Introduction:
The most common question of 2023 is What Is ChatGpt And How To Use It? ChatGPT is basically an AI Chatbot from Open AI. Also, the chatbot offers a language-based model; that is allowing users to get fine-tunes of human interaction in a better and more efficient conversational manner. This chatbot is generally made for customer service; however, people use it for different other purposes as well. ChatGPT Training will help you learn its essentials and become a truly experienced professional in this field. As this field is gaining popularity, you need to be well aware and prepare for the advancements happening around you.
Understanding the Features of ChatGPT:
ChatGPT generally works by collecting data from varied sources on the internet. That is generally written by common people and further uses computing predictions to answer all questions given by the user. The replies it gives are prompted by textual requests and necessary information. This allows the chatbot to learn more about the various subjects and also how to discuss them.
It offers capabilities like writing essays drafting business plans, to further developing code. Moreover, the following paragraphs will help you learn more about its features and exciting benefits. Go through a ChatGPT Certification Training to understand What Is ChatGpt And How To Use It?
What is the Use of ChatGPT?
The major benefit of ChatGPT is developing responses like those humans would give, like in a text box. It is moreover suitable for chatbots, AI system conversations, and other virtual assistants. Additionally, it can also give normal answers to questions in a conversational tone and can develop stories poems, and different other features. Moreover, it can do things like-
Write code
Write an article or a simple blog post
Translate
Debug
Make a business plan or CV
Write a story/poem
To get all these answers to your demands, all you need is to type the prompt into the chatbot.
Moreover, its language capabilities are quite impressive, although it also shows some clear real-world limitations. For instance, although it may excel in technical language, however, you cannot rely on it for health information above that of a trained medical professional. It is generally more informative for less critical issues like writing essays or answering basic questions.
Also, OpenAI has introduced a ChatGPT plugin feature to improve the chatbot's earlier capabilities. ChatGPT will become even bigger and better than before. Thus, allowing the ability to draw on the knowledge and additional features of many third-party applications. ChatGPT Certification Training will help you learn more about its features and cover all your doubts about this domain.
Basically, this new update will make the ChatGPT bring in more tools from all these platforms. For instance, make graphs using Wolfram or even make your restaurant reservations from OpenTable.
How to Register for ChatGPT?
To use ChatGPT, you can start with your existing email ID or just a mobile number and further follow these easy and simple steps to make the registration. Take note of the different price options now consisting of a professional plan, offering consistent, unfettered access.
Follow these Necessary Steps:
Move to the login page in any networking browser.
Make an account, click on sign up and then enter your email id. Or even if you have a Gmail id and then just click on Google, it automatically registers to your respective Google account.
Moving next, go to the continue button, and the site will then ask for your mobile number for verification.
Once you get a code on your mobile number you can further log in.
Move to SMS activation. Then Register and log in
You are now free to use it.
Can You Use ChatGPT on Your Phone?
Yes, you can certainly use ChatGPT on your phone. There's nothing stopping you from doing so, as the mobile web version of the app will further allow you to carry out the same actions as on a given desktop browser.
Indeed, you need a phone number for ChatGPT if you look to log in. And its extra ability to use on a smartphone makes it even more mobile-friendly since you easily connect with it. Just a ChatGPT Certification Training can help you understand What Is ChatGpt And How To Use It?
Do You Need ChatGPT for Android?
There is no other source of an official ChatGPT app from Open AI. Also, there is not any given additional information regarding whether it can be. There are multiple ChatGPT apps available in the Play Store, but however, these are not from the same particular company.
Also, ChatGPT makes use of the GPT-3 model which is generally accessible on the OpenAI ChatGPT page. However, there is no Android (or iPhone) app from OpenAI. Thus, you can easily access ChatGPT on your mobile device by simply using the same URL.
What is the Best Feature of ChatGPT?
ChatGPT is certainly good at developing text which acts like human speech. This is indeed useful if you require a post for a website or even a social media page. But you don't have a good time to write it out yourself. It can also help you produce code again. Thus, making it useful if you don't have the time to further write it out yourself.
ChatGPT is even good for only entertaining yourself. You can even ask a joke and look for career advice. Only do not rely on it completely. ChatGPT Training is one of the best approaches for developing expertise in this field.
Is ChatGPT free for individual use?
The online version of ChatGPT is generally free for personal use. You can further sign up for an account and then access the chatbot at no extra cost as well.
Additionally, there is another paid version coming from it. ChatGPT Plus further allows users paying a subscription fee to access new features even before anyone else.
The Future of ChatGPT:
Artificial Intelligence has come a long way in the last couple of years, which become a major boom in capability unfolding in the last few years. We have no additional clue if this is only the beginning, and if it is, then it may go even further exciting very quickly.
Conclusion:
ChatGPT has certainly become famous since its release and is also revolutionizing the tech world. All you have to do is go to OpenAI's website and use it in your browser to test it for free. ChatGPT Training can help you learn more about it. Hope that the above paragraphs complete your search for What Is ChatGpt And How To Use It?
Free Demo for Corporate & Online Trainings.
LEAVE A REPLY
Your email address will not be published. Required fields are marked *
Course Features

Reals Life Practical & Case Studies

Assignments

Lifetime Access

Expert Support

Global Certification

Job Portal Access