What Does The Salesforce Tester Do?
4.9 out of 5 based on 9541 votes
Last updated on 31st Aug 2022
25.6K Views

Salesforce Tester ensures that all the features and capabilities of the testing functions as per the requirements. To know more read this post carefully.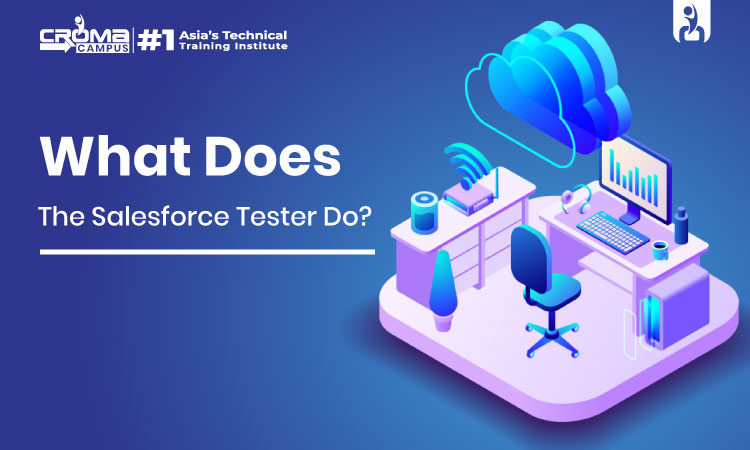 Recently, Salesforce has become one of the most popular enterprise platforms all over the world. In the present scenario, the need for effective Salesforce Testing has become highly important. As a result, many enterprise searches for trained Salesforce Testers.
Introduction:
Nowadays, Salesforce applications have driven a significant impact on IT enterprises. Since by continuously testing different features, developers can ensure the best user experiences. By using Salesforce Testing, organizations can use the latest testing methodologies and tools to test Salesforce applications. Hence, Salesforce has become the most popular testing platform with unique features and built-in customization features. Moreover, Salesforce Testing gives testers the ability to test applications in a Sandbox environment. Also, testers can use a series of UI, integration, functional, and system testing. Hence, if you wish to learn and understand Salesforce solutions, you need to search for the best Salesforce Training Institute in Noida and advance your skills to new levels.
Why Do You Need Salesforce QA:
Salesforce QA ensures that all the features and capabilities of the testing functions as per the requirements. Now, let us look at what Salesforce QA allows testers to do;
It ensures that Salesforce configuration and codes are functional by performing continuous checks.
It enables end-to-end Salesforce processes and checks the functionality of various events and activities.
Salesforce QA verifies the platform has the capability of supporting different business processes and activities.
With QA testers can detect issues and errors at the very early stage of the development process and saves a lot of money and time in fixing.
It verifies functional flows and also ensures the user experience and behavior of the platform.
QA enables seamless integration with various applications, thus it provides a cooperative view of the quality lifecycle.
Top Tips for Salesforce Testing:
If you want to enjoy all the advantages and features of Salesforce Testing, you need to;
Have tools and required mechanisms to adapt to constant updates and changes within the testing framework. As the Salesforce platform keeps on evolving, you need to have accurate measures to ensure effective automated testing.
Use tools that provide optimized testing of complex Salesforce elements. In addition, you need to opt for low-code/no-code tools supporting the test natively.
Have a powerful version and change management policies to support the Salesforce Testing. Thus, this will ensure all the changes made within the platform get properly documented and in time. Moreover, they will also allow a tester to go back to a previous version if required.
Can opt for codeless test automation to accelerate the Salesforce QA process and provide a convivial user experience instead of all the transformations and updates. Thus, it will reduce test automation efforts while enhancing the test lifecycle speed.
Roles and Responsibilities of Salesforce Tester:
The role of a professional Salesforce Tester revolves around a full-fledged engineer, thus they are also referred to as Quality Engineers. Hence, they have all the skills and knowledge to perform effective testing assignments following the Agile and traditional methodologies. In addition, they review codes for bugs, design, write, manage, and scale complex test frameworks and set up test environments from scrape. Moreover, in a normal Salesforce Project, the core team consists of Business Analysts, Project Managers, Scrum Masters, Quality Analysts and Testers, Developers, and Administrators. Moving forward, let us look at the main job roles of Salesforce Testers. The main responsibility of Salesforce Testers revolves around performing activities like Functional Testing, Manual testing, Unit Testing, Automated Testing, Deployment Testing, and Security Testing. This mainly includes testing the Salesforce applications using a methodical approach.
They need to get familiar with AssureClick, Selenium, QTP, and more such tools to offer maximum results.
In addition, you will require to test Salesforce.com or Force.com applications using different types of testing methods.
Software Testers must understand the functionality of creating functions maps. Hence, they can use these functions map to build and execute different test cases.
Conclusion:
As a career path, the growth for Salesforce Tester has increased offering them high-paying jobs. Hence, a Salesforce certification will add to your career development. In addition, you must have proper training and experience in testing and must know about salesforce certification cost to complete your Salesforce training.
Free Demo for Corporate & Online Trainings.
LEAVE A REPLY
Your email address will not be published. Required fields are marked *
Course Features

Reals Life Practical & Case Studies

Assignments

Lifetime Access

Expert Support

Global Certification

Job Portal Access