What Are HR Generalist Roles And Responsibilities?
5 out of 5 based on 1600 votes
Last updated on 17th May 2022
1.9K Views

An HR generalist refers to a human resources professional who has the basic knowledge of various topics which relate to employee compensation, hiring etc.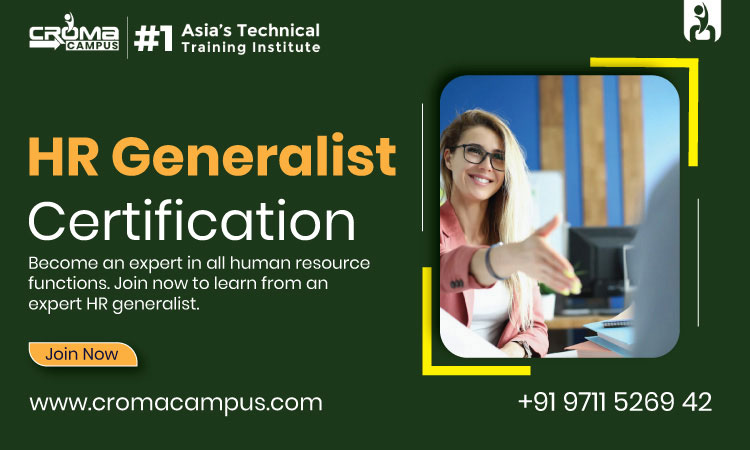 Summary:
From proceeding out the recruitment of new employees to managing overall responsibility related to performance evaluations, maintaining manpower, etc. Simply, these professionals are generalists who are ready for maintaining a wide variety of roles & responsibilities. Moreover, the career path of HR generalists might differ from their counterparts. Sometimes, HR Generalist Roles and Responsibilities strike out the mind of professionals which is a matter of broad discussion.
Introduction:
An HR generalist refers to a human resources professional who has the basic knowledge of various topics which relate to employee compensation, hiring, onboarding as well as evaluations. These professionals work in the HR (Human Resource) department of an organization or corporation. Sometimes the question What Are HR Generalist Roles and Responsibilities? strikes the mind. As we have seen earlier that these professionals are generalists and cover a broad range of work related to the HR department.

Job Role of an HR Generalist:
The job of an HR generalist requires performing divergent functions across the organization. It is the common query of many individuals regarding job responsibilities after HR Generalist Online Training.

Let's take a view of job responsibilities:
Strategizing as well as formulating the HR Policies.
Co-ordinating with the management to work out developing HR (Human Resource) policies in the organization.
Administering the plans for human resources throughout the organization.
Implementing as well as administering compensation programs.
They are responsible for drafting job descriptions; job offers as well as termination offers.
Organizations always need out training activities to the junior employees which are headed out by HR generalists.
Performing the major activities related to maintaining the workflow of the organization.
Monitoring out the benefits resolution as well as claiming out various liabilities.
Providing advice on employee retention as well as performance management.
Conducting the recruitment, counseling as well as exit interviews of employees.
Researching & analyzing the new HR trends.
Why HR Generalists are Inevitable for Organizations?
After getting a clear picture of HR Generalist Roles and Responsibilities now we must emphasize its importance in organizational structure. We get to consider the importance of these professionals in the below-mentioned details:
Effective Communication:
HR generalists need to communicate with different groups of people throughout the organization. They can monitor professional relationships by effectively disseminating the information. Moreover, they are specialized in boosting relationships with co-workers, HR Managers, and the organization's employees.

Decision Making:
Are you still wondering What Are HR Generalist Roles and Responsibilities? As we have already looked out the answer now, we must emphasize the decision-making capabilities of the HR Generalist. Moreover, these professionals have a great track record in different departments of organizations. Their activities range from performing cross-functional leadership, and time-management skills as well to collaborations.

Organizational Skills:
As we all are aware of the fact that HR generalists keep the track of information using modern tools like payroll software, workforce analytics as well as document management systems. Moreover, departmental efficiency can increase company-wide productivity.

Technical Adaptiveness:
Digital technologies are changing the business scenarios which are going across the industry verticals. Moreover, these professionals use digital tools for completing organizational projects on time. Apart from the knowledge regarding technology they also know how to accelerate our business proceedings with using technology.

Creative Touch:
When we talk about HR Generalist Roles and Responsibilities creativity definitely strikes the mind. There are various ongoing organizational projects which need a touch of creativity. Moreover, these professionals identify the new ways of transforming the customer experiences with business opportunities.

Check Out the Eligibility for Becoming an HR Generalist:
With increasing globalization and the need of handling manpower throughout the organization, there is a dire need for HR generalists. But the position is highly competitive and needs high credentials. Here are the details:

Pursue a Bachelor's in Human Resources (HR):
First & foremost for realizing your dream it is essential to pursue out bachelor's degree in human resources. While learning this course students get well-adapted to the subjects like human resources management, employment law, and others. However, there are various diploma courses related to it.

Get an Attested Certification in Human Resources:
In the domain of HR (Human Resources) there are not many the credentials needed but similar to other domains it helps in boosting confidence. The data revealed from the latest HR verticals employers prefer the individual with an HR certification. We are considering some well-known certifications in human resources:

Professional in Human Resources (PHR).
Society of Human Resource Management Certified Professional (SHRM-CP).
Senior Professional in Human Resources (SPHR).
Join Out An Internship:
If you are still wondering What Are HR Generalist Roles and Responsibilities? Then you must go through the internship for HR generalists. While internships offer out experience which will be fruitful for your career. Moreover, the internship will offer you senior-level positions after getting some experience.
Advancing out the Career Prospects:
Although there are different ways of advancing a career in human resources. Moreover, if you advance your skills & career prospects in the HR domain then you go for the Master's degree in this profession.

Conclusion:
If you can think strategically, listen critically as well as think quickly then you must go for HR Generalist Online Training for establishing in this domain. Moreover, experience also gets considered in this profession which decides the salary of the individual. Individuals can easily go for a career in this domain as there isn't a government body liable for licensing out the HR professionals. With the increasing demand for maintaining organizational work efficiency, the profession is gaining its depth across industrial verticals. In various countries, it is an established career option and it is accelerating its pace in other ones.
Free Demo for Corporate & Online Trainings.
LEAVE A REPLY
Your email address will not be published. Required fields are marked *
Course Features

Reals Life Practical & Case Studies

Assignments

Lifetime Access

Expert Support

Global Certification

Job Portal Access