Software Testing
(48 Blogs)
Some Tips To Prepare For ISTQB Exam
4.9 out of 5 based on 6542 votes
Last updated on 11th Nov 2022
7.9K Views

If you are preparing for ISTQB Exam and want to know more about the tips to prepare for ISTQB Exam, read this post.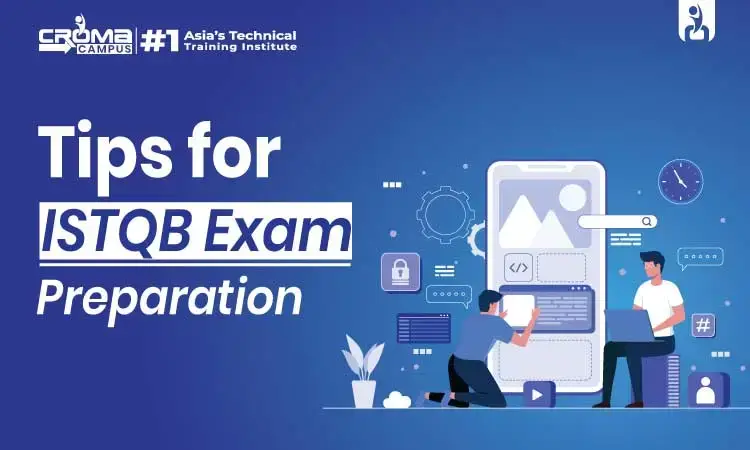 To begin with, Software Testing refers to the practice of ensuring that the actual software product matches the expected requirements. This practice helps in preventing bugs, reduce development costs, and improve performance. Furthermore, it results in identifying errors, gaps, or missing requirements in a software product. Given below are some of the significant types of Software Testing.
Unit Testing
Integration Testing
Smoke Testing
Regression Testing
Alpha Testing
Beta Testing
System Testing
Stress Testing
Performance Testing
Object-Oriented Testing
Acceptance Testing
Benefits of Software Testing
Software Testing ensures cost-effectiveness and helps you in saving money in the long term. This practice is useful for finding bugs in the early stage so that it costs less to fix them. In addition, it ensures security and helps a team in developing trusted products. Software Testing results in removing risks and problems in the earlier phase of the development cycle. It improves product quality, which makes it an essential requirement of any software product. Moreover, this practice ensures that a quality product is delivered to customers in minimal time. This approach results in improving customer satisfaction and improving business relations with them. To further know about it, one can visit ISTQB Certification Online Training. Apart from these, given below are some of the benefits of Software Testing.
Determining Software Performance
Introducing any software in the market without proper testing can be hazardous. Low or reduced performance of a software tool can result in bringing your reputation down in the market. This will break down your customer's trust and the reputation of your organization is going to suffer.
Enhances the Development Process
Along with improving product quality, it also helps in finding a wide array of scenarios and errors. Finding errors at an early phase allows developers to fix the same in no time. Furthermore, Software Testers work parallelly with the development team, and it improves the speed of the development procedure.
Easy while Adding New Features
Old and interconnected codes are stubborn and difficult to change. Software Testing allows developers to confidently add new features and replace older parts. However, tests will inform you if you have broken anything important. Thus, making your software development process better and faster.
Brings In More Profit
Creating a highly efficient and effective software tool ensures that you can easily market and sell it. Conducting software testing helps in finding bugs and errors in it and making it ready to use. Thus, allowing you to meet customers' expectations and sell the product at a higher rate.
Some Tips to Prepare for ISTQB Exam
ISTQB certification is a highly beneficial, non-mandatory certification that makes you more competitive and provides you with better career opportunities. In addition, seeking this certification opens doors for multiple Software Testing jobs for professionals. It provides you the flexibility to choose the education that fits your testing job along with a career path to get the QA job you want. Furthermore, it cuts your company's or client's costs and gives you an edge over non-certified ones. These points make ISTQB certification highly beneficial for starting a career in Software Testing. Moreover, employers prefer certified professionals and offer them higher salary packages and frequent promotions. Many institutes provide ISTQB Training in Delhi and one can enroll in them to prepare for this exam. Given below are some tips that will help you prepare for the ISTQB exam.
Read and understand your syllabus before doing anything regarding exam preparation.
Understand the exam structure and prepare according to the distribution of levels per chapter.
Study from one resource only and avoid getting lost in the maze of books and online resources.
Make a list of useful glossaries and frequently used definitions and read it frequently.
After reading the entire study material properly, try taking up some sample question papers or mock tests.
Make notes of important topics and concepts and recall what you have just read into memory.
Above all, you should remove exam fear from your mind if you have understood the syllabus properly.
Conclusion
Software Testing refers to the practice of ensuring that the actual software product matches the expected requirements. Furthermore, it reduces development costs, improves performance, and identifies errors in a software product. It makes it easy to add new features to a software product and enhances the development process. ISTQB certification is a highly beneficial certification that provides you with better career opportunities in the field of Software Testing. In conclusion, it opens doors to many career opportunities and makes you more employable.
Free Demo for Corporate & Online Trainings.
LEAVE A REPLY
Your email address will not be published. Required fields are marked *
Course Features

Reals Life Practical & Case Studies

Assignments

Lifetime Access

Expert Support

Global Certification

Job Portal Access