SAP HR Certification Cost In India
5 out of 5 based on 17459 votes
Last updated on 10th Jul 2023
18.39K Views

Routine activities of HR require a systematic approach, SAP HR allows organizations the freedom to manage core HR processes.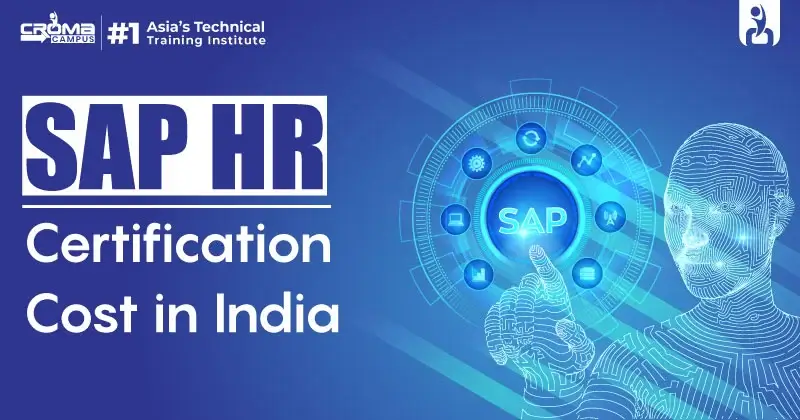 Introduction:
SAP HR is a powerful and robust software solution for handling all parts of HR, starting from recruiting to final retirement. But do you think you can use it in a small business? The answer to your question is a definite Yes. SAP HR is easily applicable to all-size businesses. Since this application is widely in use across organizations, learning to be an expert in this field is a perfect shot for a career. With an SAP HR Online Course, you can prepare yourselves to excel in this world. Going through a training process will illuminate your career path with a better understanding and getting you more opportunities for the future. Also, this training won't be difficult for you as SAP HR Certification Cost in India is minimal. Because HR is a must-have requirement, SAP HR is a growing field useful in most organizations.
Understanding SAP HR:
SAP HR is a part of enterprise software solutions comprising systems, applications, and processes (SAP). It is a partner to SAP enterprise resource planning (ERP), which look after customer and business interactions.
SAP HR is well capable of managing the complete employee lifecycle. It further turns the paperwork and guesswork of so many general HR processes into a unified solution. Also, this cloud-based solution allows making decisions from the data in store for making measurable business results. Getting through an SAP HR Training Institute in Noida will help you prepare for the correct path with professional guidance.
Where do you use SAP HR?
SAP HR is widely in use in all aspects of human capital management. Starting from HR administration to taking care of the employee experience.
There are different SAP HR modules for payroll, time management and attendance, onboarding process, arranging training, performance management, recruiting, and many more. Let's move further, to know how SAP HR can help you transform the way you can manage most of your valuable resources.
Using SAP HR for Core HR:
SAP is known to be a master of some core HR functions. It helps you in the following aspects.
Advanced time management of attendance
Administration benefits
Organizational management
Employee data
Onboarding and offboarding
And other major HR service modules.
It additionally offers functionalities for almost everything. Even from ticketing HR service requests to further managing visas. SAP HR consists of an extensive HR knowledge base for employees to access policies and documents anytime and that too from any device. When you talk about SAP HR Certification Cost in India, it is easily affordable for all individuals. Hence giving you all reasons to start your career in this field.
Additionally, the system comes in addition to some pre-loaded templates. Making easy and automatic generation of reports. Hence, all these make less work for your HR administration team and allow easier HR planning.
Use of SAP HR for Payroll:
SAP HR offers accurate payroll monitoring for connecting human resource management. The software comes with local regulatory information to offer compliance and to automatically alert the changes made in the laws.
SAP HR further takes care of audibility and connects payroll with enterprise processes. It also delivers all these functions with efficiency, and good security, and gives the convenience of administration with a cloud-based payroll system. To make a solid stand in its capabilities, start with SAP HR Online Course to broaden your knowledge width.
Use of SAP HR for Talent Management
SAP HR offers a unified talent solution. It takes care of onboarding, recruiting process, performance management, organizing training, compensation, help in career planning, and eventually overall development.
It offers a good number of options. These features include everything starting from job descriptions to setting personal goals for better performance management. Moreover, the performance management module consists of a coaching function that allows wording for employee reviews in any case you got stuck.
Use of SAP HR in HR Analytics
SAP HR takes care of every data point present in the employee life cycle. And further constructs it into standardized and interactive HR analytics. Also, its visualization tools allow you quickly identification of trends in key HR metrics. Additionally, develop interactive reports to demonstrate the stories from your numbers.
SAP HR allows you to plan for future growth by taking care of operational headcount planning, making financial modeling, and doing impact analysis. It even hosts a digital boardroom for allowing data sharing and analysis. It also includes simulations to allow you to explore some other alternative scenarios and further compare outcomes. Build your understanding in this field since SAP HR Certification Cost in India is easy to bear for all individuals. Moreover, by getting through certification training, you better understand its functionalities. It can be full visibility into your people, taking care of their performance, and their overall impact on your company's goals.
Use of SAP HR in Employee Engagement
The SAP HR platform offers an opening into the most robust performance metric which is employee engagement. It actually takes care of significant HR metrics like job applications and acceptance rates. All these are done automatically, thus giving job satisfaction and attrition. Lastly, giving real-time alerts to all its at-risk staff.
Its robust survey module can also administer ad-hoc and event-triggering employee surveys. Also, its employee benefits further optimize the best integration of offerings made to your employees. The software then analyzes all of this data and offers built-in and customizable reports to improve decision-making.
Top Features for All SAP HR Users
SAP HR Solutions basically integrates all HR data and processes in one single and cloud-based environment. This further takes HR to add new levels of capability and allows efficiency. Its other capabilities include;
1. Efficiency and Accuracy
Single Entry: This intelligent solution then replaces singular HR programs with a single and cloud-based system. You only need to enter and update the data once.
One Source of Truth: HR data automatically updates across the enterprise. So, everyone has easy access to the most current as well as accurate data.
Automated Tasks: Further, SAP HR automates many other administrative tasks. Thereby minimizing paperwork for everyday HR operations.
2. Real-Time Insights
Advanced Data Analysis: It further applies some advanced analysis to your employee data. Therefore, making it easy to share with some rich visualization and other reporting tools.
Embedded Best Practices: It further implements best practices and expert advice. It actually helps in making better decisions in talent management with the evaluation of their outcomes.
Data Integration: Using SAP HR, you can easily link HR metrics to other operations and financial data. Ensuring your HR strategy is getting you the correct business goals.
Data Trending: Its built-in data allows easy tracking of changes in key HR metrics over time to influence them.
3. Built-in Intelligence
Advanced Tools: This solution offers some intelligent tools for every human resource process. Such as making your own embedded employee surveys. Further, review your survey, then spell check for necessary improvements for making better results. Learn these excellent capabilities, because SAP HR Certification Cost in India is minimal for all individuals.
Automated Reporting: Also, this system hosts an extensive automated built-in facility. Eventually, do half of your work of data analysis. All you need to do is select the correct insights and hence SAP HR does the rest.
4. Embedded Content
Documents and More: It further offers documents, a library of resources, templates, and other resources to reduce your workload.
Embedded Data: It also offers some pre-loaded data to inform reporting. Additionally, giving you some standard definitions to aid you analyze your data.
Conclusion:
Even when you talk about security features, it is well protected in the cloud. Additionally, its functionalities are designed completely for regulatory compliance at the local level. With SAP HR Training Institute in Noida, you will get to more of its capabilities and you do not have to even worry about this training because SAP HR Certification Cost in India is easily bearable for all individuals. Hence, make use of this growing opportunity and build your career in the correct direction.
Free Demo for Corporate & Online Trainings.
LEAVE A REPLY
Your email address will not be published. Required fields are marked *
Course Features

Reals Life Practical & Case Studies

Assignments

Lifetime Access

Expert Support

Global Certification

Job Portal Access