How To Become A Salesforce Developer In 2022-23?
4.9 out of 5 based on 4235 votes
Last updated on 30th Jul 2022
9.2K Views

Salesforce uses the most trusted and reliable cloud infrastructure using this CRM technology. To know more about it join Salesforce Training in Noida.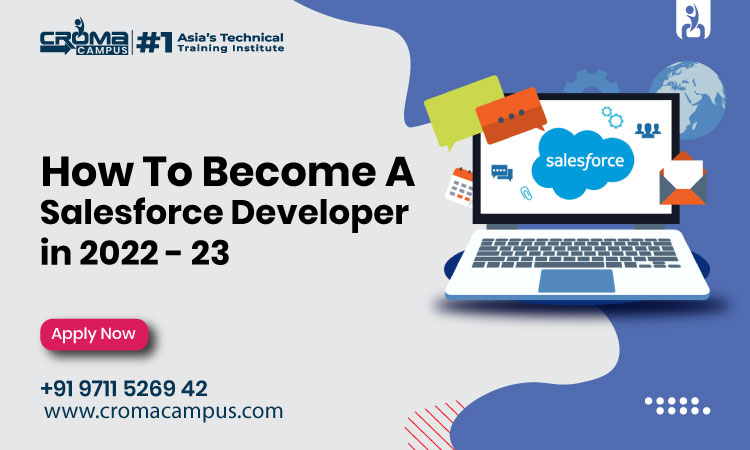 In the present scenario, Salesforce has become the world's number one CRM (Customer Relationship Management) platform in the IT world. Moreover, Salesforce assists businesses to grow by helping them understand customers' needs using cloud-based applications designed for sales, marketing, and service. Due to this many top-notch organizations search for skilled and trained Salesforce Developers to help in customizing the software development and offer effective and accurate business solutions. If you want to become a Salesforce professional, or if you are already working with Salesforce but would like to engage in some upskilling, then you need the best online salesforce training. This will help you master the skills of Salesforce and achieve great results. Moreover, Salesforce helps in managing the marketing, sales, and customer service of an organization. Thus, the three important products within Salesforce include Service, Sales, and Marketing Cloud.
What is the Use of Salesforce in an Organization?
There are more than 1 lakh organizations and around 500 fortune companies across the globe using the Salesforce technology. With the help of Salesforce, organizations can manage daily tasks and business operations.
Now let us look at the importance of Salesforce technology in an organization:
With Salesforce, users can make quick predictions about consumer behavior. By making predictions, users can improve the overall customer experience and increase customer satisfaction.
Salesforce will allow you to perform tasks at a faster rate and automate the workflow. In addition, by using Salesforce, you can identify potential threats and sales opportunities.
By using Salesforce, users can manage and enhance the collaboration between different departments and team members.
With Salesforce, you can also build required applications and make accurate data-driven decisions.
Finally, with Salesforce, organizations can sell products and services in a much smarter way. Hence, this will help you in growing and scaling your business as per your requirements.
What Does a Salesforce Developer Do?
Salesforce developer has become the most important programmer as they build Salesforce applications across various Platform as a Service (PaaS) platforms. Moreover, a Salesforce developer has an understanding of how Salesforce operates.
Hence, they use tools like Apex, Visualforce, and frameworks like Lightning Component to create applications.
In addition, as a Salesforce developer, you will require to handle and streamline the technical aspects of an organization.
You will create visual layouts to integrate different platforms. By using these tools, Salesforce developers can create applications and processes within Salesforce.
Therefore, the main responsibility of the Salesforce developer aims to achieve and improve business goals using custom development in Salesforce.
Responsibilities of a Salesforce Developer:
The roles and responsibilities of a Salesforce developer are similar to other professional developers. Let us look at the roles and responsibilities of a Salesforce developer:
You will require to analyze the different needs of the users, then design, test, and develop software to meet the demands.
Salesforce developers will require to design effective Salesforce solutions and create accurate project plans. In addition, they will add value to the stages of project work comprising definition, development, and deployment.
In addition, you will require to suggest new software upgrades to existing programs, apps, and systems.
Salesforce developers create and implement different programs for use over the internet and for the in-house users over the intranet of the company.
Moreover, you need to act and adapt to the changing technological and business parameters of Salesforce and . NET/Java platforms.
You will require to create processes to overcome potential system errors and deal with possible inconsistencies in the quality of data.
How Does One Become a Salesforce Developer?
There are many prerequisites for becoming a professional Salesforce Developer. Let us figure out how you can become a Salesforce developer:
You will require to have a BS in Software Engineering, Computer Science, or any other related field. In addition, it is a must to have excellent programming skills with enough experience to perform tasks effectively and accurately.
In addition, you need to develop all the essential Salesforce skills and have proper knowledge about Object-Oriented Programming Principles, Model-View-Controller, Java, or .Net programming.
You can do Salesforce internships to enhance your connections, skills, and experience.
Conclusion:
Therefore, to join this field as a professional, you need to consider getting the best Salesforce Training in Noida to learn about Salesforce technology to receive the certification for this course. Moreover, with the help of the Salesforce platform, organizations can integrate the marketing, sales, service, and IT teams. Moreover, it will help you in stabilizing your business processes and delivering remarkable customer experiences. Additionally, Salesforce uses the most trusted and reliable cloud infrastructure as using this CRM technology, you can access and share data without any hassle. Also, Salesforce provides organizations with various essential automation and reporting tools.
Free Demo for Corporate & Online Trainings.
LEAVE A REPLY
Your email address will not be published. Required fields are marked *
Course Features

Reals Life Practical & Case Studies

Assignments

Lifetime Access

Expert Support

Global Certification

Job Portal Access