Software Testing
(47 Blogs)
Why Software Testing Is Beneficial?
4.9 out of 5 based on 13254 votes
Last updated on 19th Oct 2022
8.56K Views

After finding a suitable platform, researching the Software Testing Online Course Fees is the next step in learning this program.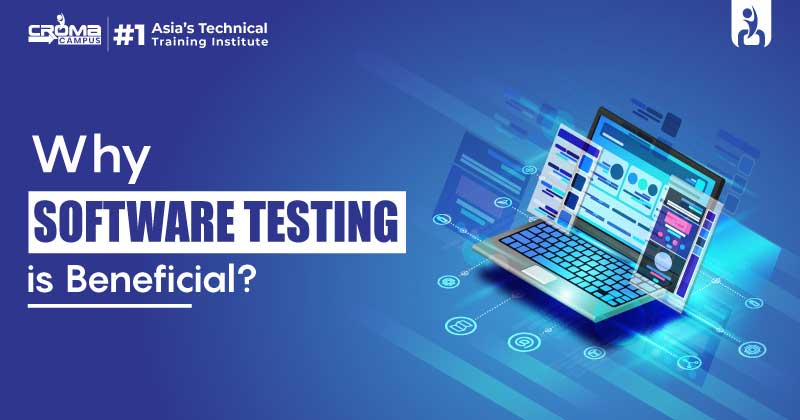 Introduction:
A Software Tester is responsible for the quality assurance of the software development lifecycle. The role of a tester is to conduct different tests to check any software made by developers for its suitability by the end users. A software tester performs different automated and manual tests to check whether the developed software has bugs or is error-free. As the requirement for software developers are constantly in need, one should take online training in this area for a bright career. Instead of going outside, one can opt for an online training medium to learn about this testing. After choosing the correct training program, one should also look at the Software Testing Online Course Fees for a detailed description of the online program. Software Testing Training will never go wasted; it will always be beneficial in the career.
The Software Testing role involves working in collaboration with different stakeholders, which include Developers, Project Support teams, and system users to understand the scope of the project.
Reasons to Opt for Software Testing:
Various Pathways: Every sector uses Software, and with the use of the software comes the need for Software Testing. Different sector opens the different pathway for Software developers, they can work in Manual Testing, Performance Testing, or Automated Testing suiting their choice.
Challenging: It can be the best career choice for people who love challenges. The testing process is very long and elaborate. Every software is different from others and needs a different approach for its testing
High in Demand: Software Developers play a crucial role in the process of the software development lifecycle. Each new product requires a high-quality standard. Therefore, the demand is always high.
Constantly Learning: Whether you are starting code, automating, or testing security, there's always to learn in a software testing career. Also, the work will never be stagnant, you will continuously be growing and improving your horizon.
Recognition: Without testers, the software developed will never be complete. By checking the end-user product, they are responsible for delivering a quality product. Moreover, the software is complete with its Testers.
Strong Community: However, one of the best things about testing is the large supportive Community. Whenever struck at a point, the vast support system will help you the way out of it.
Conclusion:
The career progression of a Software Tester can be fast, depending upon the skills, qualifications, and instincts. Software Testers generally have a degree in science or IT. After a primary stage of education, a formal training approach is very necessary. Even while working in another profile, you can opt for learning Software Testing by Online formats. Strong community support will always help guide a correct pathway. After finding a suitable platform, researching the Software Testing Online Course Fees is the next step in learning this program. With the rise in software development, the need for Software Testers is never dying. Therefore, a career perspective in this field will always be illuminating.
Free Demo for Corporate & Online Trainings.
LEAVE A REPLY
Your email address will not be published. Required fields are marked *
Course Features

Reals Life Practical & Case Studies

Assignments

Lifetime Access

Expert Support

Global Certification

Job Portal Access