Software Testing
(48 Blogs)
Why Choose Software Testing As A Career?
4.9 out of 5 based on 12345 votes
Last updated on 21st Dec 2022
13.23K Views

Looking at the growing demand for a Software Tester, you can definitely think of a career in this field. This career holds a lot of potentials.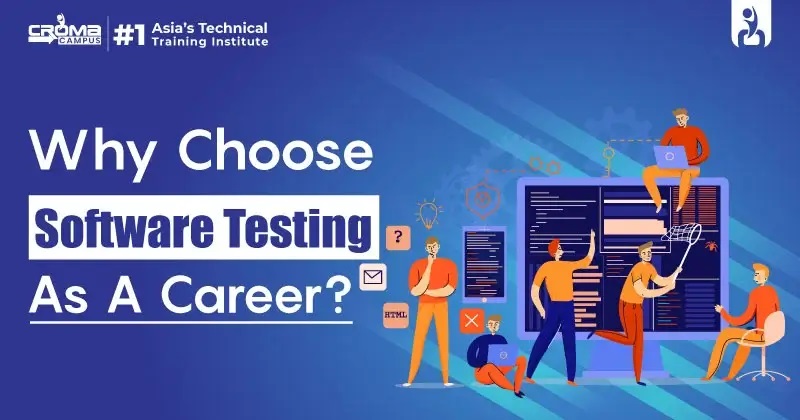 Introduction:
Software Testing is the process of finding errors or bugs in the developed product. It moreover checks whether the real outcomes match the expected results. Testing is basically a very crucial step before the launch of the product on the market. It further examines, analyses, observes and evaluates different aspects of a product. Today, Software Testing is a highly sought-after position in the tech world. They generally test the software to find defects, called bugs, and report any defects they find into a tracking system. Although, for being a software tester, you do not need to have the experience of a developer. You just need to be a quick learner, and with Software Testing Online Training you will get a brief analysis of the testing environment. Moving ahead, let's see why you should choose a career in Software Testing.
Why Choose Software Testing?
Creativity: You need to be innovative when testing a software application. As a good software tester has to think like a customer and understand any possible pain points they may face whilst use the software.
Continuously Updating: Being a buffer between the user and a new product, you have the chance to use and test the latest tech before anybody else. This certainly offers a constant and ongoing opportunity to learn.
Multiple Pathways: Moving from banking to retail, testers are deployed across multiple domains and in varied roles. You can choose from manual testing, performance testing, and automated testing, providing multiple pathway options.
High Demand: Companies are recruiting software testers across different sectors so there is a constant demand for testers. Software testers basically play a critical role in the software development lifecycle. They assure each new product meets optimum quality standards. So, the demand for testing skills is quite high and ongoing.
Future in Software Testing:
The future of Software Testing drives by the upcoming technologies and the needs of the time. However, today companies present greater emphasis on quality for a delightful brand experience.
Looking at the growing demands for a Software Tester, you can definitely think of a career in this field. This career holds a lot of potentials. You can start from the lowermost position and move towards the senior most designation. After a brief training module, you need to prepare well for Interview rounds. To practice in an efficient manner, you can look after Software Testing Interview Questions to prepare yourself for any situation coming ahead. Some Interview questions can be as such:
What is Software Testing
Elaborate on different types of Software Testing
How will you identify bugs
Explain the Software Testing Lifecycle
What is end-to-end testing
Throw light on API
What is a test environment
What is a test plan
Define some testing tools
Steps to consider while testing
What is SDLC
Conclusion:
No company can underestimate the value of delivering the best possible product to customers. Only after the testing team gives the green signal, the deliverable is ready to go out into the market. However, to earn customer trust, you need to provide consistent, reliable products. Certainly, testing is an integral part of the software development life cycle. Hence, Software testers will always be in great demand owing to their great capabilities.
Free Demo for Corporate & Online Trainings.
LEAVE A REPLY
Your email address will not be published. Required fields are marked *
Course Features

Reals Life Practical & Case Studies

Assignments

Lifetime Access

Expert Support

Global Certification

Job Portal Access