Software Testing
(48 Blogs)
What Will You Learn With Software Testing Training?
5 out of 5 based on 5241 votes
Last updated on 24th Aug 2022
7254K Views

If you want to become a Software Tester, you will require to enroll yourself in the best Software Testing Training in Noida.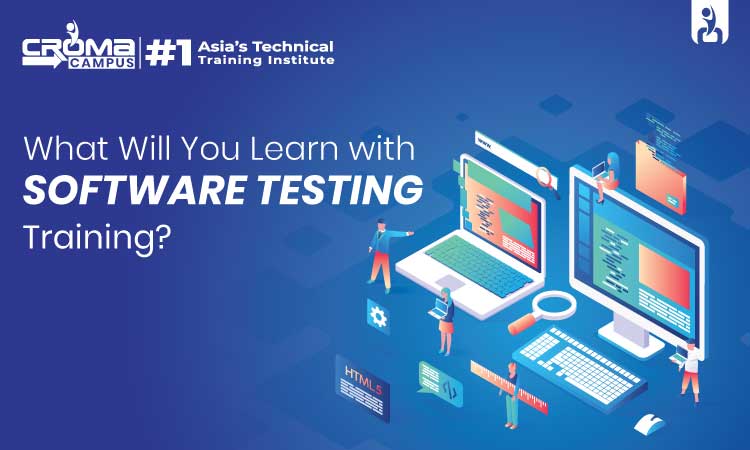 Introduction:
In today's modern era, many businesses have gone online, and the need for testing applications, software, and websites has increased. As a result, Software Testing has become the most important aspect of the software development lifecycle. Constantly keeping up with the latest trends has become important. Therefore, Software Testing and the role of Software Testers have increased to deliver proper functioning products. Therefore, the main aim of Software Testing is to ensure that the final product functions properly and is error-free. Hence, it helps in satisfying the customers, assure the quality of the product, and ensures the product is reliable and trustworthy. So, if you want to become a Software Tester, you will require to enroll yourself in the best Software Testing Training in Noida. With proper training, you can easily create unique test scenarios for the product and perform software testing sharing the results with the development team.
Why Become Choose Software Testing for Your Career?
Now, let us look at the reasons why you must choose Software testing as your career within the software development field;
In-Demand -
Enterprises recruit Software Testers, as they play a vital role in the software development lifecycle. In addition, with skilled Software Testers, enterprises get the ability to make sure that the final product meets all the required standards. Thus, the demand for Software Testing has increased.
Easy for Freshers to Join -
Recently, enterprises have started hiring individuals with BSc, BCA, MSc, and MCA as Software Testers. This gives individuals a lot of new scopes and job opportunities.
Easy-to-Learn Tools -
With Software Testing Training in Noida, you will get to learn important Software Testing tools including Selenium, Cucumber, Jenkins, and many more within a short span of time. Thus, it has become a great way to get familiar with these tools and become an expert with more experience.
Get to Enhance Your Skills -
There are various technical skills that you must have to become a professional and expert Software Tester. You will need to enhance your programming skills, front-end skills, database skills, and API skills. Moreover, you should also have excellent communication, analytical, and time-management skills.
Conclusion:
To sum up, the life of a Software Tester is never the same. As you have the chance to test and use the latest technologies and software before anyone else. This provides you with a constant and ongoing opportunity to learn and grow within this field. Moreover, it has become the most popular profession in the field of IT as companies using the software must have experienced Software Testers. Thus, you can choose career opportunities from different sectors. So, this is the best time for you to get the best Software Testing Training in Noida and get guidance from industry-based trainers.
Free Demo for Corporate & Online Trainings.
LEAVE A REPLY
Your email address will not be published. Required fields are marked *
Course Features

Reals Life Practical & Case Studies

Assignments

Lifetime Access

Expert Support

Global Certification

Job Portal Access