Robotic Process Automation (RPA)
(20 Blogs)
What Is RPA And How Does It Work With Process Mining?
5 out of 5 based on 770 votes
Last updated on 19th Sep 2020
7.7K Views

You can start your learning with the UI Path Training in Noida as it is the best RPA tool used and the best way to learn it is by opting for the Croma Campus institute training.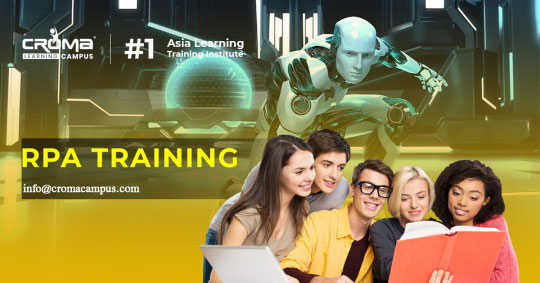 Robotic Process Automation a process that helps provide assistance in human work with a simple process and helps in eliminating the mistakes that may happen due to the continual, same, and repeating process. Robots have provided great support within the quick development around the globe. As we all see the market is growing around us this growth is being more uplifted by such technological improvement that it's become fast, efficient and helps to produce services that end in the positive growth of the enterprise.
To understand and implement such technology one has to get trained to bring out the potential to know the working and to get the positive results out of it. If you're looking to grow your future within the Robotic process Joining RPA Training in Noida is the best source to develop such leading-edge skills to regulate and configure processes with the help of machines.
RPA Automation is a well-known process and most used technology that helps in assisting in repeated human activities by providing a digital platform to run the business process. AS the platform is object-oriented therefore it provides help in communication, interpreting, and triggering the responses with a capability to try and do repeated process eliminating all the factors of mistakes, today many companies have involved the RPA process in their businesses creating an enormous demand for the trained professionals who are certified.
Croma Campus institute provides the best training and also helps in providing the eligibility certificate from the recognized university. Well now that you have understood about the RPA process and its indulgence in machine processing now let's know a little about process mining. Process mining is extracting the insights of the business process with the help of data in the IT system of any organization. The RPA uses such data and provides automation to initiate and complete such a process.
You can start your learning with the RPA Training as it is the best RPA tool used and the best way to learn it is by opting for the Croma Campus institute training or in case you want to know more and clear out the doubts you can simply opt for the free online demo classes from the same institute as it helps you to understand more about the course module and the training structure before joining the classes.
Free Demo for Corporate & Online Trainings.
LEAVE A REPLY
Your email address will not be published. Required fields are marked *
Course Features

Reals Life Practical & Case Studies

Assignments

Lifetime Access

Expert Support

Global Certification

Job Portal Access