Data Science & AI
(68 Blogs)
What Career Opportunities Are Available In Artificial Intelligence?
4.9 out of 5 based on 3241 votes
Last updated on 16th Nov 2022
6.4K Views

Artificial Intelligence is a growing field and it provides a number of career opportunities. To know more about it read this post.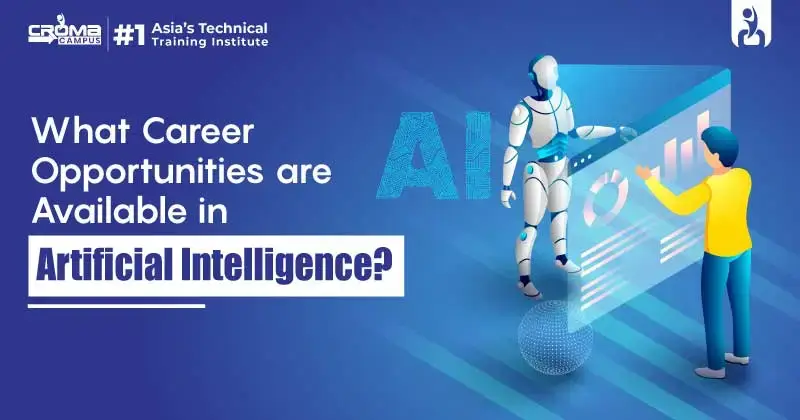 Artificial Intelligence refers to the combination of computer science and robust datasets that facilitates problem-solving. In addition, it is a simulation of human intelligence that is capable of building machines capable of performing tasks. Artificial Intelligence makes a computer or a software capable of thinking just like the human mind. To further know about it, one can visit Artificial Intelligence Training Institute in Delhi.
Career Opportunities in Artificial Intelligence
Artificial Intelligence is a growing technology that provides many career opportunities for professionals in it. A career in this technology looks more promising than any other job available these days. It is a lucrative field and starting a learning it will provide you with many promising opportunities. Various companies use AI to fulfil their technological requirements therefore, this technology is witnessing immense growth. However, starting a career in this domain requires relevant technical skills owing to its wide applications in different fields. Given below are some of the promising AI career opportunities available.
Big Data Engineer
These professionals are responsible for creating an ecosystem for the business systems. In addition, they build and administer big data of an organization and obtain outcomes from it in a robust manner. This career fetches you a good salary, however it requires knowledge of programming languages like Python, R and Java.
Business Intelligence Developer
They need to consider the business acumen along with AI and recognize different business trends. Furthermore, they help in boosting the profits of a company by preparing, developing and nourishing business intelligence solutions. This career option requires sound knowledge of SQL servers and queries.
Data Scientist
These professionals gather relevant data from multiple sources to gain constructive inferences. These inferences are useful in tackling various issues concerned with the business. To become a data scientist, you should have a master's degree in Mathematics or Computer Science. Furthermore, a significant experience in the field of machine learning is mandatory.
Machine Learning Engineer
ML is a subset of Artificial Intelligence that runs simulations with the different data. ML engineers need to build and maintain self-running software that facilitates machine learning initiatives. Moreover, they work in the areas of image and speech recognition, prevention of frauds, customer insights, and management of risks.
Research Scientist
They perform extensive research dealing with applications of machine learning and machine intelligence. These professionals are highly experienced in various fields like applied mathematics, statistics, deep learning, and machine learning. They have quite high salary and significant knowledge of Natural Language Processing is must for this role.
AI Data Analyst
They are responsible for performing tasks like data mining, data cleaning, and data interpretation. They use various statistical tools and methods, to draw inferences from the data. Becoming an AI data analyst requires a bachelor's degree in mathematics or computer science.
Product Manager
A product manager is responsible for challenging problems by strategically collecting data. These professionals need to identify relevant problems that obstructs the business proceedings. In addition, they need to do data interpretation and estimate business impacts from the outcomes of data interpretation.
AI Engineer
These engineers develop, test and apply different models of Artificial Intelligence. In addition, they effectively handle AI infrastructure and develop useful AI models by using machine learning algorithms. In addition, any kind of certifications related to ML or data science is beneficial in this job role. Many institutes provide Artificial Intelligence Training in Noida and one can enroll in them to start a career in it.
Robotics Scientist
It is a growing field and useful for various major industries for programming their machines to carry out certain tasks. In addition, it is a promising career opportunity and jobs in it are increasing with time. To opt for this field, candidates should have a degree in robotics, computer science or engineering.
Conclusion
Artificial Intelligence is a combination of computer science and robust datasets that facilitates problem-solving. It makes computers capable of thinking like humans, therefore it has a number of uses. Artificial Intelligence is a growing field and it provides a number of career opportunities for professionals. It is a highly demanding skill and professionals in it are generally paid higher than other IT employees.
Free Demo for Corporate & Online Trainings.
LEAVE A REPLY
Your email address will not be published. Required fields are marked *
Course Features

Reals Life Practical & Case Studies

Assignments

Lifetime Access

Expert Support

Global Certification

Job Portal Access