Software Testing
(52 Blogs)
What Are the Main Advantages of Selenium?
5 out of 5 based on 1900 votes
Last updated on 9th Mar 2021
1K Views

To learn and to grow you need to enroll for the Selenium Training in Noida as it is the perfect way through you can enroll and grow your career perfectly.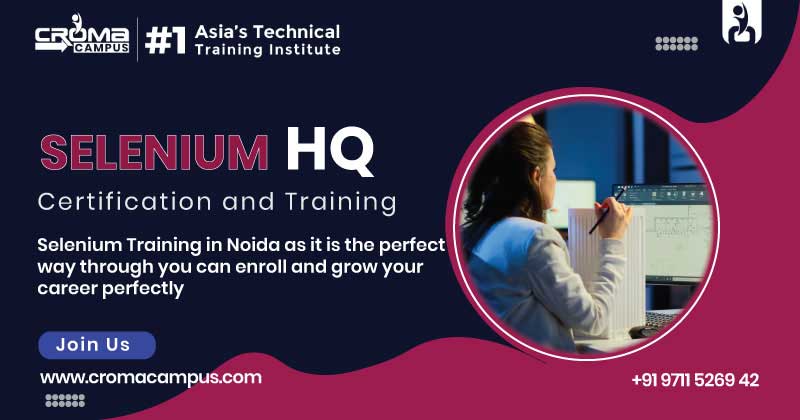 Software testing is a term or a practice that is followed by professionals who see themselves in software development. Software's are the true tools that help in performing the industry-based functions without any assistance from the human. It helps in making the work process easy and can integrate machine learning and AI for the more advanced automated process. Here we are talking about the tools known as selenium. It is an open-source software testing tool and it is the perfect addition to your IT field.
What is Selenium Testing?
The Selenium is a testing suite for web applications across different platforms and browsers. It generally focuses on the automated web application and can help in performing the testing using its tools. So, if you are looking to learn such tools and start your career journey learning software testing you are on the correct page. To learn and to grow you need to enroll for the Selenium Training in Noida as it is the perfect way through you can enroll and grow your career perfectly. Today the selenium is not just a tool but a perfect suite of software that helps cater to all the testing needs of the enterprise or the business.
This tool has four main components such as:
Selenium Integrated Development Environment
Selenium Remote Control
Web Driver
Selenium Grid
All these tools help in performing and extracting accurate results from the testing. Here are the few benefits of learning the testing through Selenium.
Open Source and Free Tool
The first and the most premium benefit of selenium is that it is an open tool and accessing it doesn't require any charge to pay. It is thus used in almost every organization that performs software testing requiring the testing tool.
Doesn't require a special operating system or browser
The selenium doesn't' require any special or defined browser or operating system as it is compatible with nearly every OS and browser. This makes it easy for the developers to work on it.
It can be easily integrated with different computer programming languages
Automated testing is today a feature that every organization seeks for, in it, the Selenium provides complete automated testing supporting multiple programming languages helping in the testing of any application or software easily.
Reading the above advantages of the selenium it is easy to understand that the Software Testing Training Institute in Noida is the best way to learn this course. Today, as IT technology is the best growing field, therefore, opting for this course can help you to evolve and strive your career with better opportunities as a developer. In case of any assistance feel free to enroll in the free live demo sessions provided by the Croma Campus to explain and to learn the perfect course structure and training pattern.

Free Demo for Corporate & Online Trainings.
LEAVE A REPLY
Your email address will not be published. Required fields are marked *
Course Features

Reals Life Practical & Case Studies

Assignments

Lifetime Access

Expert Support

Global Certification

Job Portal Access