What Are The Job Responsibilities Of A Workday Analyst?
4.8 out of 5 based on 5847 votes
Last updated on 7th Nov 2022
7.3K Views

Workday is one of the finest Courses that you can acquire now. To know more about it join the Workday Online Training course.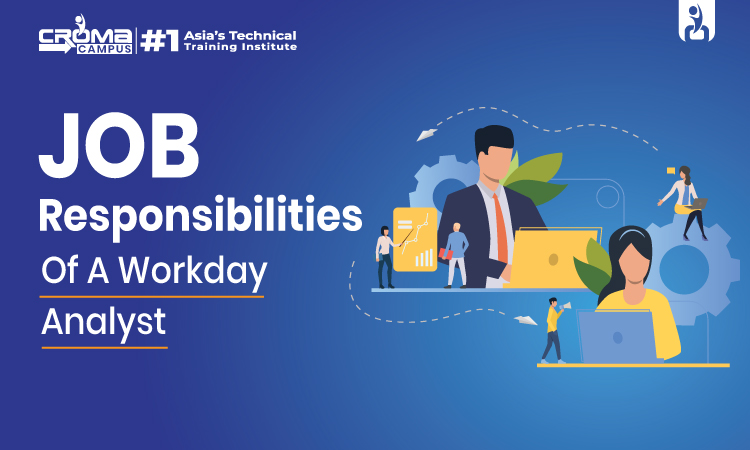 Introduction
Workday is a cloud-based financial management and human capital management software, a vendor which is highly on-demand. Especially for an organization, workday HCM is the best management software for Human Resources and Finance Management. Therefore, getting trained and certified on Workday HCM software will enhance the career prospect of professionals in the field of Finance and Human Resources (HR) of an organization. You can enroll in any Workday Online Training in India for its certification and training. Since Workday Training is one of the finest Courses that you can acquire now, this comes with great benefits launched by Cloud Foundation.
Thus, the training on Workday is framed in such a wholesome manner that it becomes easy to get the most out of the software. In this post, we shall be covering some of the basics of using Workday, how to use the various features, and who should go for its certification. Hence, this article may interest those who seek opportunities to pursue a career in Workday software.
Who Should Go For Workday Certification Course?
Most of the world's top MNCs are using workday HRMS. Also, workday professionals are getting an edge over higher salary packages too. Although generally any professional can learn and work in Workday, there are some job opportunities in Workday, that will benefit from this course-
All the Executives
Generalists.
Managers and Employees.
Project Managers.
Security Personnel and
System Administrators.
IT Professionals.
Leads.
What Are The Responsibilities Of A Workday Analyst?
A workday Analyst is expected to take up the following roles and responsibilities: -
Should be capable of effectively using business tools
To ensure efficient business process automation, he should enhance and maintain the configuration of HR systems
Should support HR and other end-users in the efficient use of HR systems
Should work with several HR system vendors to develop and maintain systems road maps and enhance schedules
Should work with the various vendors and serve as a troubleshooting resource to resolve complex systems problems
Should work in proper co-ordination with other IT teams to ensure efficient integration with other systems
Should work with HR Operations teams globally to identify and cater to the needs of the HR and related communities
What Qualifications Are Needed To Work As A Workday Analyst?
As a Workforce Analyst requires some standardized qualifications and prerequisites. So, here are some of them listed below-
An experience with preparation and leading system, integration, and user acceptance testing
Thorough and advanced knowledge of MS Vision
Experience with reinforcing and developing integration using Workday Studio, Enterprise Interface Builder, and Core Connector
Should have the ability to translate data into useful business insights.
After completing a Workday training, you should preferably be a certified Workday professional
Technical knowledge of the Workday platform
Computer proficiency
Verbal and written communication skills
Analytical skills
Time-management skills
Human resource and finance knowledge
Customer relationship management
Conclusion
Thus, we conclude that Workday HCM is quite significant in the business. So, for a Workday professional, it offers many things to learn and implement to support business operations. For example, it provides a way to lead managers and professionals to formulate informed decisions at the top level. Further, it has amazing benefits to know and use. Thus, if you wish to learn more about this software practically, enroll in a Workday Training Institute in Delhi that provides expert guidance. This learning can help you to reach your desired opportunity in your software career. Not only for the employees, but it's beneficial to the companies too. Therefore, it is also a top choice for many companies to hire a well-experienced Workday professional. So, it's beneficial for both the employer and employee in a long run!
Free Demo for Corporate & Online Trainings.
LEAVE A REPLY
Your email address will not be published. Required fields are marked *
Course Features

Reals Life Practical & Case Studies

Assignments

Lifetime Access

Expert Support

Global Certification

Job Portal Access