Cloud Computing
(30 Blogs)
What Are The Different Attributes Of Cloud Computing?
4.9 out of 5 based on 12965 votes
Last updated on 24th Jan 2023
10.31K Views

If you look to grow in the field of cloud computing, Cloud Computing Training in Noida can be a great medium to start with.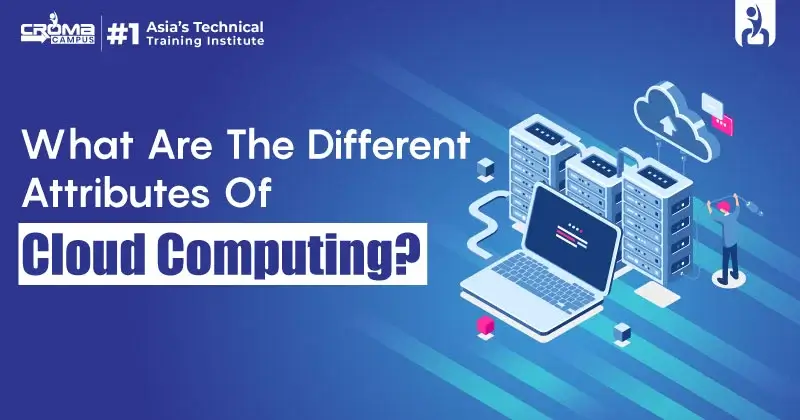 Introduction:
Cloud Computing is gaining popularity with each passing day. Companies are now moving towards Cloud Computing technology has made significant progress and has become popular among the masses. Cloud Computing has become the solution and requirement for every company. Looking at the rising popularity of Cloud Computing, well-groomed training in this profile will add more benefits. With Cloud Computing Training in Gurgaon, you can get better acquainted with all its features and characteristics.
Different Attributes of Cloud Computing:
Flexibility -
Cloud Computing allows users to access data or services using internet-enabled devices. Whatever you look for is instantly available on the cloud. Sharing and working on data, therefore, becomes easy and comfortable. Many organizations today prefer to store their work on cloud systems, as it makes collaboration easy and saves them a lot of costs and resources.
Scalability -
Continuous business expansion requires a rapid expansion of cloud services. One of the most significant features of Cloud Computing is that it is scalable. Not only does it have the ability to expand the number of servers, or infrastructure, but it also offers a great number of features to cater to the needs of its users. Scalability is also cost-effective and makes it suitable for business use.
Resource Pooling -
A cloud service provider can share resources with clients as per their requirements. In Public clouds, you share the same resources with different organizations and users. While in private clouds, the computing resources are exclusively in use by one user or organization. A Hybrid cloud is however a mixture of a public cloud and a private cloud.
Broad Network Access -
Cloud Computing has a huge access area and is easily accessible via the internet. You can access your files and documents or upload your files from anywhere in the world, all you require is a good internet connection and a device, and thus you are set to go.
Cost-Effective -
Cloud service providers do not charge any additional cost and most of the time they provide some space for free. The billing is however transparent and entirely based on their usage of resources. Cloud Computing significantly reduces the expenditure of an organization considerably.
Security -
Cloud service providers store encrypted data of users and allow additional security features such as user authentication and security against breaches and other threats. Cloud vendors provide multiple layers of abstraction to further improve the security and speed of accessing data.
Automation -
Automation enables IT teams, and developers, to develop and modify and maintain cloud resources. Cloud infrastructure needs minimum human interaction. Automation is however a great characteristic of cloud computing and is greatly responsible for the increase in demand and rapid expansion of cloud services.
Maintenance -
Maintenance of the cloud is moreover easy and automated process with very little or no extra cost requirements. With each upgrade in cloud infrastructure and software, maintenance is however easier and more economical.
Conclusion:
Cloud Computing is certainly one of the most popular and trending technologies of present times. Almost every IT company today is shifting its operation to the cloud. If you look to grow in the field of cloud computing, Cloud Computing Training in Noida can be a great medium to start with. As more and more companies are turning towards cloud services, more and more providers are coming into the picture.
Free Demo for Corporate & Online Trainings.
LEAVE A REPLY
Your email address will not be published. Required fields are marked *
Course Features

Reals Life Practical & Case Studies

Assignments

Lifetime Access

Expert Support

Global Certification

Job Portal Access