Cloud Computing
(30 Blogs)
Top 10 Reasons To Use Cloud Computing
4.9 out of 5 based on 11655 votes
Last updated on 12th Nov 2022
9.8K Views

Looking at the growing needs of Cloud Computing, you can target Cloud Computing Training Institute in Delhi for a better outlook towards this technology.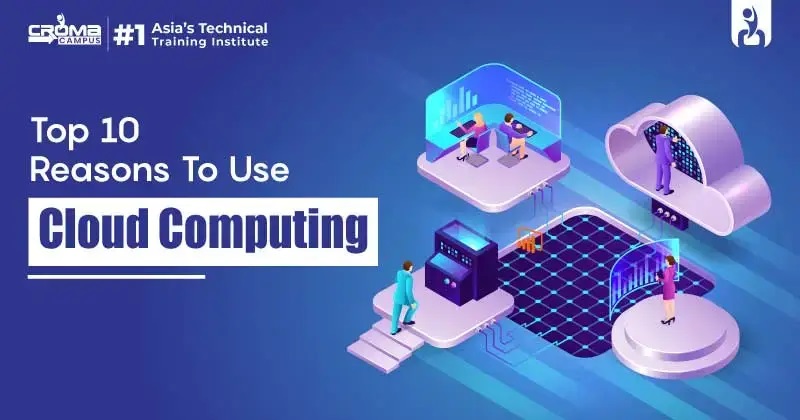 Introduction:
Cloud Computing is a way to remotely store and access data over the Internet without any limitations. It is highly important as it creates opportunities for organizations by building new digital services for customers and employees to lower their workloads. There are many benefits of cloud storage as it is easily accessible, efficient, and low cost, and comes with Data Security and Unlimited Storage Capacity. Looking at the growing needs of Cloud Computing, you can target Cloud Computing Training Institute in Delhi for a better outlook towards this technology. Also, the cloud has become so integral to our everyday lives that most people use it without even realizing it.
Reasons to use Cloud Computing:
Cost Saving: You no longer need to pay for large storage disks or spaces. Cloud Computing allows you to choose your storage depending on your usage. At times it is free, but after with a minimal cost, you can avail of future benefits.
Flexibility: You can easily tackle market and environmental change. Additionally, companies can scale up or down concerning demand. Without the need of adding to or removing existing infrastructure.
Better Security: Your data is in a better secure place now. Only authorized access and a set of a password can allow access to the data.
Less Workload: The IT department will look towards more crucial work. Rather than running security checks for data.
Always Updating: It reduces time spent on updating server applications and desktop devices. It maintains compliance with changing regulations in the environment around you.
Disaster Recovery: It provides solutions that help organizations reduce complexity and deliver flexible, fast, and cost-effective functionality. Also, with the quick transfer of data, there is less chance of data loss or theft.
Building Insights: With the help of analytics, you can derive insights from big data. Further help with target customers and building better products.
Mobility: It makes sure no one falls out of the loop. It offers convenient access to information for staff who travel or remote employees, for a better work-life balance.
Quality Access: Generally, the same set of data is accessed by a large group. You can maintain consistency in data, have a clear record of any revisions or updates, and avoid human error.
Competitive Edge: Today is the age of cloud storage. Most companies opt for this technique. While there are some for believe to follow the traditional methods. You will always be a step ahead with cloud storage as it will give better access and benefits to your business.
Conclusion:
Cloud Computing is the solution for a wide range of problems. With growing time more and more companies and individuals will move towards Cloud Storage. However, you can get a better idea of this at Cloud Computing Training in Noida, which is available for all. Cloud computing is the new tomorrow. Adding this skill to your resume will only enhance its visibility. Hence, with innumerable benefits Computing is beneficial in every form.
Free Demo for Corporate & Online Trainings.
LEAVE A REPLY
Your email address will not be published. Required fields are marked *
Course Features

Reals Life Practical & Case Studies

Assignments

Lifetime Access

Expert Support

Global Certification

Job Portal Access