Software Testing
(48 Blogs)
How To Grow Your Skills With Software Testing?
4.9 out of 5 based on 1532 votes
Last updated on 13th Apr 2023
16.2K Views

Brush up your skills with Software Testing Online Training in India and well prepare yourselves for the hiring season.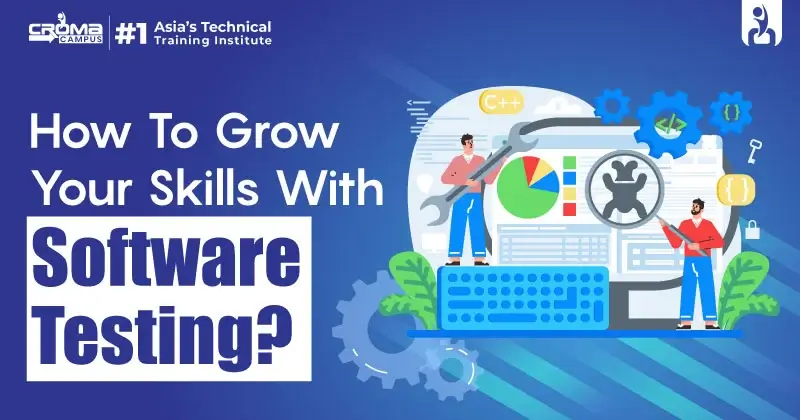 Introduction
Software Testing is an important role that needs a varied range of Software Testing skills both technical and soft skills. In the present era, there is a great demand for software testers. Indeed, a boom for testers to choose from multiple job opportunities. Thus, brush up your skills with Software Testing Online Training in India. And well prepare yourselves for the hiring seasons.
Key Skills for a Software Tester
Communication Skills
Effective communication is an essential skill to have, irrespective of the field you are working in. No matter whether you are remotely working, in the office or you communicate by email, it is important to build good communication skills. Since, effective communication plays a crucial role in communicating with fellow team members, stakeholders, or even customers, this becomes of utmost importance. Besides, recruiters primarily look for great communication skills in the eligible candidate. Most importantly, in the field of software testing communication skills are necessary for working with the development team. For discussing the bug reports, giving feedback and recommendations, and developing technical terms into actionable insights that are easy to understand.
Analytical and Logical Mindset
An analytical mind will go a pretty long way in the domain of Software Testing. Analytical skills in Software Testing are essential as Testers usually analyze complex systems to test results to look for bugs, identify security threats and offer effective solutions to face these challenges. However, to do all of this you need good analytical understanding and adopt a logical approach to problem-solving.
Project Management Skills
When you work as a Software Tester, you must be dependable and further take accountability for your work. This ensures working within project management standards to make sure projects are efficiently carried out with minimum roadblocks or miscommunications. Software Testing Training Institute in Delhi can help you prepare for this role and make you a better team player.
Ability to Follow Processes
Documentation creation and sign-off processes are some essential processes for software testing. Moreover, correctly following these procedures ensure legal compliance and avoids miscommunications. Thus, saving the company time, money, and most importantly reputation. Different organizations may use various document templates and protocols; hence you should easily adapt to use these correctly.
Interpersonal Skills
Though it is a common misconception that software professionals usually work independently, Software Testing can indeed be highly collaborative and demands excellent interpersonal skills. Conflict resolution, emotional intelligence, negotiation, pro listening, and patience are some key interpersonal skills you need.
Attention to Detail
A good Software Tester will have an eagle's eye to identify the smallest inconspicuous bugs. Small issues can have the biggest consequences or result in a defective product. Hence, it is your task to look above the obvious, ask questions and monitor everything.
Excellent time Management and Prioritization
Managing your time efficiently is another key skill to have. Like meeting your deadlines, allowing time for feedback, and managing your workload in order of priorities. The ability to manage your own time has a positive impact on the team and avoids delays in an environment that requires meeting tight deadlines regularly.
Out-of-the-Box Thinking
Software Testing is usually a technical role; however, it demands a great deal of creativity as well. A creative Tester has more chances to spot bugs and hence produce an overall better-quality product. Moreover, this approach helps in viewing the project from multiple perspectives. Learn this useful skill at Software Testing Online Training in India. It will help you learn to think from end users' perspectives to sense the actual needs of the software.
Business-Minded
Besides, it is useful to build a thorough understanding of the business elements of the organization in addition to the technical term. This will help you understand the company's sales objectives and which functions to prioritize, thus contributing towards a higher quality product.
Adaptability
Adaptability generally allows you to tackle new situations and challenges. Like handling regular software updates or new features. Additionally, positively taking constructive criticism and suggestions from other Testers is another requirement. Hence, using this feedback to enhance product quality.
Automation Testing
Automation is advancing at a higher rate, thus making its way to the start of the technology industry, and Software Testing is certainly no different. Software Testing Training Institute in Delhi can help you learn useful automation tools. Thus, increasing the efficiency and accuracy of testing procedures, eliminating human error, and offering faster feedback times. It will be helpful to get familiar with the top automation testing tools, such as Selenium and Perfecto.
Programming Languages
Proficiency in popular programming languages is a must. Software Testing Online Training in India is the best platform to build these skills. Moreover, it is important to learn different languages to effectively collaborate with others in the IT department, mainly the Developers.
Preparing Software Tests
Preparing software tests is another technical skill essential for Software Testing. It includes three major elements, the test plans, scenarios, and cases. While working as a Tester, you need to have the skills and knowledge essential to complete all three.
Understanding of Testing Tools
When you work in software Testing, you will be using multiple Testing tools. Although you do not need to know how to use every tool out there. You just need to be familiar with each tool to improve testing efficiency and efficacy. This includes bug tracking, API testing, security testing, and GUI testing tools.
Agile Working Methodologies
Agile methodologies are the multiple styles of project management, generally characterized by breaking projects into small iterations with higher cross-team communication. In an Agile environment, Testers, Developers, and business teams generally work together every day.
Reporting Skills
Reporting is a big part of your role as a Software Tester. You may require developing various types of reports, like test and defect reports. Reporting needs a high level of accuracy, precision, and an eye for detail. Test reporting is important to give a high-quality product through effective and timely feedback.
Conclusion
Software Testing Training Institute in Delhi can help you cover all these essential skills without hassles. However, some technical skills need formal training to build a solid foundation. Moreover, all these skills together make up a good software tester. Thus, try to build all these skills and enter the most demanding domain.
Free Demo for Corporate & Online Trainings.
LEAVE A REPLY
Your email address will not be published. Required fields are marked *
Course Features

Reals Life Practical & Case Studies

Assignments

Lifetime Access

Expert Support

Global Certification

Job Portal Access