Software Testing
(47 Blogs)
How To Build A Career In Software Testing?
4.9 out of 5 based on 12353 votes
Last updated on 19th Nov 2022
13.93K Views

Software Testing is the process of going through some basic checkpoints to ensure that the customer receives exactly what they want based on their business requirements.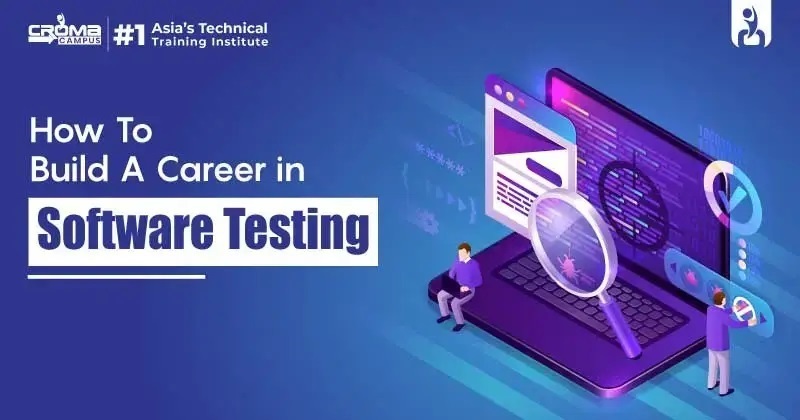 Introduction:
Software applications have become an essential part of our regular activities and needs. These applications make things easier for daily mundane activities. Thus, it becomes an important process to understand the basic functioning of any application. Thus, software testing is the process of going through some basic checkpoints to ensure that the customer receives exactly what they want based on their business requirements. Though this initial process may sound tough, with Software Testing Online Training you can easily ace this learning. Basically, the main idea behind Software Testing is to look after loopholes or bugs interfering with the application's smooth run.
Different Career Options for a Software Tester:
Junior Level Software Tester: This is the initial starting phase for every Software Tester. In this position, the focus is on checking basic and confined tests on software. Basically, this refers to running tests that are made for specific stages of the product. Also, at an entry-level position, there is a low risk of critical bugs, and one can learn the very basic steps for further analysis of the software.
QA Engineer: A quality assurance (QA) engineer is accountable for testing software or products and further making a brief analysis for repairs for other team members to correct. Their main focus is on improving the quality of the final product. Thus ensuring, it functions properly for the target audience.
Application Developer: An application developer creates, improves, and redesigns software applications on the basis of requirements for clients. They basically work with clients to understand what they need the application for. After that, they communicate those needs to an engineering team that further completes the work by designing or improving the product.
Test Analyst: Analysts work on more complex, less established programs and functionality. Generally, they attend meetings with the engineering staff after development starts. To ensure that they understand the purpose of the change and new functionality and further guide them to future direction. Professionals in these roles work closely with developers, to test software at different stages to ensure no major bugs are developing during the process.
Software Test Lead and Manager: A manager needs to understand each testing type to confine with release deadlines. Though managers are not only responsible for ensuring that their teams have sufficient to thoroughly test software, but also ensure their teams have the necessary equipment and hardware requirements to successfully test the software.
Conclusion:
There are many career options for a Software Tester, depending upon the skills, qualifications, and instincts. Software Testers generally have a degree in science or IT. After a primary stage of education, a formal training approach is very necessary. Even while working in another profile, you can opt to learn Software Testing. However, to acquire professional training, Software Testing Training in Gurgaon will guide you through the correct path. Furthermore, with the rise in software development, the need for Software Testers is never dying. Therefore, a career perspective in this field will always be illuminating.
Free Demo for Corporate & Online Trainings.
LEAVE A REPLY
Your email address will not be published. Required fields are marked *
Course Features

Reals Life Practical & Case Studies

Assignments

Lifetime Access

Expert Support

Global Certification

Job Portal Access